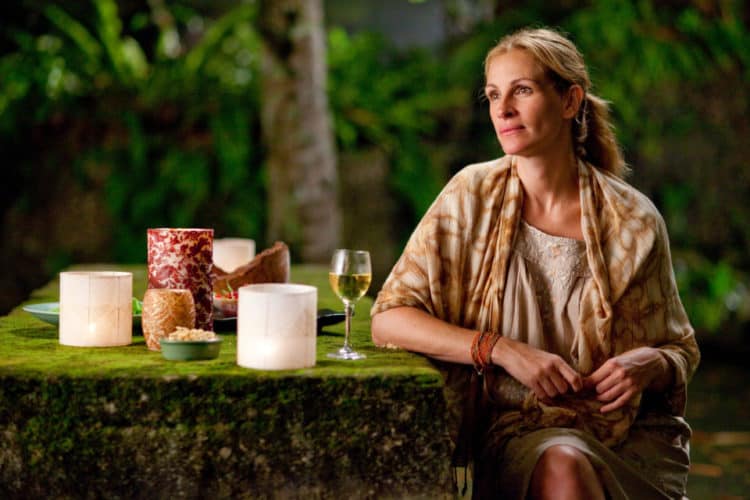 You may have heard the Italian phrase, "Il Dolce Far Niente", or simply, the art of doing nothing in the film adaptation of the bestselling novel Eat Pray Love. The biographical romantic drama followed the journey of real-life author, Elizabeth "Liz" Gilbert, portrayed by Julia Roberts (My Best Friend's Wedding), as she gets out of her comfort zone, and decides to travel the world after going through a divorce. The film is a testament to finding oneself after hitting a rough patch, and coming out of it with a new lease on life. Setbacks can sometimes be a blessing in disguise that can lead us to the bath we never knew was just waiting there for us. Moral of the story is that it's never too late to prioritize self-love. Change is the only constant thing in life, and we must never stop trying to become better versions of ourselves. Here are five scenes from the film that taught us how to look at life from a "glass half-full" perspective:
5. Enjoying pizza in Napoli
The scene where Liz declares that she is having a "relationship with her pizza" is one of the light and memorable moments in the film. Elizabeth finally decides to forget about strict calorie counting in order to make the most out of her trip to Italy (aka food paradise!). She is no longer afraid of gaining weight, and learns to go with the flow. If the jeans start to get tight then it's time to get a bigger size. This simple shift in mindset can be life-changing, as it allows you to let go of your inhibitions and enjoy life to the fullest.
4. Liz's writes an email to David
The heartbreaking scene where Liz writes an email to her ex-boyfriend David, portrayed by James Franco (Pineapple Express), whom she jumps into a relationship with after her divorce, is one of the more enlightening scenes in the film. Liz has just come home from visiting the Augusteum Ruins, and has realized some valuable lessons that applied to their relationship, as well as life, in general. Liz pens a poignant message, in which she explains that the world is chaotic in nature, and the only real trap is getting attached to this chaos. Their passionate and tumultuous relationship has run its course, and it was time to move on. Liz also realizes that chaos and ruins are not exactly bad things, as they can serve as an eye-opener that allows you to walk down the road to transformation.
3. Intimate conversations with Richard
Liz makes a new friend in the person of "Richard from Texas", portrayed by Richard Jenkins (Six Feet Under) whom she meets in an Ashram in India. They soon become close confidantes and end up helping each other navigate through their spiritual journeys. The scene where Richard gives Liz advice on how to deal with missing her ex-lover was pragmatic and straightforward. There comes a moment in our lives when we can't help but miss the people whom we part ways with. Instead of fighting this feeling, we just have to consider these emotions valid and just move forward after. It's not always going to be easy, but this allows us to accept our past and move forward towards a better tomorrow.
2. Taking Felipe to visiting Ketut Liyer
Liz's heart has taken a beating from her failed relationships. She goes on this journey across the world wanting to heal and re-discover herself. Her past heartbreaks had made her hesitant to open up her heart again, until she crossed paths with Felipe, portrayed by Javier Bardem (Being the Ricardos), in Bali. The two agree to start off as friends and test the waters first before jumping into anything more serious. In one of their escapades, Liz introduces Felipe to Ketut Liyer, a famed Balinese medicine ma, who does a palm reading on Felipe. Ketut gives him great advice on opening his heart again in the lines of, "to heal is to trust". Life may throw us curveballs from different directions. It's up to us to decide if we are to treat these experiences as setbacks that hinder our growth, or life lessons that help us become wiser and better.
1. Deciding on the next step with Felipe
As the saying goes, "It's better to have loved and lost than never to have loved at all." This serves true for Liz in more ways than one. Her back-to-back heartaches may have made her a tad more fearful about love, but it did not stop her from finding herself, and picking herself up after every fall. One of the final scenes in the movie show Liz coming to terms with the status of her relationship with Felipe, as she decides on her "word", Attraversiamo, which means "let's cross over" in English. Her plan to leave everything behind, keep an open mind and just travel the world proved to be one of the best decisions she has made. She came out of it like a brand-new person with a new perspective on life. We'll never know what awaits us on the other end of the road if we don't try and take that leap of faith.
Tell us what's wrong with this post? How could we improve it? :)
Let us improve this post!