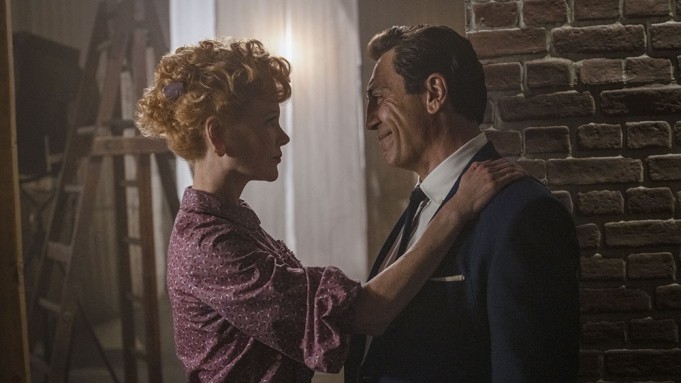 Aaron Sorkin makes his return behind the camera with this fascinating behind-the-scenes look of Lucille Ball and Desi Arnaz, who are threatened by stunning accusations, and a political smear that hopes to cancel the popular and groundbreaking sitcom, I Love Lucy. The upcoming film is stacked with a huge cast including Javier Bardem and Nicole Kidman. This list will examine the five excellent movies featuring the cast of Being The Ricardos. Let's get started with the first feature.
The Killing of a Sacred Deer
Yorgos Lanthimos is one of the more interesting directors to pop up recently. His films tend to be on the weird and darker side, yet they still have a biting social commentary that sticks with you after the credits roll. Hence The Killing of a Sacred Deer, which is about a cardiovascular surgeon who lives the perfect life with his wife and two children. However, that all changes when Martin enters his life, with the fatherless teen slowly trying to shatter a once happy home. A methodical, but never boring, haunting feature with top-notch acting, especially from Nicole Kidman, The Killing of a Sacred Deer isn't an easy watch, but it's definitely a rewarding one.
Collateral
A cab driver's night is turned upside down when a contract killer enters his vehicle and forces him to make stops that result in his next hit. Collateral could've easily veered into a mindless thriller territory; however, Michael Mann wisely pens this taut feature that's both captivating and character-driven. Jamie Foxx was excellent in this role. Before finally getting the Academy Award for his breakout turn in Ray, Foxx was rightfully nominated for an Oscar here as he plays the meek and polite cab driver caught in a bad situation. The script cleverly finds ways to challenge Max and Jamie Foxx is able to perform all the emotions and tasks necessary to pull off a complex role. However, the real star is Tom Cruise, whose cool and laid-back style gives Vincent the gratas that he needs. Despite being two hours, Collateral is lean as it juggles action, suspense, and character work effortlessly. Collateral is a stylish and taut thriller that easily one of the better works in both men's filmography.
No Country for Old Men
This dark and engrossing drama picks up when Llwelyn Moss finds a suitcase full of money that's left behind after a drug deal goes back. A ruthless killer is on the search for the hunter and coldly murders anyone who stands in his way. The Coen Brothers has a strong filmography, but No Country for Old Men blends their knack for dark humor and compelling characters to great effect. Javier Bardem is downright scary as Anton Chigurh. What's even more haunting about his character is his demented morals; Chigurh doesn't talk much; however, Bardem is tasked with acting through emotions and facial expressions and he masterfully showcases his tremendous acting ability throughout the film. Of course, it helps that Bardem has such a tremendous script to work with, thus elevating the characters beyond the page. Tommy Lee Jones and Josh Boslin are truly great here as well, but one of the more underrated performances is Kelly Macdonald. Her challenging Chigurh's morals is a tense and memorable scene due to the strong performances from both Bardem and Macdonald.
Whiplash
This heartbreaking journey of an artist reaching his breaking point focuses on Andrew Neiman, a young jazz drummer who's just been accepted into the top band in the country. His instructor, Fletcher, is known for his terrifying teaching methods and Andrew is pushed to the limit that will break his mind, body, and soul. Miles Teller disappears into the role of Neiman and his journey is an engrossing, but dark story that's relatable to anyone who's strived for perfection. Not surprisingly, the star is J.K. Simmons, who's grounded performance helps keep Fletcher as a three-dimension human being despite his insane practicing tactics. Another key thing is the jazz performances centered around the film and it's stunning how amazing the music is performed. Easily one of the best films released in the early 2010s.
Thank You for Smoking
This purposely cynical, yet hilarious dark comedy stars Aaron Eckhart as Nick Naylor, a lobbyist for big tobacco who has to balance the difficult task of promoting a dangerous chemical while trying to be a role model for his young son. Thank You for Smoking is filled with great dialogue and sharp humor; however, this satire also has a meaningful message that elevates the film into something impactful. Aaron Eckhart is perfect here, smoothly spitting out colorful dialogue while expertly conveying a father just trying to do right by his son. It helps that the script nice develops Nick's character, though the role wouldn't have turned out so great thanks to Eckhart's charming and energetic performance. Katie Holmes is also another standout, as the devious Heather Holloway is a fun departure from Holmes's usual roles. She pulls off the cynical and snide character with ease, though it would've been nice if she was given a bit more screentime here.