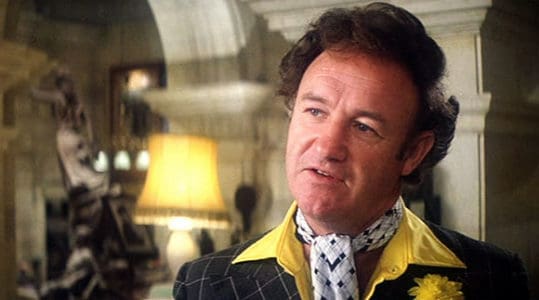 Gene Hackman is a retired American actor with more than 80 films under his name. Born in January 1930, Gene remained active in film for 70 years. Although he has retired, his hands are full doing voice-overs. The two-time Oscar award winner is having a great time in his retirement home. He received the two Academy Awards from five nominations for his role in The French Connection (with William Friedkin) and Unforgiven (with Clint Eastwood) movies.
Other awards to his name are:
Screen Actors Guild Award winner
An honorary Cecil B. DeMille Award
Three competitive Globes awards (from eight nominations)
If you enjoy watching a no-nonsense person giving you clean content, it's time to find out what makes Gene.
Enemy of the State (1998)
Meet Edward "Brill" Lyle (Gene Hackman), an ex-intelligence agent who is not your ordinary spy. His role is to unveil the killer in the murder of congressman Phil Hammersley. The murder is planted on a labor lawyer, Robert Dean (Will Smith), a dedicated family man. Dean is in the custody of a videotape showing Thomas Reynolds (Jon Voight), a corrupt official at the National Security Agency, committing the murder. He is then framed for the murder, which he swears to prove his innocence as Reynold tries to get the videotape. Brill and Dean lure Reynold's men to a nearby hotel to give them the tape. But instead, they lead the men in a mob den. That's how the men end up killing each other as Dean hides under the table and Brill disappears.
Unforgiven (1992)
Journalists decide to make the lives of Professional gunfighters hard as they follow them for stories. On the other side, a murderer and known thief, William Munny, starts hog farming to conceal his real identity. He's not a good farmer as one time he falls head down on the farm, he looks defeated. Munny is a single dad to his two children after the death of his love, Claudia. For the love of his wife, he stopped drinking. He even sounds like he doesn't want to commit any more crimes throughout the movie to respect her memories. Flashbacks will take you to the life of young Munny, full of rage, revenge, and in need of money. That's when he became spoiled, a criminal but now converted because of his late wife. But when the farm can't support him and his children, his old ways hit hard.
The Royal Tenenbaums
Royal Tenenbaum (Gene Hackman) is a movie full of disappointment that shows deep family dysfunction. Richie, Chas, and Margot are young Tenenbaums who are fighting the reappearance of their dad in their lives. He breaks the news that he is dying. The three kids are talented and are all successful. However, they stay far from each other. Margot has been a smoker since she was twelve -no one in the family cares. Each member of the family has a way of calling for attention.
Superman (1978)
Lex Luthor (Gene Hackman) is determined to make a fortune out of destruction. In the paper, the United States is carrying out nuclear missile launch tests soon. So, when Otis hands Lex a copy of Daily Planet, he knows it's time to get into the real estate business. To him, it's a business opportunity regardless of how many people die. Later Lex tricks Superman to help him detonate missiles after successfully steals Kryptonite to get rid of him. When he manages to stop one of the missiles, the other one explodes, causing a terrible earthquake. Superman gets hold of Lex and Otis. He puts them in prison, saying he can no longer handle them.
Scarecrow (1973)
Choose whether the crows will scare you or make you laugh. Max (Gene), an ex-con, has saved money and plans to open a car wash in Pittsburgh. He is out of prison after serving six years. Lionel, who has been on the ship for five years, travels to see his wife Annie and child (he has never seen the child or knows the gender). Lionel had left when Annie was pregnant. To atone for his guilt, he sent Annie all the cash he had made. However, Annie is unaware that he wants to come back home. Lionel and Max meet at the start of their journey to California and decide to travel together. As they share their stories and life plans, they conclude on starting the car wash together. They decide to pass by Denver and Detroit before reaching Pittsburgh. A meeting between Annie and Lionel almost kills their dream.
The French Connection (1971)
The French Connection is a thrilling and engaging American crime film known for its epic car chases ever seen in cinema history. It has won five academy awards as narcotic detectives go hunting for international heroin dealers. Detective Jimmy, Popeye, and Doyle (Gene Hackman) are in a street corner dressed as Santa. With his friend Cloudy, Russo, played by Roy Scheider, they knock up a drug dealer in a bar, beat him, and interrogate him to find his master. Popeye and Cloudy trace and follow Sal Boca, played by Tony Lo Bianco, and his wife, Angie, played by Arlene Farber, who have criminal records. An undercover hints that a shipment is expected soon at Sal's. The two detectives request their boss Walt Simonson played by Eddie Egan, to wiretap the criminal's home and business telephones. And the car chases begin.
The Conversation (1974)
PI Harry Caul (Gene Hackman) takes a dramatic role as a shy, annoying expert. But don't take his attitude to mean a loser – he is obsessed with privately checking on surveillance. At one point, he records a conversation between a couple that may give a lead to a possible murder. The consequences of your inaction can cause more danger and harm. Gene's role as Harry earns him a second Golden Globe nomination. Gene Hackman might have retired from the Cinema limelight, but he is a legend. The awards he has bagged are a perfect summary of Gene's handwork. At 91 years, he can sit down and watch his work speak for himself. Gene will be remembered as a decent actor and for his fighting spirit. For an upcoming actor recovering from separated parents, keep in mind Gene's words, "dysfunctional families give best actors."