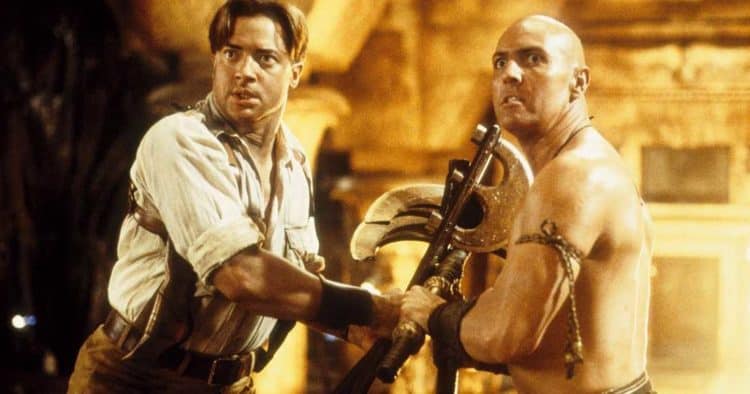 The idea that's being passed around at the moment when it comes to Brendan Fraser being welcomed into the MCU is one of those that a person can't help but think is innovative, but also something that might be kind of a joke that only the creator would be taking seriously. Creating a Brendan Fraser persona in the MCU that's essentially just the regular guy, no superpowers, no special abilities, and nothing other than his own wit and appearance, is something that some folks apparently might like to see. To be honest, a lot of people might call that the dumbest idea ever since even the show The Doom Patrol that's now heading into its third season has him voicing the part of an extraordinary character. But others might actually think that hinging the fate of the universe around Fraser might be a good idea. Seriously, it sounds like something that a group of teenagers might have come up with while getting baked at a friend's house while playing Fortnite. Maybe that's too cliche or out of date, but it does sound accurate.
Trying to figure out who he could possibly portray in the MCU might not be a thing of ease, but anything other than playing himself, unless it's for a specific cameo purpose, would be highly preferable. Cameo appearances are usually a lot of fun since they tend to come out of nowhere and make a lot of people laugh when they see who shows up. But as far as putting Fraser into the MCU it would be a little more entertaining to see him take on the role of an obscure hero or villain that might be kind of interesting to contemplate. Given his size, he could, if he managed to get in shape, be someone that could be kind of a heavy-hitter for one of the upcoming heroes to fight against. That, or he could be someone that might do an impressive voice-over for a much more imposing character in the future.
Using him for anything other than a quirky gimmick though would be preferable since the guy has been a screen legend for a while and it's easy to think that he should be given something that's a little more substantial than being himself. Even the first G.I. Joe movie did a little more than this since it gave him a brief appearance and a couple of good lines that were probably among the best in the movie. The point is that using him for the MCU should come with an opportunity for Fraser to play a part that's kind of impressive and might actually have a chance of keeping him around for a bit if he was up to it. At this point, it does feel that his career has been in comeback mode for a while, so it's not hard to understand why people might want to see more of him. Trying to install him in one or more franchises though does feel as though it could backfire if people are willing to keep pushing, as being pushed too far too soon is a very real issue that has happened and continues to happen to many actors in the industry to this date.
The upside here is that Fraser has been around long enough that he can likely weather this type of push with his career if he's really in the mood to make it happen. Adding names to the MCU has become a common practice now since several names have been added to the roster over the years, with Simu Liu and Awkwafina have just been added to the list, and several more are still on their way. It's easy to imagine that in the next ten years that the MCU list will continue to expand and take in some of the most unlikely of names since one thing is clear, MCU movies have continued to grow in popularity as things continue to change. But with Brendan Fraser aboard, it does feel as though he should be given a substantial part that would play to his level of talent and not just use him as a quirky gimmick that might be there and gone in a single appearance.
With such a huge list of characters that could be selected from, it's likely that Fraser could become quite a few different characters, but becoming himself would be kind of a silly way to bring him into the franchise. People that are thinking of this as quirky and exciting and even a great opportunity need to put the Tide pods down and remember that Fraser is still the type of actor that deserves a role that will play to his level and give him something important to do, rather than using him for a one-off that wouldn't see him doing much.