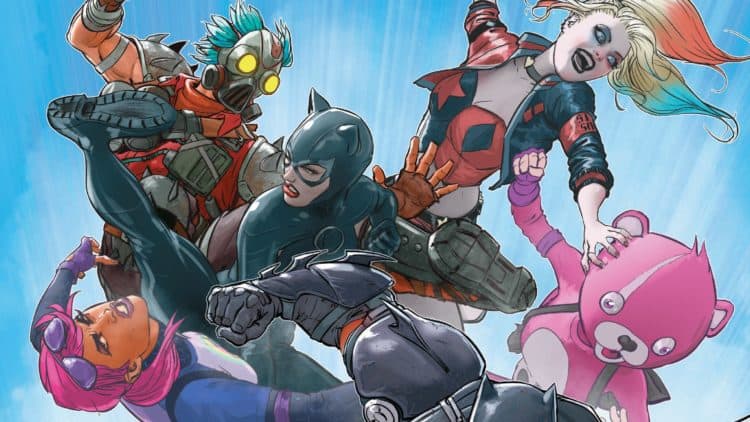 The latest DC/Fortnite comic book crossover saw Batman, Catwoman, Harley Quinn, and Deathstroke make their way onto the Fortnite: Battle Royale island without any memory of their past lives or how they got there. (Spoiler alert) In the final issue of the Batman/Fortnite: Zero Point limited-run comic event, we discovered that Deathstroke was working with none other than Lex Luthor to infiltrate the Fortnite island and bring the rift to DC continuity starting with Metropolis. It turns out that Luthor is also working with Fortnite's own Doctor Slone, a new character of whom we don't know much at the moment. So, now that we've seen all these different DC characters appear in a Fortnite comic book crossover, which DC characters do we want to see come with the next DC/Fortnite comic crossover?
Superman
Of course, we can't have a DC crossover without some mention of Superman, and since the latest DC/Fortnite comic crossover ended with Lex Luthor in Metropolis, I'm sure that Superman will more than likely be the next DC character to make an appearance, and will probably be the headline for the event. My guess is that we'll probably get Superman/Fortnite: "Whatever the subtitle for the next comic event will be" for the next Fortnite/DC comic run. It also makes sense that we would eventually see a Superman/Fortnite crossover considering there's a Superman skin that will become available on August 12, so clearly there's got to be something going on there. I find it incredibly hard to believe that Superman won't appear in some capacity in the future.
The Flash
While we haven't exactly had any specific evidence that The Flash will be a part of this DC/Fortnite crossover, I would still love to see the character appear in the event. We did also semi-recently get a Flash skin in-game, so there is also something there that could potentially hint at a full-blown Justice League coming to Fortnite.
Darkseid
Darkseid is one of the most well-known DC villains of all time, and I think that with Fortnite starting to (literally) rip into the world of DC, I think it's inevitable that Darkseid will probably make an appearance at some point. Whether he's a straight-up villain, or is recruited by Superman, or one of the other members of the Justice League to stop Lex Luthor and Doctor Slone, I definitely think that Darkseid will show up at some point throughout the DC/Fortnite comics, and we'll probably end up getting a Darkseid Fortnite skin as well.
Black Adam
With the Black Adam movie starring Dwayne "The Rock" Johnson coming soon, and The Suicide Squad's "Bloodsport" becoming an in-game Fortnite skin, I'm sure that DC is nowhere near done with Fortnite skins to promote upcoming movies, and Black Adam looks to be the next big hitter on the list. While I don't think they really need to add Black Adam into a comic crossover to justify an in-game skin, I definitely would like to see the Shazam villain show up at some point.
Shazam!
Of course, you can't really have Black Adam without Shazam! – I mean, I guess you can, but that's not the point. I would love to see Shazam! appear in a DC/Fortnite crossover, and I would absolutely love a Shazam! skin for the upcoming sequel to the Shazam! movie starring Zachary Levi.
Green Lantern
There are so many different Green Lanterns to choose from, you've got John Steward, Hal Jordan, Guy Gardner, Kyle Rayner, Jessica Cruz, and so many more. I'm honestly kind of surprised that Fortnite hasn't introduced a Green Lantern skin yet, but throwing the character into a comic crossover could be the perfect way to introduce one – or twenty – Green Lantern skins into the game.
Red Hood
One more member from the Bat Family that I would love to see introduced into the next DC/Fortnite comic crossover is Jason Todd, aka Red Hood. Red Hood is one of my favorite DC characters of all time, and with Titans Season 3 set to introduce the character, I think it would be a perfect time to introduce him into the world of Fortnite. Red Hood is one of the coolest looking characters in all of DC, and he would work perfectly as a Fortnite skin as well.
There are so many other DC characters that I think we could see in the next DC/Fortnite comic crossover, but these are some of my top picks. Epic and DC could definitely go all in and create one of the biggest crossovers of all time, and it could even end in a massive Avengers: Endgame level battle between Fortnite and DC characters. I'm not sure what direction the crossover is going, but I have high hopes.
Tell us what's wrong with this post? How could we improve it? :)
Let us improve this post!