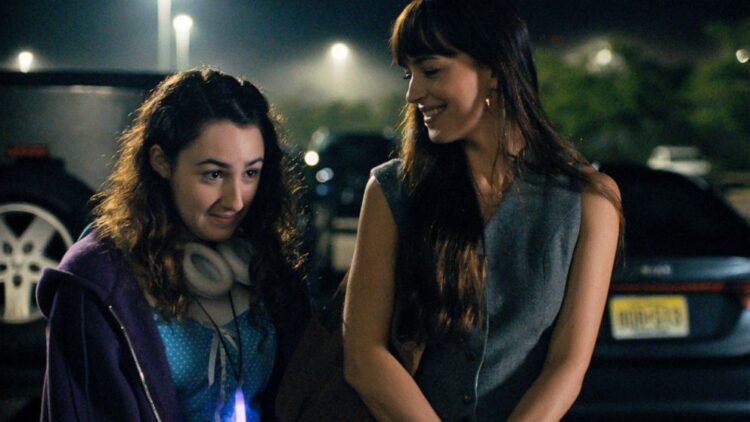 Cha Cha Real Smooth is a charming comedy-drama about unexpected friendships and second chances. The film follows Andrew (Cooper Raiff), a down-on-his-luck 20-something who lands a job hosting bar mitzvah parties. When he meets June (Dakota Johnson) and her teenage daughter, Chloe (Vanessa Burghardt), he strikes up a unique friendship with them. As their unlikely bond grows, Andrew starts to see the world in a new light. Through their friendship, he realizes that it's never too late to start over. Heartwarming and ultimately uplifting, Cha Cha Real Smooth is a feel-good film that will leave you smiling. In a review published in The New Yorker, they gave particular praise to the film's screenwriter saying, "The most striking thing about "Cha Cha Real Smooth" is the variety and density of dramatic detail that Raiff, as a screenwriter, elaborates within the stark lines of his premise. Yet his virtuosity comes with a strangely sentimental, self-regarding air; the entire film is tinged with a cloying glaze that seeps into the interstices of the drama and limits his characters' range of motion." If you enjoyed watching Cha Cha Real Smooth, here are five more movies about friendships, self-discovery, and growing up.
Sh*thouse
Before his film Cha Cha Real Smooth, Cooper Raiff also directed, produced, and starred in his directional debut film Sh*thouse. The 2020 American coming-of-age comedy-drama film also stars Dylan Gelula, Amy Landecker, and Logan Miller. It follows a lonely college freshman who feels alienated from his peers but forms an unlikely bond with his resident assistant during a fraternity party which seems like a familiar theme when you've watched Cha Cha Real Smooth. Sh*thouse received positive reviews from critics, with many praising Raiff's writing and direction as well as the cast's performances. In a review by Variety, they wrote, "This is a modest film, well-acted but rather clumsily assembled, that almost certainly would have benefited from an in-person SXSW ((South by Southwest) festival, where it's possible to bask in the shared laughter of an enthusiastic first screening."
X+Y
&ab_channel=KochMediaFilms
In Cha Cha Real Smooth, we witnessed a blossoming friendship between Andrew and June's daughter Lola, who has autism. The film X+Y, released in the US as A Brilliant Young Mind, tells a story of friendships centering on a teen who is also on the spectrum of neurodevelopmental disorders. The 2014 British drama film directed by Morgan Matthews stars Asa Butterfield, Rafe Spall, and Sally Hawkins and follows a teenage math prodigy named Nathan (Asa Butterfield) who develops a budding friendship with a young girl named Zhila (Jo Yang). Together, they help each other to navigate the challenges of adolescence and come to understand the importance of friendship. X+Y is a heartwarming and inspirational film that celebrates the power of connection and the beauty of human potential. The Guardian published a review of the film praising the film's direction and Butterfield's performance saying, "As Nathan, Butterfield, who impressed in Hugo and the underrated Ender's Game, is ably guided by director Morgan Matthews, who draws on his Bafta-nominated documentary Beautiful Young Minds for insight into Nathan's place on the spectrum of neurodevelopmental disorders. The result is rather charming, often funny, occasionally surprising and consistently heartwarming."
Here Today
&ab_channel=SonyPicturesEntertainment
Similar to Cha Cha Real Smooth's central theme of unlikely friendships, the 2021 American comedy-drama film Here Today follows an aging comedy writer (Billy Crystal) who forms an unlikely friendship with a young woman (Tiffany Haddish) who won a lunch date with him at an auction. It is directed and produced by Billy Crystal, from a screenplay that he wrote with Alan Zweibel. It stars Crystal, Tiffany Haddish, Penn Badgley, Laura Benanti, and Louisa Krause. The Hollywood Reporter gave particular praise to Crystal's performance saying, " Many of the dialogue's gags are funny, especially as delivered by such pros as Crystal and Haddish. The former displays his decades-honed, pitch-perfect timing and inflections, especially as compared to a performer on the sketch comedy show who consistently places the wrong emphases on words, much to Charlie's consternation."
Along for the Ride
Along for the Ride is a 2022 American drama film written and directed by Sofia Alvarez, based on the novel of the same name by Sarah Dessen. The film stars Emma Pasarow, Belmont Cameli, Kate Bosworth, Laura Kariuki, Andie MacDowell, and Dermot Mulroney. Just like Cha Cha Real Smooth, the film centers on themes of self-discovery and growing up. The film follows Auden, who during the summer before college, meets the mysterious Eli, a fellow insomniac. The two of them form a fast friendship and embark on a road trip to visit Eli's father. Along the way, they deal with first love, heartbreak, and the complicated dynamics of a family. Along for the Ride is a touching coming-of-age story that explores the ups and downs of young love, friendship, and self-discovery. In a review published by IndieWire, they commended the chemistry between the lead actors and wrote, "Along for the Ride" take are predictable, easily talked through, and wholly relatable. It doesn't surprise, but it does charm, and Pasarow and Cameli generate actual chemistry and heat as Auden and Eli along the way."
Adventureland
Adventureland is a 2009 American comedy-drama film written and directed by Greg Mottola, starring Jesse Eisenberg and Kristen Stewart and co-starring Ryan Reynolds, Kristen Wiig, Bill Hader, Martin Starr, and Margarita Levieva. The film is set in the summer of 1987 and follows James Brennan (Eisenberg), a recent college graduate who is forced to take a job at an amusement park after his parents refuse to finance his post-graduate travels. Just like Andrew in Cha Cha Real Smooth who discovers friendships and self-discovery in his new job, James begins to loosen up and have some fun, eventually finding himself caught up in a bittersweet romance with fellow employee Em Lewin (Stewart). Loosely autobiographical, Adventureland is ultimately a coming-of-age story that captures the intensity of first love and the experience of growing up. Funny, poignant, and wholly relatable, the film is a memorable portrait of life in the 1980s. Empire gave particular praise to the film's director in their review saying, "Mottola's ambitions may appear small, but having injected something telling between the dick jokes of Superbad, he discovers breezy pleasures in the wilting formula of the coming-of-age yarn." The Independent Critic also reviewed the film and wrote, "Adventureland" is a funny, tender, heartfelt and intelligent romantic comedy with touches of Levinson, John Hughes and easily one of the best that this genre has offered in years."Tiffany Haddish
Tell us what's wrong with this post? How could we improve it? :)
Let us improve this post!