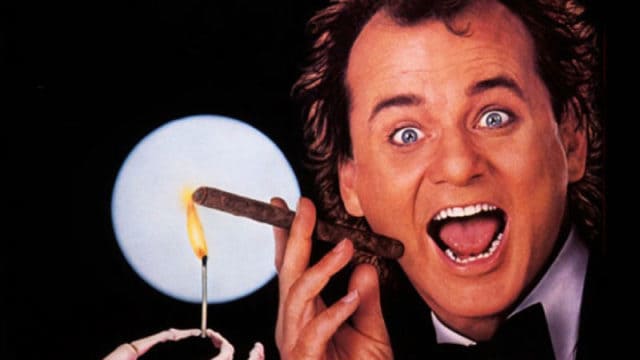 Bill Murray is a legend without peer no matter what anyone says. In fact a lot of the times he's that good it's because he's yelling or getting primed to yell, which is a great part of his act. He's performed some of the greatest comedy in cinema and has proven himself to be one of the greatest actors in anyone's lifetime. Yes, I am a Bill Murray fan, and yes, I can objectively say that he's been in some truly terrible movies in his time. But one thing you can't say is that they were bad because of his role. Wherever he goes he's doing his best and whatever role he plays is bound to be one of the funnies or most insightful roles you've ever seen. He's just that good.
It's not being a fanboy, he really is that good.
5. What About Bob?
Bob is just clueless. He's an intelligent man that's bogged down by so many made up phobias and imagined illnesses and disorders that he forgot how to live a normal, functional life a long time ago. Then he meets Dr. Leo Marvin and through no real ill will upends the poor man's life while at the same time helping out his family when it comes to battling with their own repressed lives. It's a win for everyone, except Leo.
4. Stripes
John Winger is the kind of guy you want as a friend but don't often rely on all that much since he does kind of flake out every now and again. But when it really counts he's there, even if being there means that he's disruptive, subversive, and is bound to get you into more trouble than any one person could possibly handle. At the very least he makes life interesting and doesn't have many dull moments.
3. Groundhog Day
Phil Connors is a jerk and he knows he is even though he tries to play himself up like he's one of the greatest people alive. When he's forced to live the same day over and over however he begins to realize that the way he lives affects more than just himself, it affects everyone around him as well. It might be a strange and unusual type of torture to make a person relive the same day over and over, but it gives them a new perspective.
2. Ghostbusters
Peter Venkman is a skeptic and kind of a narcissist, but he's proud of his town at least and doesn't like watching it be destroyed. A lot of Murray's characters seem like they're more than ready to stand aside from society even though they'll gladly take from it when they want. But when the chips are down guys like Venkman tend to stand up a little taller and make it known that they're still very much in it.
1. Scrooged
Frank Cross is one of the worst. He steals a cab from an old lady, fires a guy on Christmas Eve, and gives his own brother a towel with his company's logo on it as a Christmas gift. That's pretty low, but at least he gets his comeuppance in the form of three ghosts that let him know just what's up and what he'll have to change if he wants to be the man he needs to be.
Murray's comedy isn't centered around yelling, it's enhanced by it.