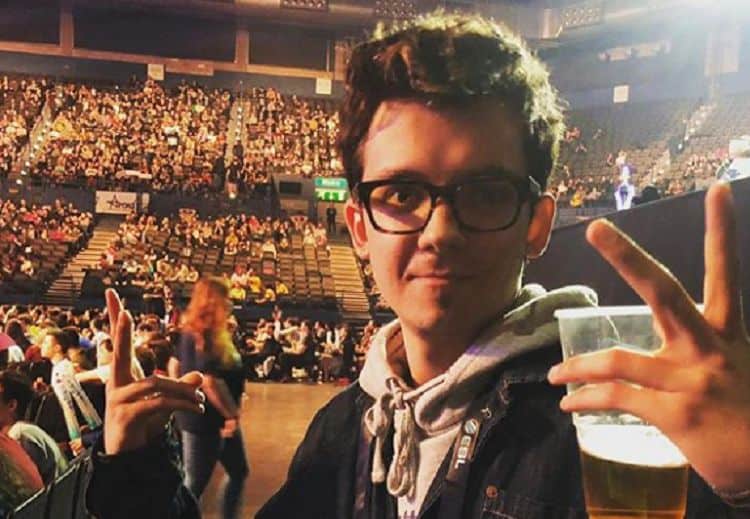 After working his way up the ranks, Asa Butterfield is currently riding high on the wave of his first lead TV role as Otis in Netflix's smash-hit comedy series, Sex Education. With season 2 already well underway and the news just in that a third season's been commissioned, 2020 looks set to be an outstanding year for the young Brit. Find out more about the actor behind Netflix's most socially awkward teenager with these ten little facts.
1. He's been acting since he was 7
Butterfield began acting at the age of just 7 years old. After getting his start at the Young Actors Theater Islington, he made his professional debut at the age of 8 in the TV movie, After Thomas (2006)
2. The Boy in The Striped Pyjamas was his breakthrough
After a few minor roles on TV, Butterfield landed his big break in 2006 with the role of Bruno in The Boy in The Striped Pyjamas. Despite being won over by Butterfield's performance in the very first audition, director Mark Herman was keen "to leave no stone untouched" in finding his Bruno, auditioning hundreds of other boys before finally giving Butterfield the nod… and even then, only after making him jump through several hoops and a heap of further auditions. "I did a lot of auditions, about 10 of them," he recalled. "But after about six auditions and there were only about 10 other boys left, I thought I had a pretty good chance of getting the part. At the same time, I was also auditioning for another film, Mr. Nobody. And I got that too, but I chose to do The Boy In The Striped Pyjamas."
3. Sex Education ticked all the boxes
Sex Education might not be Butterfield's first time on a TV series, but it does represent his first lead role on the small screen. Although he'd been eager to do a longer form TV show for a while, it wasn't until Sex Education came along that he felt moved enough by a script to jump in with both feet. "When I read this script, it seemed to just tick all the boxes," he told Esquire. "It's British, so I was filming in the UK; it's a comedy, which I really enjoy doing and I've been doing more now; it sort of felt quite original and like we were treading on new ground. And the characters were really, really well-written, and that's what I connected with more than anything."
4. He's bought a lot of himself to Otis
While Butterfield might lack Otis' cringe-inducing social awkwardness in real life, there's a lot of similarities between the two. "I'm quite geeky. He's into his video games, as am I," the actor told Vulture. "All the games he plays are the ones I play, so it did feel very close to home. There are a lot of references in there which I've snuck in."
5. His mother's a psychologist
Wondering how Butterfield manages to play the son of a psychologist quite so convincingly in Sex Education? Try the fact his own mother is a psychologist…. although fortunately for him, not quite such a domineering one as her on-screen counterpart, Jean. "My mum's obviously nowhere near as overbearing and sneaky and invasive as Jean is," he told The Independent, "But I knew [growing up] that if I'd say something, I'd have to… not be careful, but she'd often ask me why I thought something, and sometimes I didn't really have an answer. There was an element of knowing that she was analyzing — because you would if you'd studied human psychology. You sort of can't help it."
6. His Net Worth
Butterfield has been working consistently, and in roles of ever-growing seniority, since he made his professional debut in After Thomas in 2006. With films like "Son of Rambow", "The Boy in the Striped Pyjamas", "The Wolfman", "Nanny McPhee and the Big Bang", and "Hugo", under his belt, not to mention a list of TV credits that include "Ashes to Ashes", "Merlin" and of course, "Sex Education", it's little wonder he's not short of cash at this point. According to the latest information from Celebrity Net Worth, the talented 22-year-old is currently worth a massive $5 million.
7. He's learning a lot from Gillian Anderson
Playing opposite a screen icon like Gillian Anderson doesn't come without its perks. Working alongside his Sex Education co-star has giving Butterfield plenty of opportunities to learn some new tricks of the trade, not least the idea of introducing a little fun into the job. "Gillian is very down to earth," he told Backstage. "She doesn't take herself too seriously, and I think I hope to be like that when I've established myself even more and I'm a little bit older–just to be able to have fun with it. I think that was what I gathered from watching her, and just to see that she can play such varied roles. It's cool to watch."
8. He wants to make wildlife documentaries
David Attenborough had better watch his back. The veteran wildlife presenter may have some competition coming his way, at least if Butterflied makes good on his plans. "I'd love to make wildlife documentaries," he's revealed to Film Inquiry. "I love the natural world and photography. I've watched wildlife documentaries since I was a little kid and I think going out and filming those would be a lot of fun. A different sort of challenge."
9. He's a massive gamer
If he's not filming, you can usually find Butterfield in front of a video game. The actor's been involved in Nintendo gaming on a competitive level for years, and even made it to the Nintendo World Championships in 2017 (although he was probably less than pleased at being knocked out quite so early in the invitational).
10. Music is his passion
Other than acting, Butterfield's main passion in life is music. The actor, who plays both the drums and piano, has even released a track he made and produced- a mashup of Teenage Dirtbag by Wheatus and Making Plans For Nigel by XTC.