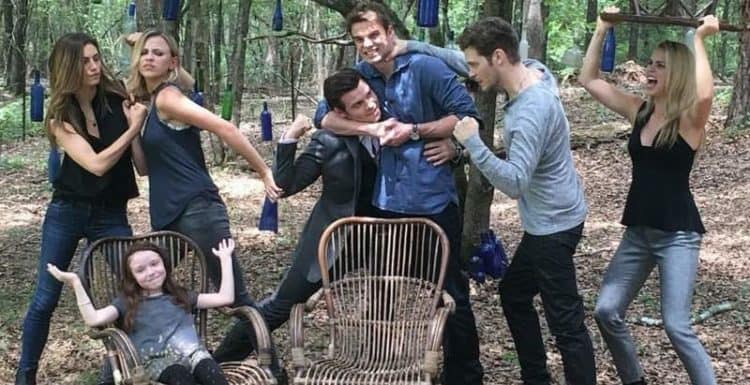 In the TV world, it's somewhat rare for a spin-off to become equally as popular as the show it stems from. However, The Originals managed to do exactly that. Debuting in 2013, The Originals was a spin-off of The Vampire Diaries, and it went on to have a life of its own. Full of witches, werewolves, and vampires, The Originals captivated viewers for five seasons before being canceled in 2018. If you were a big fan of the show, you've probably wondered what happened to some of your favorite cast members. The good news is that you're about to find out. Continue reading to find out what the cast of The Originals has been up to since the show ended.
Joseph Morgan
Joseph Morgan's character, Niklaus (Klaus) Mikaelson was originally introduced in The Vampire Diaries. Not only was he an original vampire, but he was also half werewolf which made him nearly impossible to kill. Klaus was known for being cold and selfish, but throughout The Originals, there were moments where viewers got to see his softer side. The role was was Joseph's first time leading a TV series, and I think fans would agree that he did an excellent job. Since The Originals ended, Joseph has only made two on-screen appearances and neither of them have been in 2021. According to his IMDB page, he also doesn't appear to have any projects in the works at the moment, so it's unclear what's next for him. Chances are, however, that he's simply enjoying time with his family. Joseph is married to actress Persia White who he met on the set of The Vampire Diaries.
Daniel Gillies
Known for being Klaus' calmer and more rational older brother, Elijah Mikaelson was always there to save the day no matter how upset he was with his family. Elijah truly was the kind of person (and vampire) that was loyal until the very end and he was never afraid to sacrifice himself for the greater good. Daniel Gillies did a great job of bringing the character to life and his on-screen charm was never lost on viewers. Fans of Daniel's work will be happy to know that he's been pretty busy over the last couple of years. In 2020, he was in a movie called Occupation: Rainfall followed by another movie in 2021 called Coming Home in the Dark. He also has a recurring role in the Netflix series Virgin River in which he plays Mel's dead husband, Mark, who appears in flashbacks throughout the series.
Claire Holt
In her role as Rebekah Mikaelson, Claire Holt quickly became a fan favorite. Unlike her siblings, she would've preferred to live a mortal life. Unfortunately, however, life as a vampire means that she will essentially live forever and be stuck in a never-ending loop of toxic relationships with her family. Throughout the series, we see Rebekah fight against this as much as possible by trying to separate herself from the Mikaelsons whenever she can. During her time on The Originals, Claire was also a main cast member in another TV show called Aquarius which is likely why she departed as a main cast member after season one. However, she made regular appearances during The Originals' entire run. Since the end of the series, Claire has been focused more on movie roles. She has appeared in three movies since 2018 and she has another one in the works
Charles Michael Davis
Marcel Gerard is easily one of the most memorable characters from The Originals. Marcel, who had been enslaved as a child, was turned into a vampire by Klaus who also served as his father figure. However, the two found themselves at odds when Klaus returned to New Orleans and saw that Marcel had taken his place as the city's 'king'. Charles' portrayal of Marcel earned him a lot of attention and it has helped open up lots of doors for him. This have been going extremely well for Charles' career in the years after The Originals ended. He has appeared in a handful of successful shows including Chicago P.D. and Younger. Most recently, he has been playing Quentin Carter in NCIS: New Orleans since 2020.
Daniella Pineda
Danielle Pinedas's character, Sophie Devereux, only appeared in the first season of the show, but she still played an important role during that time. She was a very powerful witch who wanted revenge after seeing her niece be killed as part of a witch ritual. Danielle has been working consistently since playing Sophie, and it appears that her work in The Originals helped lead to other opportunities. Some of her most recent credits include Jurassic World: Fallen Kingdom and What/If. She also has several upcoming projects including Jurassic World: Dominion which is set to be released in 2022.
Phoebe Tonkin
Hayley Marshall was a no-nonsense type of character whose role in the show underwent quite a few changes. Initially, Haley was only a werewolf, but she later became a hybrid as well as the mother of Klaus' child. Hayley was definitely one of the most likable characters on the show, and Phoebe had a lot to do with that. Although her work on The Originals continues to be Phoebe's most well-known work, she has had other roles more recently. She hasn't made any on-screen appearance in 2021, but she's working on some things that will be released over the next year or so.
Yusuf Gatewood
Yusuf Gatewood's character, Vincent, was introduced during season one but didn't become a main character until season two. However, it didn't take long for Vincent to steal the show in a lot of ways. Vincent was a very powerful witch who decided that he no longer wanted to be a part of the community. However, he eventually got pulled back in. The Originals was Yusuf's first major TV opportunity and he has kept the momentum going. In 2020, he landed a main role in season two of The Umbrella Academy.
Leah Pipes
Leah's character, Cami, was the only consistent human figure in the show — at least in the beginning. However, she eventually learned that she came from a family with ties to the supernatural world. Cami eventually becomes Klaus' love interest, and she appears to be the only person who can ever talk sense into him. Sadly, Cami is eventually turned into a vampire and she dies during season three. However, she makes guest appearances in the show's final two seasons. Leah has continued to have an on-screen presence after The Originals although Cami continues to be her biggest role so far.
Danielle Campbell
When viewers are introduced to Danielle's character, Davina, she is a 16-year-old witch who is still learning how to harness her power. She is being hidden and protected by Marcel because the other witches in the quarter want to sacrifice her for the sake of a ritual. Throughout the series, we see Davina go through lots of ups and downs and she is actually full of some interesting surprises. After The Originals was canceled, Danielle didn't miss a beat. From 2018 to 2020, she was in a TV series called Tell Me a Story. She hasn't made any on-screen appearance in 2021, but she is in the process of filming a movie called Share.
Danielle Rose Russell
Danielle Rose Russell didn't join The Originals until the final season. She played Hope Mikaelson, Klaus and Hayley's young daughter who had some very special powers. If you're a big fan of The Originals, then what Danielle has been up to probably isn't a mystery to you. Since 2018, she has continued to play Hope in the spin-off series, Legacies.
Steven Krueger
Although Steven Krueger appeared in every season of The Originals, he didn't become a main cast member until the last season. His character, Josh, was a powerful vampire who was essentially Marcel's second in command. However, it is eventually revealed that Josh had been compelled by Klaus to spy on Marcel. This leads Josh to want to seek revenge on Klaus once the compulsion has been lifted. Although Josh goes through a lot of things over the course of the series, he does his best to always be one of the good guys. Things in Steven's career have been going well since his days of playing Josh. He has been a regular in two shows: Roswell: New Mexico and Yellowjackets, and he has made guest appearances in a handful of others.
Riley Voelkel
Riley Voelkel's character, Freya, may have been the least problematic of the Mikaelson siblings. She was always trying to bring the family together and help save other people in the process. Riley's ability to display Freya's compassion and vulnerability brought a special dynamic to the show. Her fans will be happy to know that she's still bringing that special energy to other projects. Riley has been working pretty consistently and she even got to work with Steven Krueger again in Rosewell: New Mexico. In 2019, she also reprised her role as Freya with an appearance on Legacies. Additionally, she will be in an upcoming film called Scrambled.
Tell us what's wrong with this post? How could we improve it? :)
Let us improve this post!