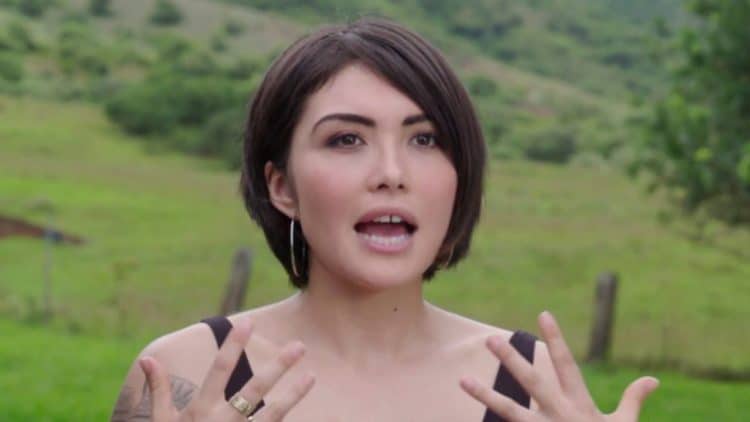 California born Daniella Pineda is an actress, comedienne, and writer who was cast as Sophie the witch in a Season 4 episode of 'The Vampire Diaries' on The CW. Hailing from Oakland, California, Pineda has also starred as Zia in 'Jurassic World: Fallen Kingdom', as Cassidy on the Netflix anthology 'What/If', 'American Odyssey', and more. So, aside from being an actress, comedienne, and writer, who is Daniella Pineda? While some of us may be somewhat familiar with this celebrity, many of us are not. In an effort to familiarize our readers with her more, we have put together a list of ten things about Daniella that they probably don't know. It's in no particular order, and focuses over many aspects of her life, from her childhood and education to her work. Read on if you are interested in knowing more about this up and coming young actress:
1. Early Life and Upbringing
Born February 20, 1987 in Oakland, Daniella Nicole Pineda was raised in a home with Christian beliefs by her parents, Eric Klein and Patricia Pineda but due to a family financial crisis, she was mostly raised by an aunt and uncle. She has two siblings, a sister, Anneliese Michaela, and a brother, Elliot Klein. Because she has actively kept her personal life under wraps, not much information on her childhood and family is currently available to the public.
2. Education
Daniella attended school in Oakland as a child. She enrolled in Oakland's Mills College later, where she studied radio journalism and sociology; she successfully earned her degree in those areas of study. After graduation, she relocated to the Williamsburg area of Brooklyn, New York, where she still resides.
3. Career
The Mexican-American actress initially worked in both radio and technology features, according to Panda Gossips, but during that time she started posting comedy videos on YouTube about women's issues, and this led to her discovery. A lover of the horror genre, Pineda has even gone door-to-door in an effort to raise funds for her own horror movie, entitled 'Cocaine Sleepover'. She has modeled in dabbling, but her first major acting role came when she landed the part of Sophie on 'The Vampire Diaries'. Besides the 'Jurassic World' sequel, Daniella has also had roles in 'The Detour' (2016-2019), 'The Originals' (2013-2014 spinoff from 'Vampire Diaries'), 'Men of a Certain Age' (2010), 'Homeland' (2012), and 'Midnight Sun' (2012), all of which are television programs. Movies she has acted in include 'Newlyweds' (2011), 'The Fitzgerald Family Christmas' (2012), 'Sleeping with Other People' (2015), 'Mr. Roosevelt' (2017), 'Before/During/After' (2017), 'Mercy Black' (2019), and the upcoming 'Jurassic World 3′, which is expected to be released in 2021.
4. Net Worth
At the current time, it is estimated that Pineda has a net worth of approximately $1.65 million (2018). She is said to earn between $10,000 and $15,000 per episode, but we are sure that has gone up, and will most certainly rise either during the filming of 'Jurassic World 3′ or after its release. Considering her short time in the entertainment industry, this is a good income, and we anticipate that she will earn much more as the years pass.
5. Social Media
Danielle is active on social media. If you are interested in following her and checking out her posts, she can be found at '@notdaniellapineda' on Instagram and @Maniella on Twitter. She also uses Facebook and can easily be found there under 'Daniella Pineda.' She currently has nearly 88k Instagram followers, but her fan base on the other two platforms she uses isn't given. Check her out for yourself!
6. What Does She Watch?
While Pineda admits that she does keep up on current events and what is going on in the entertainment world, these are not her favorite types of programs to view. There are a couple of genres she claims are her favorites. Firstly, she really enjoys watching the news, but after awhile it tends to depress her. Her favorite thing to watch, genre-wise (and we touched base on it briefly before), is horror. Her love for scary flicks not only inspired her to write her horror movie 'Cocaine Sleepover', it also motivated her to take the part in 'Mercy Black', the 2019 Netflix Original horror film about a girl who was institutionalized when she was a child for stabbing another kid in her class, and she claims she did it because a ghostly appartion named Mercy Black promised to take away her sadness if she did. While the Netflix movie didn't do as well as the cast and crew would have hoped, Daniella had fun making it, and now has more experience in horror that will aide her in the making of her own movie.
7. Her Alter-Ego
With her start in entertainment was essentially the uploading of her comedy videos to YouTube, we should get into a bit more detail regarding those videos. While her videos are comedy-based, and mostly geared toward women's issues and the like, she uses the character D.W. Diaz, her alter-ego, to express her points. Jezebel states that Diaz is presented as a 'oblivious, hipster starlet/actress/model/designer'. The site posts one of her videos, in which Diaz (Pineda) 'launches a tacky Native American-inspired' line of clothing. The author of the Jezebel piece states that not only did she watch the video in its entirety (which is odd when random people she doesn't know sends video links), but she watched it 'twice, and then made all my friends watch it'. Other video works that Pineda made and uploaded include a Calvin Klein ad spoof and a clip from her earlier years which features people asking random strangers on the street about their ethnicity. She also does a hilarious parody of a screen test.
8. Her Tattoo
Yes, Daniella has a tattoo, and a fairly prominent tattoo at that. The actress claims that the inked piece of skin art was a gift she gave to herself to celebrate graduating from college, and it is on her upper bicep, actually covering most of it. The tattoo is a creation that is representative of works she saw at a Mexican art exhibit at the Guggenheim Museum. Her design was inspired by sculptures that she enjoyed during her visit to the museum that were featured in the exhibit.
9. Her Reaction to Criticism
In one particular interview Pineda gave to RocioAnica, she was asked if her politically-centered, sometimes racially-inspired satire ever garnered negative comments from those who viewed her skits on video. Daniella said that she not only got negative criticism, but the criticism she got was often from the very people she was sticking up for in the video content she made. In one skit, the satire focuses on a fashion craze that was inspired by the Navajo, and how the craze glorifies a people that were given no respect to begin with. She also says that many who give her negative criticism simply don't understand the concept of satire or the points that can be made through its use. But she also says that many give her work positive reviews, but regardless, she knew what she was doing and what she was getting into when she made her videos.
10. Her Part in Ed Burns' 'Newlyweds'
According to Pineda, the small role she had in the icon Ed Burns' film 'Newlyweds' came about as a direct result of one of her videos being sent to the director (he is also an actor, producer, and writer of renown, for those who are not aware). He hired her without so much as an audition, and without even meeting her first. According to Daniella, she happened to be in New York at the time the movie was being filmed, and when she arrived to do very small part, Burns basically was glad she was there, told her they were ready, and that she could get to it. It was fast, easy, and before she knew it, she was finished. What a way to make a buck!
Well, it seems as if there is a lot more to the 32-year-old Daniella Pineda than meets the eye, that's for sure. For someone who studied sociology and radio journalism, she seems to have certainly found her niche in another area that is altogether different. Sure, she is one of those celebrities who got their start on YouTube, but she stands out from the rest in that she actually seems to possess real talent, and in abundance. I expect we will be seeing much more of her as time passes and those in the industry get a real load of this skilled, funny, entertaining young woman. Check out Daniella's videos on YouTube, or take a quick trip to her social media pages and see what she is all about. If you have time, view a couple of her movies or shows. I expect that you won't be sorry you did.