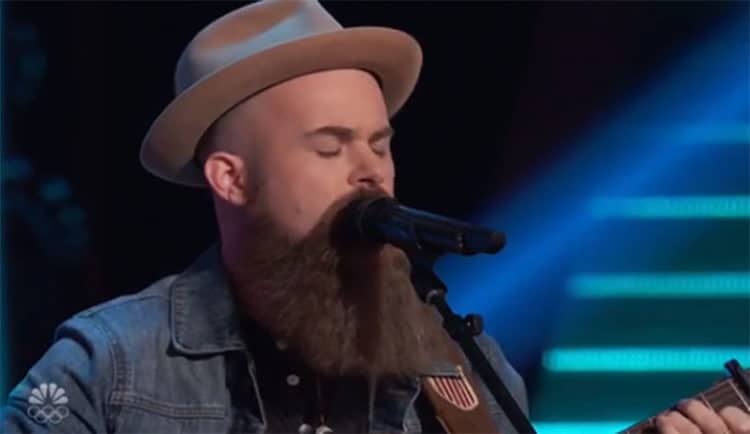 Every aspiring musician dreams of the day when they will get an opportunity like the one offered by The Voice. Now that that time has come for Aaron Konzelman, the singer has made sure not to take it for granted. His blind audition performance of "Ordinary World" resulted in John and Blake turning their chairs around. While either judge would have been a great option for Aaron, he decided to go with Blake – likely because the two have some musical similarities. Not only is Aaron excited to celebrate the moment, but he's looking forward to the rest of the competition. Here are 10 things you didn't know about Aaron Konzelman from The Voice.
1. He Started Playing Music When He Was 7
Aaron's love for music began at an early age. In fact, he considers music his first language and English his second. He began playing the guitar, singing, and writing songs when he was just 7-years-old. Over the years, his love for the craft has only continued to grow. No matter what life has thrown his way, music has always been an outlet for him.
2. He Studied Audio Engineering
Aaron attended McLennan Community College where, according to his LinkedIn profile, he earned and associates degree in auto engineering, recording technologies, music performance, and songwriting. It was in this program that he met his wife and collaborator, Amanda.
3. He Works In Marketing
Being a full-time musician has always been Aaron's dream, but at the moment he's on a bit more of a traditional career path. He has been working in marketing for the last several years and is currently working as a marketing specialist for a company in Waco. If things go his way on The Voice, this might just be the last 'regular' job he ever has.
4. His Faith Is Important To Him
Aaron is a devout Christian and his belief in God plays a major role in everything he does. In fact, when he was younger his parents were members of a Christian music group. Although his music leans more towards the secular side, Aaron always keeps his faith at the forefront.
5. He Was A Sensai
Throughout his lifetime Aaron has done a wide variety of things and all of these different experiences have helped make him a better artist. He practiced martial arts for many years and eventually became a second degree black belt. He was also a sensai at one point.
6. He Is A Proud Dad
Music isn't the only thing at the top of Aaron's priority list. He is also a very family oriented person and he loves spending time with his loved ones. He and his wife have one son together. When Aaron isn't busy working of performing, you can bet he's spending as much time as he can with his son.
7. He Has Released Music
As you know by now, Aaron isn't a new comer when it comes to music. He's been working hard for the last several years to lay a solid foundation for his career. He and his wife perform together under the name The Union Revival and the duo released an album in 2013. In addition to their album, they've also been writing and performing together for almost 20 years.
8. He Loves Motorcycles
You know what they say about all work and no play, so in addition to working hard to reach his goals Aaron has also made time to have some fun along the way. He enjoys riding motorcycles and at one time had a Suzuki TU250X. In an Instagram post about the bike he wrote, "Not a day goes by that I don't miss this bike. Possessions have never held sway over me and there are only a few things in my life that I am sad that I had to sell, and this is one of them. Someday, I will ride again."
9. He Sells Merch
Now that Aaron is on The Voice, there's no doubt that his fan base is going to grow. Those who are rooting for him will be excited to know that they can show their support by purchasing some of the merch he sells through his online store. He currently sells t-shirts, bags, mugs, and stickers.
10. He Loves Storytelling
Aaron isn't just a singer, he's a true artist true and true. As such, he loves using his music as a way to express himself. One of his favorite things about making music is that it allows him to tell stories. Through his songs, he hopes to take his listeners on beautiful journeys through the different moments that life has to offer.