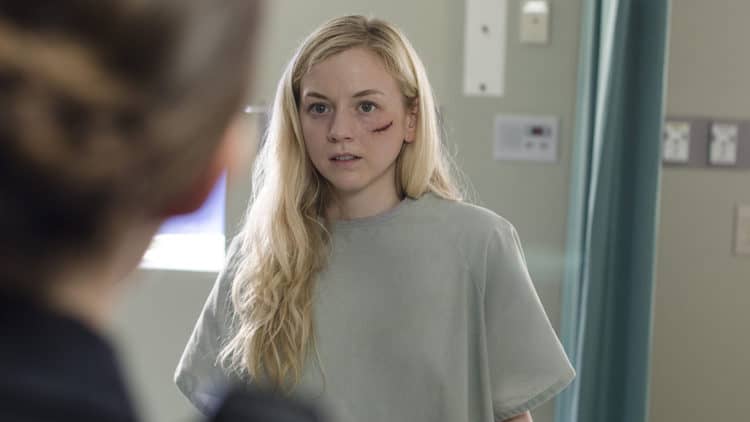 If you're a big fan of The Walking Dead then you're probably pretty familiar with Emily Kinney. She played Beth Greene from 2011 to 2018 and she built a massive fan base in the process. Although TWD fans know not to get too attached to any characters at this point, Beth is certainly one that left a lasting impression. In the years since leaving TWD, Emily has remained busy and she has also been exploring other ways to express herself creatively. If you're a fan of her work, you should definitely be excited for the things she has coming up within the next couple of years. Continue reading to learn 10 things you didn't know about Emily Kinney.
1. She Loves Scary Movies
Being cast in The Walking Dead was a dream come true for Emily for multiple reasons. Not only was it a huge opportunity for her acting career, but it also gave her the chance to be a part of a genre that she has always loved. She's a big fan of scary movies, especially the 1996 film Scream.
2. She's A Formally Trained Actress
Emily was born and raised in Nebraska where she initially developed an interest in performing. After high school she enrolled at Nebraska Wesleyan University where she earned a bachelor's degree in theater. She decided to relocate to New York City after college to pursue a career in entertainment.
3. She Has Theater Experience
Emily's fans are already familiar with the work she's done on screen, but what some people may not realize is that she also has theater experience. Her most notable stage role was Jean Fordham in a 2009 production of August: Osage County. One day she hopes to get the opportunity to perform on Broadway.
4. She's A Musician
Acting is what put Emily on the map, but her first love has always been music. She told Esquire, "I've been singing since I was really little. I was probably seven when I did my first talent show. Singing was definitely my in to performing more so than acting. Music definitely came first. As a little kid I was thinking that was the route I was going."
5. She Appreciates The Beauty Of Nature
Emily may not be the type of person who likes to go camping and fishing every weekend, but she still enjoys being outdoors and appreciating the beauty of nature. This is likely due to the fact that she grew up in relatively small towns in Nebraska. Not only can the outdoors be a great place to rest and recharge, but nature us known to provide people with lots of inspiration.
6. She Started A Podcast
As a true creative to her core, Emily is always looking for ways to create things. In the spring of 2020, she started a podcast called My Caffeine Withdrawal with Emily Kinney. According to the show's description, "My Caffeine Withdrawal is a podcast about coffee and what motivates and inspires artists to create. Each episode begins with coffee – whether it is a favorite blend, a preferred tool, or a particular style, everyone has a ritual."
7. She's A Fan Of The Carpenters
From the late 60s to the early 80s, The Carpenters were one of the best-known duos in the music industry. Sadly, that all came to an end in 1983 after Karen Carpenter's untimely death due to complications from an eating disorder. Although Emily was born in 1985, she grew up being a fan of The Carpenters' music thanks to her mom. She told Glide Magazine, "The first song I really obsessed over was on a Carpenters record because my mom and dad had a record player and they had that Carpenters album and there was this song (singing) "Don't worry that it's not good enough for anyone else to hear, just sing, sing a song." I loved that song."
8. She Was A Blogger
Being an actress, especially in a big city like New York, isn't an easy experience. Even though it may seem like fun from the outside looking in, the reality is often stressful and scary. At the beginning of her career, Emily regularly shared her experiences as a blogger for Unscripted Magazine.
9. She Writes Poetry
When I said that Emily always likes to be creating, I wasn't exaggerating. On top of everything else she does, Emily also enjoys writing poetry. Sometimes, she even shares her work with her followers on social media. As far as we can tell her work hasn't been published outside of what she's posted on social media.
10. She Was In An Episode Of Law & Order: Special Victims Unit
Emily has been a part of lots of really successful shows throughout her career. One of her most notable appearances early in her career was a role in an episode of Law & Order: Special Victims Unit. She was only in one episode of the show, but she will always be able to say she was part of the legendary series.