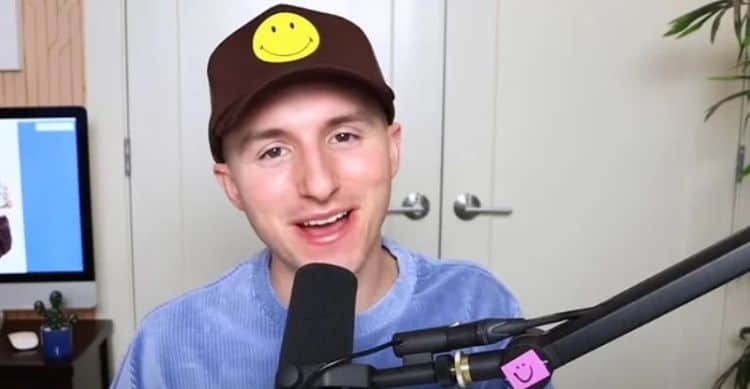 Since its inception in December of 2005, YouTube has become the most popular video platform on the internet. Over the years, lots of content creators have become famous thanks to what they've posted on YouTube and Lucas Cruikshank is one of them. He rose to prominence in the late 2010s after creating a character named Fred. When Lucas started posting on YouTube, he probably had no idea that both he and Fred would become known to people all over the world. In addition to YouTube videos, Fred also appeared in several TV shows and he even earned his own show on Nickelodeon. However, after achieving lots of success, people started seeing less and less of Lucas. Keep reading to find out what happened to Lucas Cruikshank.
Lucas' YouTube Journey
Lucas was born and raised in Nebraska. There doesn't seem to be much information out there on his upbringing or what sparked his interest in posting on YouTube. However, we do know that he and two of his cousins started their journey together and they eventually dubbed themselves JKL Productions. After getting his start on YouTube, Lucas began to think of ideas for characters. During that process, he created Fred Figglehorn, a six-year-old boy known for having lots of energy. Despite the fact that Lucas was 13 at the time, he became the face of the character. Little did Lucas know, that character would catapult him into overnight stardom.
After the popularity of Fred's YouTube show, the character earned became the star of his own movie called Fred: The Movie. Instead of being six years old in the movie, Fred was aged up to be closer to Lucas' age in real life. The film was released on Nickelodeon in 2010. Fred also landed two other TV movies as well as a sitcom on Nickelodeon called Fred: The TV Show which lasted for just one season. Despite the character's popularity, the Fred movies and series received mostly negative reviews. When the series ended, Fred's time on the small screen also came to an end. However, Lucas continued to be a fixture on Nickelodeon – at least briefly. From 2012 to 2013, he starred in a short-lived sitcom called Marvin Marvin. In 2013, Lucas publicly revealed that he is gay. His close friends and family knew for several years before he decided to share with the internet. Some fans were disappointed by the announcement, but Lucas has never been the type to let haters get in his way.
What is Lucas Doing Now?
Now that his days of playing Fred are over, many people have assumed that Lucas has completely disappeared from the spotlight. That isn't the case, though. Lucas is still very active on YouTube via his channel which is simply called Lucas. He currently has more than 3.2 million subscribers and he has gotten over 286 million views. The Fred channel is still available on YouTube, but no new content has been posted in over six years after a failed attempt to revive the channel without Lucas. Lucas' fans will be excited to know that YouTube isn't the only place on the internet where you can find him. He is also very active on Instagram where he posts a variety of photos. By the looks of things, he seems to be enjoying life and everything that it has to offer. Outside of his work, he has remained relatively quiet when it comes to his personal life. One thing we do know, though is that he has been in a relationship with a man named Matthew Fawcus for nearly a decade. Even though he no longer plays Fred on a full-time basis, he has reprised the role for a few skits over the years. While some people may not have been big fans of the character, Lucas is proud of his creation and all of the things Fred has allowed him to accomplish.
What's Next for Lucas?
Lucas hasn't openly revealed what his plans for the future are. However, based on his IMDB page it doesn't look like he has any movie or TV projects in the works. From what we can tell, Lucas is entirely focused on YouTube, and posting regular content on his channel seems to be his number one priority. However, that doesn't mean that he won't get back into the TV world someday. There are still plenty of people who are invested in his journey and who would love to see more from him. That said, it seems unlikely that he will ever go back to being Fred, but that might not be such a bad thing.
Tell us what's wrong with this post? How could we improve it? :)
Let us improve this post!