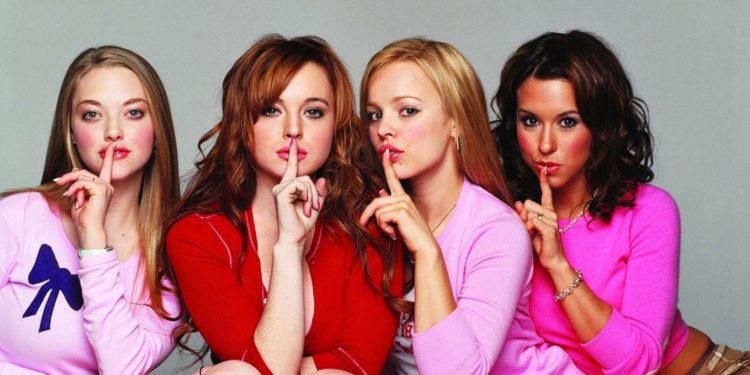 The 2004 movie Mean Girls is arguably one of the most memorable films of the entire decade. Centered around a group of high school girls, the film uses comedy to explore the nature of cliques and bullying among high school students. In the years since the movie's release, several quotes and scenes have become important parts of pop culture. Although many of the film's cast members were already successful before Mean Girls, their roles helped catapult their careers to new heights. Other cast members, however, have been a little harder to keep up with in the almost 20 years since the film debuted. Keep reading to find out what happened to the cast of Mean Girls.
Lindsay Lohan as Cady Heron
From the late 1990s to the mid-2000s, Lindsay Lohan was one of the hottest young stars in the entertainment industry. Prior to Mean Girls, she appeared in several Disney projects and she showed that she could light up the screen in any role. Unfortunately, however, things started to slow down for her during the late 2000s. Lindsay's struggle with drug abuse and mental health issues caused her career to derail. In the 2010s, Lohan attempted to make a comeback to acting and she made her stage debut. Although she has made a few on-screen appearances here and there in recent years, Lohan's career hasn't been able to fully bounce back as of yet. That said, Lindsay seems to be doing well and she's branching off into other areas. She recently got a deal for her own podcast called Intimate Conversations. According to People, Lohan said, "I'm excited to partner with Studio 71 in the development and production of my podcast. I'm looking forward to connecting more with my fans and having intimate conversations with thought leaders and friends across all industries."
Rachel McAdams as Regina George
Regina George will probably go down in history as the most famous fake mean girl of all time. Rachel McAdams' portrayal of the character was convincing and she brought the character to life in ways that were both cringeworthy and entertaining. When Rachel was cast in the role, she was still relatively new to the industry and 2004 turned out to be a huge year for her career. Between her appearance in Mean Girls and The Notebook, she solidified herself as one of Hollywood's up and coming it girls. In the years since Mean Girls' release, Rachel McAdams has continued to be one of the industry's brightest stars. In her post Regina George days, she has appeared in more than two dozen on-screen roles which include a combination of movie and TV projects. Although we've seen a little less of her in recent years, Rachel currently has two film projects in the works including Doctor Strange in the Multiverse of Madness which is set to be released in 2022.
Lacey Chabert as Gretchen Wieners
Lacey Chabert was just a little girl when she entered the entertainment industry, but over the years she proved that she was much more than just a cute kid. Over the course of her career, Lacey has consistently shown her versatility as an actress. No matter what kind of role she's playing, she has a magical way of bringing her characters to life. She was already well known when she earned the part in Mean Girls and Lacy has continued to work consistently ever since. On top of her live-action work, Lacy has also found success as a voice actress. Acting isn't the only way she likes to share her love for storytelling, though. Lacey has also written and produced a handful of projects. It wouldn't be surprising if she decided to spend a little more time behind the scenes in the years to come.
Amanda Seyfried as Karen Smith
Amanda Seyfried is another Mean Girls cast member who was a kid when she came into the industry. However, Mean Girls was her first movie role and it opened the door for lots of other film opportunities. Since Mean Girls, Amanda has built a resume that includes more than 55 on-screen credits and the list gets a little longer every year. Despite having a very successful career, Amanda's journey hasn't always been easy. She has been open about the fact that she's faced some challenges with her mental health. During an interview with Allure, Amanda said, "I had pretty bad health anxiety that came from the OCD and thought I had a tumor in my brain. I had an MRI, and the neurologist referred me to a psychiatrist. As I get older, the compulsive thoughts and fears have diminished a lot. Knowing that a lot of my fears are not reality-based really helps." Amanda is currently working on a TV mini-series called The Dropout which is scheduled to premiere in 2022.
Tim Meadows as Ron Duvall
Tim Meadows is an industry vet who has been in the industry for almost 30 years and has nearly 100 acting credits. Throughout his career, his commanding presence has earned him the opportunity to act across genres. His work in Mean Girls was a huge moment for his career and helped introduce his work to younger viewers. Tim has continued to work since Mean Girls although many of his roles have been on the small screen.
Ana Gasteyer as Betsy Heron
Ana Gasteyer had spent a good portion of her career doing TV roles, but she is also a force to be reckoned with on the big screen. While she may not have hard a starring role in Mean Girls, her portrayal of Betsy Heron was very memorable. Since Mean Girls, Ana's best-known roles have been in TV shows such as The Goldbergs and Lady Dynamite. Ana has also found a good deal of success through her voice acting work.
Lizzy Caplan as Janis Ian
Lizzy Caplan started her acting career in the late 1990s, but Mean Girls was her first significant film role. The success of the movie gave her access to lots of other opportunities and she hasn't let them go to waste. She has been in several movies and shows since Mean Girls. One of her most recent appearances was in an Apple TV+ series called Truth Be Told in which she portrayed a set of twin sisters.
Daniel Franzese as Damian Leigh
Daniel's Mean Girls character, Damian, was a fan favorite. The movie helped him solidify himself in the industry and he has been working consistently ever since. Some of his roles have been on the smaller side, but Daniel leaves a lasting impression every time he gets in front of the camera.
Jonathan Bennett as Aaron Samuels
Versatility is an important quality for an entertainer to have, and it's something that Jonathan Bennett possesses without a doubt. In the years since Mean Girls, Jonathan has not only continued to act, but he's also gotten into TV hosting as well. He has hosted several popular shows such as Cake Wars and Halloween Wars.
Rajiv Surendra as Kevin Gnapoo
Kevin Gnapoo was another character in Mean Girls who didn't have a main role, but has always been a very memorable figure. Kevin was confident and never afraid to tell it like it is which resulted in Cady having a crush on him. Although the movie provided a great platform for him to share his talent, Rajiv has been surprisingly absent from the spotlight since it came out. He has only had one on-screen appearance since Mean Girls. For six years, Rajiv attempted to break back into the spotlight with the goal of being cast in the leading role of the movie The Life of Pi, but he didn't end up getting the park. Since then, it appears that he has been more focused on other pursuits such as fine arts and crafts.
Daniel DeSanto as Jason
Daniel DeSanto was born and raised in Canada where he began his career as a child actor. During the 1990s, he became well-known for his role as Tucker in the popular series Are You Afraid of the Dark? While it's true that many young stars have a difficult time moving into adult roles. However, that hasn't seemed to be an issue for Daniel. He hasn't made any on-screen appearances in 2021 and he doesn't appear to have any projects in the pipeline, but I'm sure we haven't seen the last of Daniel. Since 2007, Daniel has also done some work as a producer. Most notably, he produced several episodes of a TV series called Wholesome Foods I Love You… Is That OK?.
Diego Klattenhoff as Shan
Diego Klattenhoff had been acting on-screen for a couple of years before Mean Girls was released. However, the movie marked his first film role. Although he has been in quite a few films since Mean Girls, the majority of his roles have been on TV. Diego has been playing Donald Ressler on The Blacklist since 2013. Prior to that, he was in Homeland from 2011 to 2013. Diego has also dabbled with work behind the scenes. In 2017, he executive produced a movie called Radius.
Tell us what's wrong with this post? How could we improve it? :)
Let us improve this post!