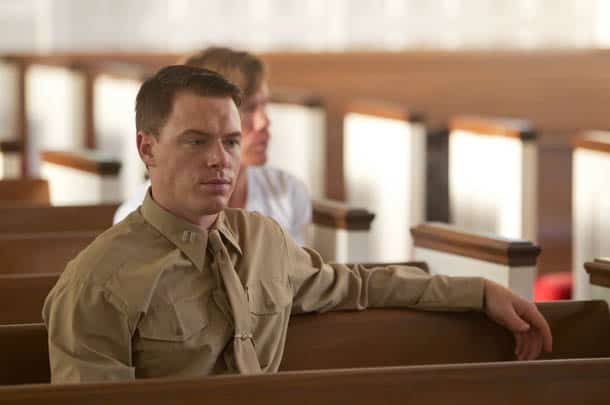 Diego Klattenhoff is a Canadian actor that is best known for his roles in Homeland and The Blacklist. His career began in the early 2000s and he has appeared in many movies and TV shows during this time. Here are ten things about him that you may not know.
1. He Was Born And Raised In Nova Scotia
Klattenhoff was born in French River, Nova Scotia and he was also raised in this town. It is only a small community and it is a very rural area. He lived with his family on their farm and he and his brothers were expected to do their bit to help out. His father was originally from Germany and settled in Nova Scotia before Diego was born.
2. He Moved To Toronto When He Was Nineteen
When he was nineteen years old he moved to Toronto in order to further his acting career. He felt that there would have been more opportunities for him here than in his home town. He started attending acting workshops and worked as a bartender for a time in order to pay for these workshops. It was a difficult time for him but he knew that acting was what he wanted to do and he was prepared to put in the hard work that was needed.
3. He Has Studied With Some Of The Very Best Acting Coaches
While he was in Toronto he studied with Bruce Clayton and David Rotenberg. Both of these acting coaches are very well-respected. He attended the Professional Actors Lab in Toronto which was founded by Rotenberg and Clayton also taught here as well. On the official site of the Lab it lists Klattenhoff as one of its former students who now has a leading role in a TV show. Other actors that have studied here include Ennis Esmer from Blindspot and Patrick J. Adams from Suits.
4. He Has Played A Number Of Very Diverse Roles
When he was starting out in his career he felt as if he had to take on any work that he was offered, just to be able to pay the bills. This means that he has played a very diverse range of parts. However, this is something that he believes has helped him in his career as it has meant that he has never really become typecast in any specific type of role. Having smaller roles on shows also helped him gain valuable insight into the making of TV shows and this is something that has served him well through the rest of his career.
5. He Played Rachel McAdam's Boyfriend In The Movie Mean Girls
One of his first major movie roles was as Shane Oman, the boyfriend of Rachel McAdam's character in the teen movie Mean Girls. For a while, this was the role that he was most recognized for and it can be argued that it is still his best-known movie role. There were a lot of teen movies that were released around this time, but Mean Girls has become something of a cult classic. He still gets people quoting lines from the film to him now, even after fifteen years.
6. He Is A Keen Golfer In His Spare Time
When he is not working he enjoys a round of golf. He told Kingdom magazine that he first found his love of golf when watching his father play. When he was a child there were not many sports available for him to play apart from hockey and baseball. Golfing was something that was completely different to any other sport that he had played and it was something that he took to straight away.
7. He Feels As If He Has Learned A Lot From Working With James Spader
He has said in the past that he felt a little apprehensive about working with Spader when they started filming The Blacklist. He told the New York Post that Spader was always very approachable and would be happy to share any advice that he had. However, he still felt that when he was working in the presence of such a distinguished actor, that he always had to be on top of his game. He did not want to be the one that let the side down and this made him work that little bit harder.
8. He Admits That It Was A Gamble Leaving Homeland For The Blacklist
The cast had already filmed the majority of the first season of The Blacklist before it began to air. Therefore, they were already committed to the show before they had any idea how it would be received by audiences. It was a gamble to leave Homeland as his character was so popular and it was much more of a certainty that the program would continue for at least another few seasons. The cast all believed in the show and were confident that it would do well but in this industry nothing is certain. When it was released The Blacklist broke records for being the most recorded show ever on DVRs, and so this certainly was a gamble that paid off.
9. He Lives With His Wife In New York City
His wife is also Canadian but the couple now live in Brooklyn. He likes to keep his private life under wraps and it is not clear whether the couple have any children. The fact that he has a wife has been referenced by other members of the cast in interviews, but no one has made any specific mention of her by name, or revealed what she does for a living.
10. He Has A Net Worth Of $2 Million
It is estimated that he has a net worth in the region of $2 million. Most of this income would have come from his main roles in Homeland and The Blacklist. This is something that would have seemed like a dream when he was nineteen and still working in bars. There will be a point when The Blacklist does come to an end but he should have no trouble finding other work and so his net worth could increase in the future.