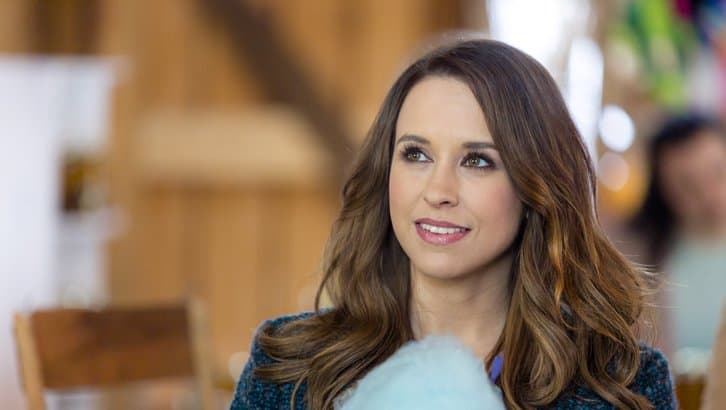 If you think you've seen Lacey Chabert around then it's likely that you watch the Hallmark channel a lot and have possibly seen some of the movies that she's been in throughout the years. A lot of what she's done has been spread out over her career as she's grown from being a child actor into the woman she is now. That's been by design since Lacey has wanted to let her fame accumulate in order to make it known that she is a serious and dedicated individual that isn't about to spend all her time accruing roles in one stage of her life just to fade out and be forgotten when the next batch of stars comes rushing in. So far that plan has been working pretty well since she's managed to stay quite relevant when it comes to TV and movies, though at this point it seems that TV movies might be her niche, as that's where she seems to be the most comfortable.
Here are a few things about Lacey that you might not have known.
1. She was going to play the role of Young Lily in Return to the Blue Lagoon but she backed out for unknown reasons.
This film didn't really gain a whole lot of attention as the first one did but it might have been another part of her career that she could have leaned upon to further her rise to fame. Unfortunately it's not really known what happened or why she backed out, but it could have been a conflict of schedule or something just as pressing that forced her to drop the role.
2. Her role in Not Another Teen Movie was a spoof of her costar from Party of Five.
This movie was kind of a flop but it did have it's funny moments since she played the young woman that every guy was after, much like her costar Jennifer Love Hewitt from Party of Five who played the same role in Can't Hardly Wait.
3. She was the only choice to play Gretchen Wieners in Mean Girls.
This movie rose to acclaim for some reason that a few people can't figure out but it did manage to elevate the careers of those that were picked for the most prominent roles as Lacey was. Even today it's considered one of the better teen movies.
4. By the time she was cast in Party of Five she was taken out of school and tutored on the set.
Lacey was only in the 5th grade when she was taken out of school but thankfully she did manage to get her studying done while on set. This seems like it would be a hard way to get an education, but for some people it's a little more liberating apparently.
5. From a very young age she wanted to entertain people.
It sounds like Lacey was the type of girl that would sing in front of the mirror and go out of her way to act in front of others and put on her own little dramas now and again for the benefit of those around her.
6. She had a lot of reservations about being a teen star.
This is very understandable as a lot of people that become child and teen stars don't ever seem to outgrow that stage in their lives when their careers are finally over and there's nothing else for them to cling to. She didn't want to be one of those that couldn't realize when her career was over.
7. Lacey is an avid photographer.
She loves taking pictures of the world around her and finding beauty wherever she can. Photography might not be the exact same as traditional art but it does take a trained and skilled eye to find the right lighting and to appreciate the subtlety of one's subjects and their surroundings. It's art, just in a different medium is all.
8. She wanted to be a waitress but that was a fleeting dream.
Apparently when her sister opened a restaurant she took a job as a waitress and figured out within 3 days that it wasn't the glamorous job that she'd hoped for. If you're laughing right now it means you've been there and done that and can fully understand what she might have gone through.
9. As a young girl Lacey had a lot of energy and couldn't sit still.
She was the energetic type and still is that has to be doing something and is just so active that sitting still isn't always an option. You can't really fault that in some people since getting up and being active is an important part of life sometimes.
10. She played Cosette in Les Miserables on Broadway for 2 years.
The role and the play are big enough that this is a major accomplishment in her life and a reason why she was seen as such a talent when she was younger.
11. Lacey Chabert played the original voice of Meg on Family Guy
Though few people are aware of it, the original voice of this iconic angsty teen girl was not originally Mila Kunis. Neither Chabert nor Seth McFarlane has ever indicated there was any bad blood. She stated that she was simply too busy handling homeschool and other acting obligations at the time and had to make a break from the show.
12. She played a famous lesbian… sort of
In 1992-1993 Chabert was cast as Bianca Montgomery, the fictional daughter of Erica Kane and Travis Montgomery on All My Children. Though she played the part in the early years, her character Bianca went on to be played by other actresses and hailed as the first openly Lesbian character on a major daytime TV show and hailed (by the Advocate) as "the most famous gay soap role of all time."
13. She didn't tell anyone she was married
Lacey Chabert and husband David Nehdar are known for being extremely private people. Though they were married in 2013, they didn't tell anyone for quite some time. She hid her husband's name from the media, and he seems to be happier with the quiet life. Even now the couple prefers to live almost completely out of the spotlight.
14. Baby and a dog
When she first got pregnant with her daughter Julie, Chabert announced the happy event by putting an adorable shirt on her dog Kitty. As private as her home life is, occasional social media shares about her daughter do crop up. She is fond of posting on twitter and isn't shy about how much she loves being a mother to Julie.
15. She won an award as a baby
In 1985 Lacey would have been about 3 years old. Her youth, however, did not stop her from winning her first major award in the World's Our Little Miss Scholarship Competition. She won the title World's Baby Petite that year. Her formative experiences with this may have contributed to her later career on stage.
16. A great big… filmography
Beginning in 1997, Lacey Chabert made appearances in dozens of movies. To Be precise, including her roles in short films and straight to disk movies, she has been in at least 51 movies. That is a lot of films for someone so young. Her career averages out to around one and a half movies a year, and that doesn't take into account the roughly 80 TV show appearances in her career.
17. Beyond TV
In addition to her ridiculously impressive number of film and TV credits, Lacey Chabert has also been a part of several video games. That includes no less than four Star Wars games: The Old Republic, The Old Republic- Rise of the Hutt Cartel, The Old Republic- Shadow of Revan and The Old Republic- Knights of the Fallen Empire where she voices Mako. Altogether she is credited with voicing characters in eleven games. How she manages to fir it all into her schedule is an intriguing question.
18. Everyone loves an adorable winner
Lacey Chabert may have gotten her first title at the age of 3 or 4, but it wasn't her last. She has been nominated over 20 ties for various roles she's played and actually won 6 of them. One was for a 'worst supporting actress,' but the rest were all young stars and best on-screen duo or otherwise positive awards.
19. A long way from Hollywood
Sometimes we think of our favorite stars as an entirely Hollywood phenomena, but most of them were actually born and raised elsewhere. Such is the case for Lacey Chabert. She was born in Purvis Mississippi in 1982, which makes her 36 this year. The small town, with a population under 3000 people is the county seat of Lamar County. That's a long way from the bright lights of the west coast and fame of a Hollywood career.
20. Net Worth
While the worth of a person is certainly not measured in dollars, we also don't hear anyone complaining about having 'too much' money. In the course of her career, Chabert has racked up a respectable net worth of about 9 million dollars. She may not be the wealthiest person in Hollywood, but that's nothing to sneer at and she's still young.