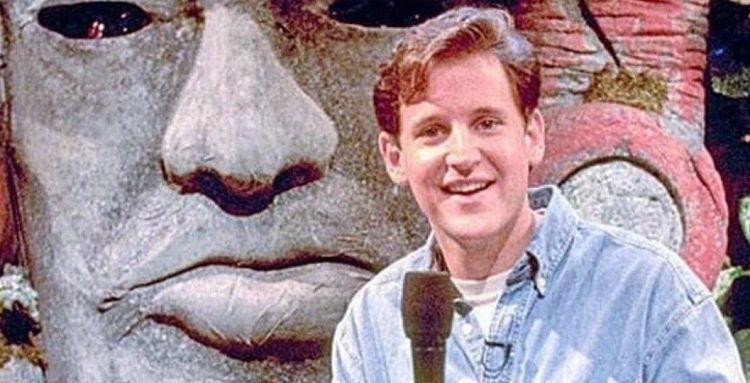 If you were a kid during the 1990s, there's a very good chance that you remember the Nickelodeon game show Legends of the Hidden Temple. Full of fun and excitement, the show was unlike anything on the air at the time. As we all know, however, no game show can find success without the perfect host, and Legends of the Hidden Temple found that in Kirk Fogg. Although he was virtually unknown before his time on the show, being the host turned him into a bonafide 1990s celebrity. However, once Legends of the Hidden Temple ended in 1995, lots of people were left wondering what became of Kirk. Keep reading to find out what happened to Kirk Fogg.
Kirk's Journey In The Entertainment Industry
Kirk Fogg was born and raised in the Los Angeles area. Since he has always been a fairly private person, there isn't much information about his upbringing or his family life. From what we can tell, he didn't necessarily plan on having a career in the TV world, but things just so happened to work out that way for him. Kirk attended Cal State Fullerton where he earned a bachelor's degree in communications. During his senior year of college, Kirk started to develop an interest in acting, but his path to the industry wouldn't be a direct one. Although he tried to land some acting roles, things didn't end up working out for him and he ended up getting a job at a local TGI Fridays restaurant instead. Little did Kirk know, however, that a career in the entertainment industry was closer than he thought. Still, though, he never envisioned himself becoming a game show host.
When asked how the opportunity for Legends of the Hidden Temple came about, Kirk told Complex, "I was working on a fellowship with Steven Spielberg's Amblin Entertainment. Then, all of a sudden, I got this phone call to try out for this game show. They found me in a player's directory. Do you even know what that is? You pay to put your picture in there and then casting people flip through. I used to pay like a hundred bucks every six months for it, never got anything. Then, finally, it paid off." He auditioned for the show at Nickelodeon studios in Orlando, FL. Despite having no prior experience hosting game shows, Kirk managed to wow producers so much that he earned the role. When the show ended, Kirk moved back to Los Angeles. He did a little bit of acting and he also decided that he wanted to explore being on the other side of the camera. In 1998, he made his debut as a writer, director, and producer with a movie called Yeah Vous!
What Is Kirk Up To Now?
Somewhat surprisingly, Kirk has mostly avoided the spotlight since the 1990s. However, that doesn't mean that he wants to separate himself from his Legends of the Hidden Temple past. In fact, he is very proud of the show and he appreciates all of the people who have continued to keep its memory alive over the years. Needless to say, any time he gets the chance to reunite with the Legends brand, Kirk is totally up for it. In 2016, he played himself in the movie Legends of the Hidden Temple. In 2021, he appeared in one episode of the revival of the show. Unfortunately, however, Kirk is not the host of the new version of Legends of the Hidden Temple. Unfortunately, we weren't able to find any concrete details on what Kirk is doing for work these days. At one point, however, we do know that he was building houses in the Los Angeles area during the 2010s. It's unclear whether he is still involved in this. Outside of work, Kirk has been happily married for many years and he is a proud father of two. He loves spending as much time with his family as he can.
What's Next For Kirk?
As of now, it doesn't appear that Kirk has any projects in the works as far as movies or TV shows are concerned. However, that doesn't mean that we've seen the last of him. With his natural ease in front of the camera, it seems like only a matter of time before he gets another great opportunity. He has also said that he hopes to return to the world of game show hosting one day, and I think there are lots of people out there who would love to see that happen.
Tell us what's wrong with this post? How could we improve it? :)
Let us improve this post!