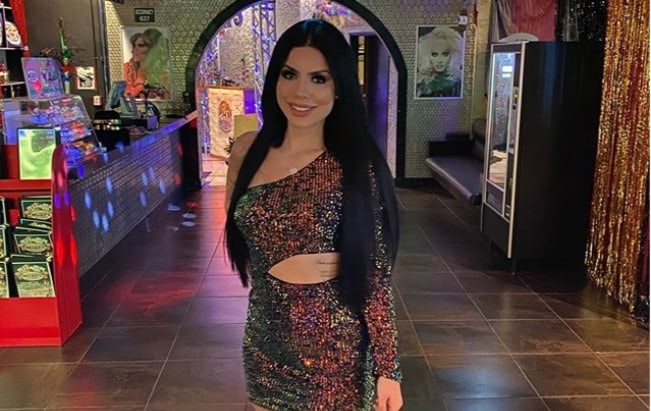 When "90 Day Fiance" chooses people to showcase on their reality television show, everyone expects it to be entertaining. There is nothing about this show that fails to entertain, from finding the most outlandish couples to the craziest storylines to the most dramatic relationships that the world can see will never work – so many red flags – yet the couples want to try to make it work. When Larissa Lima was first cast as part of the show, her story was like so many others. She met a man by the name of Colt, and they fell in love. She came from Brazil to live with him in the United States. They hoped to create a future together that would include a happily ever after fairytale ending, but it was anything but happy for this reality star. She's since been betrayed, started a private account on OnlyFans, and she's been arrested by ICE. Here's what's been going on in Larissa Lima's life since she ended her time on reality television.
Her Not So Love Story
When Colt and Larissa met, it was online. They continued to speak to one another online for a while before choosing to meet in public. They both booked trips to Cancun, Mexico, where they met at a resort, got to know one another, and they decided to make their love story a little more permanent. Things progressed quickly from that point, with Larissa moving from her home in Brazil to Colt's home in Las Vegas. Colt and his mother both welcomed her into the family, they got married, and they began their lives together. Unfortunately, their issues were too big for them to handle. They couldn't make things work despite working with a sex therapist. Eventually, they had a fight that they could not come back from, Colt filed for divorce, and their marriage ended. But, Larissa's journey in America was only getting started. TLC eventually fired her in September of 2020 after the show found out she was involved in a cam show. Following that, ICE showed up to detain her for several hours – though many believe her deportation threats and ICE arrest are both publicity stunts created by Larissa herself in an effort to drum up more followers and fans.
Since 2020
Since Larissa's 2020 firing by TLC and her arrest by ICE, she's been living a colorful life. Her entire goal at this moment in time is to stay in America. She wants to give her children – whom she does not often speak of or show online or television – a better life than the life they are currently living. She's had a difficult time since the show ended, but it's not stopped her from creating an Only Fans account. She did go through a situation when someone she considered a friend began taking her Only Fans photos – they are posted online in a private server meant only for those who pay a subscription fee monthly to see – online for the world to see. It's a violation of her privacy, and it is something she is highly upset about. At the moment, however, she's decided her best option for creating a better life is to work in the adult content business.
At the moment, she's undergone several physical transformations, including plastic surgery, and she's leveraging her looks to make money, to get ahead, and to try and make a life for her kids. Her kids are still in Brazil while she lives her life in America, and she's received an abundance of criticism for leaving her kids behind to come to America to create adult content. She always comes back with the fact that she's doing what she's doing to give her children a better life, and that she hopes to have them with her sooner rather than later. She's also hoping TLC will release her from her contract so that she can begin another career in reality television. She won't come back to this specific show, but she's pushing to have her contract terminated – or the network releasing her – so that she can go to work on something else. She is nothing if not a hustler looking for every opportunity. She's currently got just enough fame that she might be able to pull it off, but it does depend on TLC and the network making that happen for her. Her life is probably not what she thought it might be, but she's doing what she's doing and hoping she can make things work for herself.