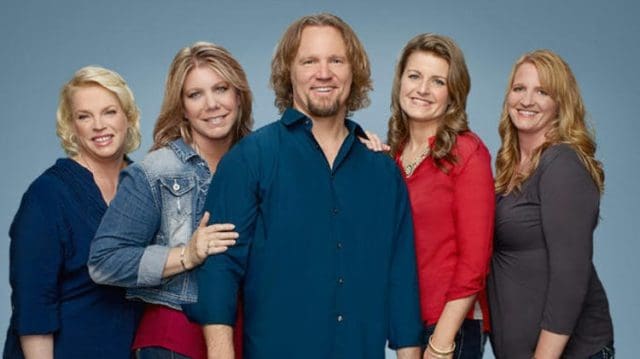 There are some truly awful Reality TV shows out there and some of them have some pretty horrible names that make a lot of people not want to watch them. Those that do watch either seem to like the shows or perhaps find them somehow morbidly fascinating. In any case I can't still my tongue that much since some of them seem morally and just flat out socially offensive. It's how people live in some regards and I will often say to each their own, but thankfully there's such a thing as a channel changer and the option of turning the set off. To be quite honest some of the trailers are hard enough to watch without thinking about watching the actual show.
Like I said, to each their own.
5. Sister Wives
A lot of people can't even handle one marriage all that well, so why would anyone in their right mind expect to be able to handle two? This guy handles four marriages, thirteen kids, and doesn't seem to have any major issues that might come between them all. The entire household seems to work as a team, though there are disputes now and again, and likely a lot of us don't want to hear about it.
4. The Biggest Loser
I guess the message for this show has been to scream and yell at overweight people in order to motivate them to start losing weight. So what are they going to do with a kids edition? I doubt they'd still scream and yell but the idea seems a bit ludicrous since the threat of a heart attack or diabetes would, you'd think, get people moving. Of course that kind of thinking hasn't been working a lot throughout the last several decades it seems.
3. Flavor of Love
Flavor Flav is looking for a good woman and to do that he's decided to bring a bunch of women looking to marry what they think is probably a famous sugardaddy just looking for some loving. Honestly this is one reality show that seems to be full of it is since it's little more than a one-man dating service that allows Flav to act like one of the laziest men on earth while the women fall over each other trying to win his attention.
2. Here Comes Honey Boo Boo
Any show featuring a child that is a regular pageant participant and glorifies the kind of life that this family lives has something inherently wrong with it. Not only does Mama June not seem to care about the fact that her family is in a less than optimal state as far as their health goes but this seems to say it's okay to be trashy so long as you're on TV.
1. Teen Mom
A lot of people seem to think that we're not glorifying these women but are instead trying to reach out to others to show them that it's not cool to be a teenage mom. Well can the actor's on the show start showing that? When you have a child and decide to keep them it doesn't matter how old you are, the party is over for a while since you need to take some responsibility.
Reality TV is about as ridiculous as it's ever been right now, and it's only bound to get worse.
Tell us what's wrong with this post? How could we improve it? :)
Let us improve this post!