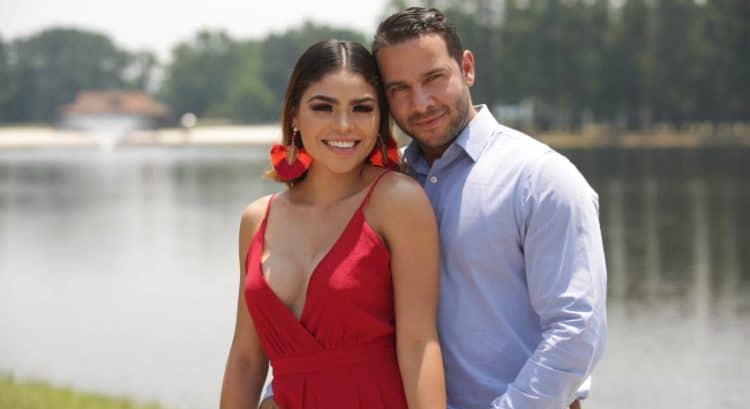 When 90 Day Fiance debuted in 2014, the show became an instant success. Countless viewers were drawn in by the relationship drama that often accompanied the couples. The franchise's flagship series featured couples in which one partner was American and the other was not. Each couple had applied for the K1 visa which allowed the non-American partner to come to the United States. However, the catch is that the couple needs to get married in 90 days in order for the foreign-born person to stay in the country. While there have been some genuine love stories over the years, there have also been some questionable connections. Surprisingly, though, quite a few of the franchise's couples have managed to beat the odds, and some of them have even had children together. Here are 10 couples from the 90 Day Fiance franchise who became parents.
1. Paul and Karine
Paul and Karine are arguably one of the most toxic couples in 90 Day Fiance history. When they first appeared on the show, it seemed like they might actually be a good match. However, over time Karine started to seem disinterested in Paul. On top of that, issues started to surface about Paul's aggressive behavior in a previous relationship. However, despite the fact that it was obvious they weren't really happy together, Paul and Karine continued to stick it out. They welcomed their first child together, Pierre, in 2019. After the birth of their son, the couple started having relationship problems and it seemed like they were going to part ways for good. However, Karine revealed that she was pregnant again in 2020 and they welcomed their second child, Ethan, in 2021. Unfortunately, though, things haven't gotten any better between the two. Since the birth of their children that has been allegations of domestic violence. On top of that, Paul has also questioned the paternity of both children.
2. Loren and Alexei
Unlike Paul and Karine, Loren and Alexei are one of the most unproblematic couples in the 90 Day Fiance family. The two were introduced to viewers during 2015 as cast members on season three of 90 Day Fiance. The couple met while Loren was visiting Israel where Alexei was working at the time. Although they knew it would be difficult to get Alexei to the United States, they didn't let that hold them back. As with any other relationship, they faced some bumps in the road but they've always appeared to be very solid. The couple now has two adorable children together. Loren, who suffers from Tourette Syndrome has been very open with her fans about how the disorder impacted her pregnancies. According to ET Online, Loren said, "I do have my moments and I've noticed them [ticks] now with this pregnancy, they're definitely a lot worse, especially at night, and there will be times when I'll text him, like, 'I'm ticking so bad, I don't know why. I don't know what's going on".
3. Russ and Paola
Russ and Paola were cast members on season one of 90 Day Fiance. While it was always clear that these two had genuine feelings for each other, their relationship got off to a rocky start due to some serious cultural differences. Russ comes from a very conservative background while Paola has always been more on the free-spirited side. Despite their differences, though, Russ and Paolo made the decision to be in it for the long haul. They are now the proud parents of a little boy named Axel.
4. Melanie and Devar
When Melanie and Devar started sharing their story during season three of 90 Day Fiance, some viewers were a little skeptical. The couple met while Melanie was vacationing in Devar's home country of Jamaica. By the end of Melanie's trip, she and Devar have engaged. Many viewers saw this as a red flag and felt that Devar was simply using Melanie as a way to get to the United States. Melanie's sister also shared this sentiment and she wasn't the biggest fan of their relationship. Regardless of what anyone said, Melanie and Devar continued to push forward and they were married while he was in the states on the K1 visa. They had their first and only child together in 2017. Initially, it seemed that Devar struggled in his new role as a father but the couple appears to be doing great now.
5. Anny and Robert
Anny and Robert are another couple in the 90 Day Fiance family whose relationship moved a little fast. But you know what they say, when you know, you know. After meeting Anny online, Robert booked a cruise with a stopover in the Dominican Republic and the two met in person. Robert proposed to Anny within eight hours and the rest is history. However, their relationship dynamic started to suffer when Anny relocated to the United States. Life in America wasn't at all what she imagined, and the two were living in a one-bedroom apartment with Robert's son. Although she contemplated leaving, Anny decided to stick it up, and eventually, things started looking up. The couple welcomed their first child in the summer of 2020 and they had another in September of 2021. In addition to the children he has with Anny, Robert also has five other children.
6. Dean and Rigin
When viewers were originally introduced to Dean Hashim, he wasn't actually a cast member on the show. He appeared as part of his brother's, Tarik, storyline and he often expressed negative feelings about the fact that his brother was trying to marry a woman from another country. He felt that Tarik's girlfriend, Hazel, was using him and couldn't be trusted. In a surprising turn of events, Dean ended up falling in love with a woman from the Philippines as well. Things appear to be going very between Dean and his girlfriend and they had their first child together in 2021. Dean also has an older daughter from a previous relationship.
7. Alan and Kirlyam
Unless you're a diehard 90 Day Fiance fan, you may not remember Alan and Kirlyam. They were cast members on season one and they had a story unlike any of the couples in the franchise. The couple initially met when Alan went on a Mormon mission trip to Brazil when he was a teenager. Kirlyam, who lived in the nearby area, was only 11 at the time. Don't worry, though, there was nothing romantic between them. However, they met again about 10 years later at a mutual friend's wedding and they hit it off instantly. They began the process for Kirlyam to come to the United States on a K1 visa and they quickly became fan favorites. Due to differences in culture, the two had some rocky moments early in their relationship, but they were both committed to doing everything they could to make it work. In 2017, Kirlyam gave birth to a son who they named Liam. In the summer of 2021, they had another son who they named Enzo.
8. Jovi and Yara
Jovi and Yara are much newer to the 90 Day Fiance franchise than any of the other couples on this list, but they're already parents. The couple met while Jovi was on a business trip to Yara's home country, Ukraine, and sparks started to fly immediately. However, when Yara moved to the United States to be with Jovi, things in their relationship got a little tense. She had some difficulty adjusting to life in Lousiana and they seemed to be on different pages about lots of things. At one point it seemed like they were going to go their separate ways, but when Yara found out she was pregnant they became committed to making their relationship work. Yara gave birth to their daughter, Mylah, in 2020. Rumors have started to surface that Yara may be pregnant again, but that information hasn't been confirmed.
9. Aziza and Mike
Aziza and Mike made their reality TV debut during season one of 90 Day Fiance. Like many of the couples from the original season, their love story has been a great one. They met online back in 2013 on a website for learning languages. Even though neither of them was looking for love, the universe clearly had other plans. Aziza came to the United States on a K1 visa that summer and the two were married within 90 days. The couple has a daughter who was born in 2019. Although subsequent seasons of 90 Day Fiance have gotten much more dramatic, Mike and Aziza are proof that some of the couples on the show really are serious about their relationship.
10. Danny and Amy
Danny and Amy might just be the most wholesome couple in 90 Day Fiance history. Danny, who is originally from Pennsylvania, and Amy, who is South African, met while they were both studying abroad in Australia. They both came from very religious backgrounds which is something they immediately bonded over. Amy moved to the United States to be with Danny. For the most part, things went well, but the fact that Amy isn't what didn't sit well with Danny's father. However, Danny's other family members were supportive of the couple's relationship. Danny and Amy are still together and now have three children.
Tell us what's wrong with this post? How could we improve it? :)
Let us improve this post!