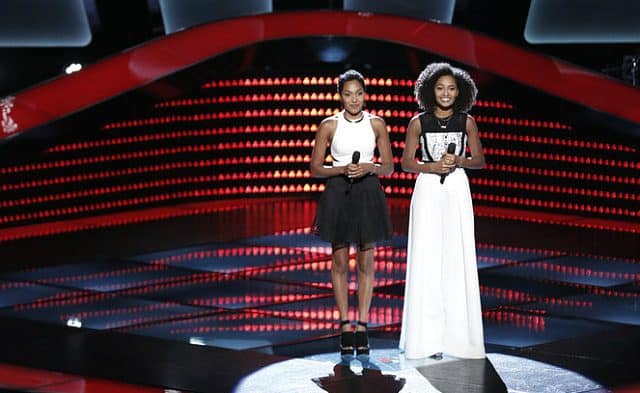 Well, that was a shock! We hit the last night of The Voice Season 11 Blind Auditions. That's a lot of singers! Last I checked each coach had at least 3 spots left! Let's take a look at the coaches final picks!
Team Alicia
Coach Alicia Keys had only three spots left and was the first to finish off her team! The night started out with her winning picking up the season's only duo – sisters Shannon & Whitney!
Whitney & Shannon: Ages 25 and 23
These young women are from Texas – Huston and Austin. They are the children of missionaries and as kids traveled all over the world and sang for people as part of their parents work. Now they live in separate cities and have normal jobs. The Voice is the chance for them to pursue their teenage dream of singing together as their adult career.
Song: "Landside" by Fleetwood Mac as sung by Dixie Chicks
[youtube https://www.youtube.com/watch?v=rnkFPB9stlM?rel=0&w=640&h=360]
Belle Jewell: Age 18 (Montage Video)
The indie/pop singer hails from Brooklyn, New York. Alicia was impressed by Belle's reinvention of the 80's Simple Minds song, "Don't You Forget about Me."
Kylie Rothfield: Age 23
The woman from Danville, California, gets the last slot on Alicia's team. Kylie started singing, songwriting and playing guitar when she was eleven. After doing two years at the Berklee College of Music she embarked on her music career. She went from doing open mikes to her own shows with full bands in major U.S. cities – and even did a tour in Scotland!
All was going well for Kylie until November 2014. During a show she experienced a singer's nightmare – a vocal hemorrhage. She didn't know if she'd be able to sing again. It's only recently that she's been able to. One might say it's been perfect timing.
Song: "Wherever I Go" by One Republic
[youtube https://www.youtube.com/watch?v=5hS3WV1wjCQ?rel=0&w=640&h=360]
Team Blake
Courtney Harrell: Age 36
She was the fourth artist of the night, so I guess it was time for Blake to win one. Still, when Blake beat out Alicia for Courtney I was shocked. She's worked as a songwriter for some big names in r&b: Mary J. Blige, Jennifer Hudson, and Leo – to name a few. Her voice and style are definitely not country music oriented!
[youtube https://www.youtube.com/watch?v=uya1rV8s1cg?rel=0]
How did someone who sounds like that end up working behind the scenes for so long? It's a story similar to several of the female vocalists this season. She'd been involved with music growing up. After getting a full scholarship to the prestigious Berklee College of Music she got pregnant at seventeen. That led her to give up on being a singer – until now. With her son now enrolled in college, that dream is back!
The reason she gives for choosing Blake is that "..he respects true artistry" Her entire family was rooting for her to pick Blake, so it feels like some thought went into this. Since I haven't seen a coach that has ever not respected "true artistry," I'm wondering if it's a strategy choice. She'll have a better chance of getting a steal if she's tossed off of Team Blake than if she were on any of the other teams.
Tarra Layne: Age 30 (Montage Video)
She's "a pop vocalist from L.A." The song she does is "Black Velvet" by Alannah Myles.
Blaine Long: Age 40
As a child in Arizona Blaine "always thought" he would be a songwriter. Pursuing that dream has been far from easy. For one, Blaine never graduated from high school. To support himself and his music he's worked odd jobs his whole adult life. He's also a married man and a father of two. He and his wife chose to adopt rather than to have their children biologically.
Song: "Have a Little Faith in Me" by John Hiatt
[youtube https://www.youtube.com/watch?v=bQlEAWyWWho?rel=0]
Team Adam
Johnny Rez: Age 25
Johnny was born and raised in Miami, Florida. He's is a first generation American – his parents are from Cuba. Growing up he did enjoy music but in college Johnny got into real trouble – doing and selling drugs. As he tells his story you can tell he regrets what he put his parents through. He was arrested "a few times." It wasn't until he was under a six-month house arrest that he was able to turn his life around.
During that six month house arrest he turned his focus to his guitar and music. He also got sober. Today he has six years of sobriety, a degree in information technologies, and a job in his field. Through all of this his parents have stood by him. His choice of song certainly fit his story!
Song: "Iris" by The Goo Goo Dolls
[youtube https://www.youtube.com/watch?v=dj2Bugry0pE?rel=0]
JSOUL: Age 26 (Montage Video)
He's now a resident of Toms River, NJ, but JSOUL is good-ol' boy from Virginia Beach, VA. He sang "Stay With Me" by Sam Smith.
Natasha Bure: Age 17
She's the daughter of actress Candace Cameron Bure – who as a child played D.J. Tanner on the show Full House. The perky teenager pursued tennis for long time before realizing she loved singing more.
[youtube https://www.youtube.com/watch?v=f_IYxSdKgmg?rel=0]
Only Adam turned for Natasha. Mainly because when he did she freaked out and the nerves showed up in her voice. It didn't matter though, because all it takes is one turn to make it!
Ponciano Seoane: Age 25
First of all, what you won't see in his audition is that Ponciano also plays saxophone! This Cuban-American resides in San Antonio, Texas, but was born in California. Both his parents were in the Air Force, so growing up he moved around a lot.
In high school Ponciano switched to guitar so that he could sing as well as play music. He dedicates the song he's doing to his son – whom he doesn't get to see all the time since splitting up with the child's mother.
Song: "Home" by Philip Philips
[youtube https://www.youtube.com/watch?v=DRQsTP3Nrmw?rel=0]
Team Miley
Maye Thomas: Age 27
If you were to cross Lady Gaga with Gwen Stefani you might get…Maye Thomas! It's partly her look, but also some the qualities in her voice. When she came out and started singing those two immediately came to mind! The battle for her was between Miley and Adam. However, as Maye herself told Carson Daly afterwards, Adam never had a chance! (He knew that though – and was a good sport about it.)
[youtube https://www.youtube.com/watch?v=FBBQNisNrVI?rel=0]
Given her background, Maye's indie/pop style is surprising. She was born and raised in Broken Arrow, Oklahoma and currently lives in Nashville, Tennessee. Her dad is radio deejay for a major country music station in Oklahoma. However, it's her dad that gave her an appreciation for all kinds of music. Yet, her own interest in performing didn't blossom until she got involved with her now husband. It was her husband's work in a band that inspired her to become a performer herself.
Charity Bowden: Age 17 (Montage Video)
She's a country singer from Alabama. The song she does is "Girl Crush" by Little Big Town. She's seen briefly in the video montage.
Josette Diaz: Age 17
Miley's final pick of the night turns out to be the most emotional. 17-year-old Josette Diaz from was a huge Hannah Montana fan growing up!
[youtube https://www.youtube.com/watch?v=il0BTOHKpMo?rel=0]
The Voice Season 11 Blind Auditions Wrap Up
Here's the video montage of singers that are the show but we didn't see their full audition:
[youtube https://www.youtube.com/watch?v=mdXUTjtbe70?rel=0]
That's it for the teams! However, there was one person whose audition was shown that didn't make it. 32-year-old Nicholas Ray is from Chicago, Illinois. The gay optician by day also is a wedding band singer.
When Nicholas met his boyfriend of seven months he sang "Sugar" by Adam Levine! He's got a super falsetto voice like Adam, and that's the coach he'd like to work with. Unfortunately, he didn't choose to showcase it early on during his audition.
I think the reason The Voice chose to show this audition is that it's an example of someone not being true to who they are. The coaches actually spent a little time with him to draw this fact out. Nicholas sang the 1974 hit "I Got the Music in Me" by The Kiki Dee Band – a song he usually doesn't sing. It wasn't until the very last seconds that he used his falsetto voice and all of the coaches loved that moment. Miley asks him to sing something he would normally do. He does a little of the Motown hit "My Guy." After hearing it, Adam says, "That's the guy who should be on this show."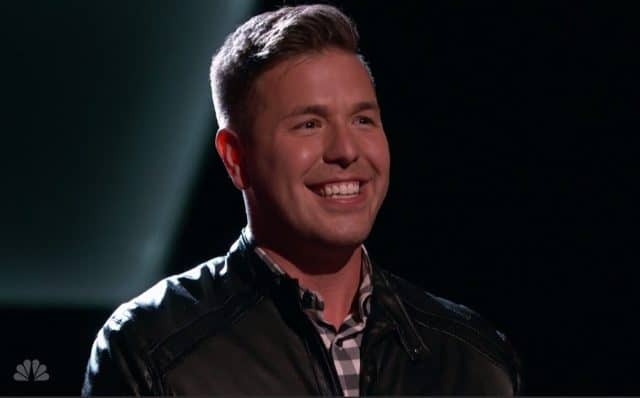 I'm betting we'll be seeing him again!
With that, The Voice season 11 blind auditions are wrapped!
Next up, are the battle rounds. These are nerve-wracking because they will be eliminating singers. They also will be shifting around the original teams via the steals. With the blinds we really don't know any of the singers. Now that we've heard them, the rollercoaster ride to get the live shows really begins!
Tell us what's wrong with this post? How could we improve it? :)
Let us improve this post!