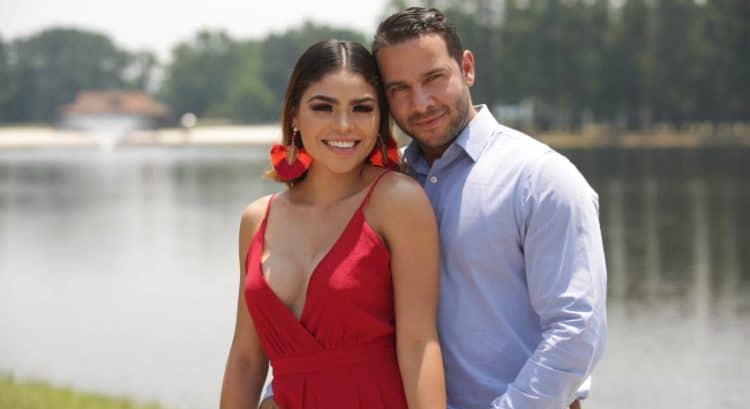 90 Day Fiance is easily one of the most bizarre reality shows on TV. For those who aren't familiar, 90 Day Fiance follows a cast made up of American citizens and their foreign partners. Each couple has one goal: to get approved for the K-1 Visa which will allow the foreign partner to stay in the country as long as the couple is married within 90 days. As you can probably imagine, the short time frame coupled with cultural differences doesn't always make for smooth sailing. As the show's popularity has grown, so has the number of people interested in joining the cast. But does everyone who wants to be on the show simply want to share their love story? Or, is joining the cast a chance to make some 'easy' money? Keep reading to find out if the cast of 90 Day Fiance gets paid.
How Much Does The Cast Get Paid?
First things first, cast members on 90 Day Fiance do get paid. However, the exact amount they earn is a little harder to verify. Nikki Cooper, whose husband Chris is friend's with cast member, David Toborowski, said that cast members make about $1,000 per episode and an additional $2,500 for the Tell All. This means that people on the show can earn around $15,000 per season. Some sources say that this amount if given to all of the cast members regardless of their citizenship status. However, other sources suggest that only the Americans on the show are paid. The source says, the foreign cast members "can't even get paid because they have to wait for a work permit. It's of course different if filming takes place in their country." "
$15,000 may sound like a lot of money, especially considering the cast doesn't really have to 'work' for it. But compared to some of other reality shows on TV, $15,000 for an entire season isn't much. Plus, if you've ever watched the show, you know that finances are a major issue for many of the couples so it's clear that what ever they do make from the show doesn't stretch too far.
On the other hand, the pay rates for the 90 Day spin off seem to be a bit different. Couples on Before the 90 Days make just $500 per episode. Couples on 90 Day Fiance: Happily Ever After, can make anywhere between $2,000 and $7,500 per episode. Essentially, it benefits people to stay within the franchise and eventually make it to Happily Ever After.
Does The Show Cover Any Expenses?
Since all of the couples on the show started off in a long distance situation, there are lots of expenses that come with maintaining their relationship. For example, flying in and out of the country and covering any fees associated with the visa application process. Unfortunately, it doesn't look like the show covers any of these expenses. Outside of the pay per episode, the network doesn't appear to offer any financial help which means there's even less of an incentive for people to join the show just to make money.
Other Ways To Make Money
Fortunately for the couples on the show — especially the more popular ones — there are other ways they can use their time on the show to make money. Many of the cast members have gained massive followings on social media. This has allowed them to become brand ambassadors and take on other sponsorship opportunities.
For example, Darcey Silva, who is one of the most well-known cast members in the entire franchise, has over 850,000 followers on Instagram and has started a business with her twin sister. Additionally, she earns extra money by making customized videos on Cameo.
While being on 90 Day Fiance may not be a come up in itself, it can still prove to be a worthwhile experience for people looking to share their love stories.
Tell us what's wrong with this post? How could we improve it? :)
Let us improve this post!