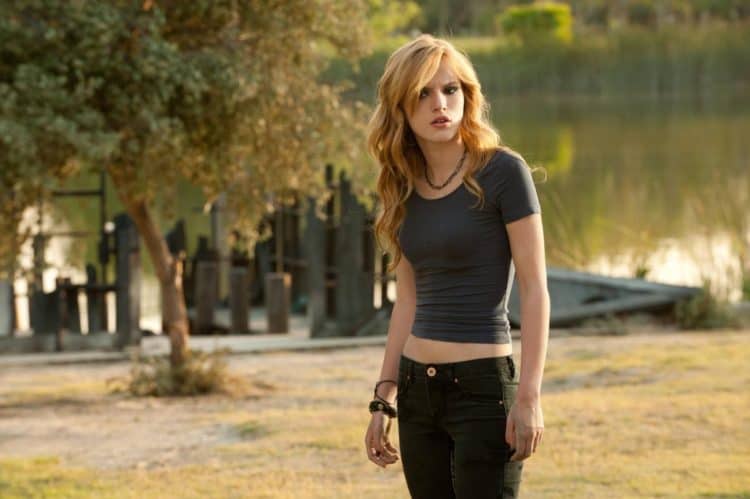 Although the popular premium content platform OnlyFans has been around since 2016, it's gotten a lot more attention in 2020. OnlyFans has become well-known as a place for people in the adult industry to post photos and videos while charging subscribers a monthly fee. OnlyFans has proven to be a very lucrative opportunity for 'regular' people looking to many some extra cash online. Recently, however, celebrities have started to create accounts on OnlyFans. While most of their content is PG, they've still managed to gain large followings. As celebrities continue to find success on the platform, there's no doubt that more and more big names will start to become members on OnlyFans. While some people have concerns about what will happen to OnlyFans if it continues to be dominated by celebrities, there are a lot more people who are happy to pay the monthly price to get an exclusive look at their favorite stars. Keep reading for five mainstream celebrities who have joined OnlyFans.
1. Bella Thorne
At just 22-years-old, Bella Thorne is one of the hottest up and coming stars in the entertainment industry. She made her on screen debut in 2003 but got her big break in 2010 when she starred as CeCe Jones in the Disney Channel series, Shake it Up. While TV and film are what she had become best-known for, Bella is also making a name for herself on OnlyFans. Recently, she became the first person in OnlyFans history to make $1 million in just one day. Yes, you right that right – ONE day. But for those who think OnlyFans is only for people in the adult industry, that isn't the case. Bella doesn't share nude pictures and photos of herself on OnlyFans, and she has no plans to. For just $16, you can become a member of Bella Thornes' OnlyFans club.
2. Cardi B
Cardi B is one of the most well-known rappers in the industry and she's also a huge social media star. In fact, Cardi was popular on social media long before she became a reality TV star who transitioned into music. Cardi has decided to go back to her roots by using her social media popularity to build a fan base on only fans. However, if you were hoping to see some X rated content from Cardi, you might want to think again. While her OnlyFans account will be for sharing the premium stuff, her posts focus on behind the scenes moments from her life and music. Cardi's OnlyFans costs just $4.99 per month.
3. Safaree Samuels
Initially, Safaree Samuels was best-known for his relationship with Nicki Minaj. However, over the last few years he has created his own lane. Now known for being a reality TV star and a rapper, there's one more thing Safaree is known for: being well endowed. Ever since nude photos of Safaree leaked online, people have been dying to see more of him, and he decided to give the people what they want. Unlike some of the other people on this list, things do get a little R rated on Safaree's OnlyFans, which goes hand in hand with the price. You'll have to shell out $24.99 a month to get access to Safaree's OnlyFans.
4. Swae Lee
Swae Lee is best-known for being one half of the hip-hop group, Rae Sremmurd. The duo has several hit singles and has been nominated for several awards. Although things have been quiet for the group on the music front, Swae has been working hard to build up his solo career. He has decided to use OnlyFans as a way to market his new music and he's taken a very unique approach. Unlike most people on the platform, Swae isn't trying to make any moneey from only fans. Instead, of charging a monthly fee, Swae allows people to subscribe to his account for free.
5. Blac Chyna
Originally known for her career as a stripper, Blac Chyna gained a wider audience when she began being cast in music videos. One of her most notable appearances as as a stunt double for Nicki Minaj in the 2010 video for "Monster". Her work as a dancer and a video vixen also resulted in a large social media presence. In the years since, Chyna has had two high profile relationships and become a reality TV star. Most of all though, Blac Chyna is known for being a hustler. With that said, many weren't surprised when she announced she would be making an only fans account. Like Safaree, Blac Chyna isn't afraid to show a little skin. The cost to subscribe to Blac Chyna's OnlyFans is $19.99 per month.