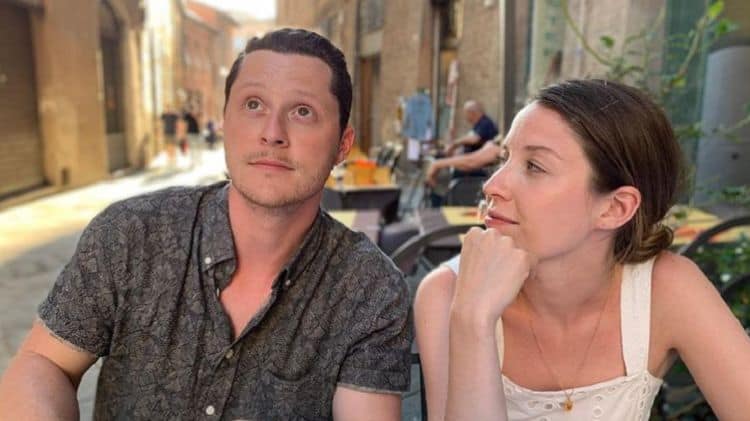 Noah Reid has been in the entertainment industry for most of his life. Now in his early 30s, he has acquired a level of experience it can take some people a lifetime to reach. Over the years he has worked on a wide array of projects and he has shown time and time again that he can do just about anything. Most viewers will know him best for his role as Patrick Brewer in Schitt's Creek. Although he has yet to make an on screen appearance in 2021, he is currently working on an upcoming show called Outer Range. The official release date hasn't been announced yet, but his fans are already looking forward to it. Here are 10 things you didn't know about Noah Reid.
1. He Was The Voice Of Franklin
Lots of people are familiar with the live action work Noah has done as an adult, but some people may not realize that he's also had a very successful voice acting career. In fact, the majority of his early years were spent doing voice roles. He was the voice ofr the cartoon turtle Franklin on the animated series of the same name.
2. He Is A Musician
Acting and music may be two separate industries, but they have a lot of overlap and Noah is proud to be part of both of them. He is a talented singer and songwriter who has released two albums, one in 2016 and 2020. Music gives him another outlet to express himself and he loves doing live performances. Unfortunately, due to the pandemic, he wasn't able to tour and perform for his second album the way he would have liked.
3. He Enjoys Taking Pictures
As a creative person through and through, Noah can't help but to make art wherever he goes. He may not think of himself as a photographer, but based on his Instagram it's clear that he really loves taking pictures. He has a natural talent for capturing stunning photographs .
4. He Doesn't Watch A Lot Of TV
When you're away from work the last thing you want to do is anything that will make you think about your job, right? With that in mind, it's not much of a surprise that Noah isn't really a big TV watcher. He didn't actually see all of Schitt's Creek until he was cast in the series.
5. He Loves Being Outdoors
When Noah has free time, he likes to spend it outside enjoying the beauty of nature. After all, fresh air is a nice cure for a lot of the stresses in life. From swimming to hiking, Noah likes to do a little bit of everything. His love for the outdoors goes perfectly with his love for snapping pictures.
6. He Is A Proud Supporter Of The LGBTQ Community
Noah isn't a gay mean in real life, but his love and support for the community wasn't just an act during his time on Schitt's Creek. He is a proud ally and he continuously shown his love for the LGBT community. In 2018 he even attended the annual Pride Parade in Toronto.
7. He Is Happily Married
Not only have things been going well for Noah in his professional life, but he's also hit his stride personally. In 2020, he married actress Clare Stone. Due to the pandemic, the couple had to have a very small ceremony but they definitely made the most of the situation.
8. He Likes To Travel
Noah is an adventurous person so it's only right that he also love to travel. He has been fortunate to have a career that has given him lots of opportunities to travel both personally and professionally. He has gotten to visit all sorts of cool places across the United States, Canada, and other parts of the world.
9. He Is A Producer
The world may be most familiar with Noah as an actor, and maybe even a musician, but that isn't all he does. In 2014 he made his debut as a producer, and he has gone on to produce a six episodes of Backpackers. He also has some screenwriting experience. It'll be cool to see if he decides to expand his behind the scenes resume in the future.
10. He Is A Baseball Fan
When most people think of Canada, hockey is the sport that comes to mind. While Noah does appear to be a hockey fan, it isn't the only sport he loves. He's also a baseball fan and he particularly loves the Toronto Blue Jays. In addition to watching baseball, he also likes to get out and play when he can.