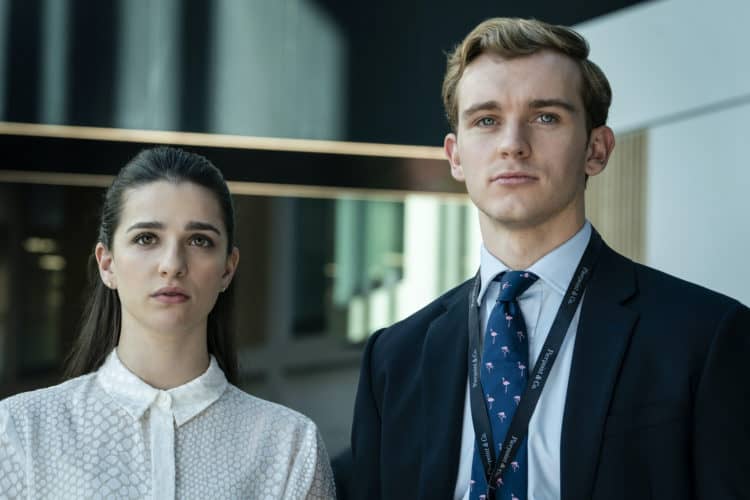 2020 has been a difficult year in a lot of ways, but it's hard at least one very bright spot for British actor, Harry Lawtey. After nearly a decade of work in the industry, Harry finally got a major break when he was cast in the HBO/BBC series, Industry. The series follows a group of young professionals who are entering the finance industry around the financial crash of 2008. The role has given Harry a chance to share his talents with a large audience and so far fans are loving what he has to offer. By the looks of things, Industry is just the first of many big opportunities that Harry will have in his career. Keep reading for 10 things you didn't know about Harry Lawtey.
1. He's A Formally Trained Actor
Some people may be under the impression that Harry is new to acting, but that isn't true. He has been working hard to hone his skills for several years and he received a formal acting education at Drama Centre in London. The school has produced several notable people including Russell Brand and Tom Hardy.
2. He Has Modeling Experience
Harry's good looks definitely haven't gone unnoticed. He's gotten the chance to do some modeling although he admits that he's much more comfortable acting. He told The Rakish Gent, "I am definitely more comfortable acting than I do in a photoshoot for example and I think that is because I feel like I can hide behind a character whereas on a photoshoot you are in essence, being yourself."
3. He's A Huge Soccer Fan
Acting is Harry's calling, but if there's one other thing he would love to do, it's be a soccer player. He is a huge soccer fan and even though he doesn't play competitively, he likes to kick the ball around with his friends whenever he gets the chance. Harry also enjoys going to live soccer matches.
4. He Doesn't Have Much In Common With His Industry Character
If you've seen Harry's character on Industry and wonder if he and Robert have anything in common, the answer is no – not really. During an interview with Bello Mag he said, "…there is so much about Robert that I can't relate to. I certainly can't party as hard as him! But underneath all the craziness, he's quite a sensitive person, who just wants to be liked and to make the best of his life. I think that's something that everyone can relate to."
5. He Loves To Stay Active
We all know about the many benefits of regular exercise, but that doesn't make it an easier to want to get up and go to the gym every day. Harry, on the other hand, enjoys working out and likes to get creative with the way he burns his calories. Instead of just going to the gym, he likes to incorporate other activities such as boxing.
6. He Doesn't Have A Big Social Media Following
Harry is fairly active on his Instagram account, but his account isn't verified and he only has a little over 1,700 followers at the moment. As Industry continues to get more and more popular, it wouldn't be too surprising if his follower count started to increase exponentially.
7. He Was A Street Musician In London
Where Harry is now is a complete 180 from where he used to be. Before his acting career took off, he was a musician who performed on the streets of London. Acting is definitely his main focus these days, but he NME what he would be open to doing a musical.
8. He Doesn't Like Watching Himself On TV
Even after being in the industry for almost 10 years, seeing himself on TV is still something Harry hasn't completely gotten used to. In fact, he prefers not to spend much time watching himself. During his interview with The Rakish Gent he explained that typically only watches something he's in one time.
9. He's A Big Fan Of The Beatles
As someone who once made money as a musician, it's no surprise that Harry is also a big music fan. He cites The Beatles as one of his favorite groups of all-time. One day, he even hopes to get the chance to play the band's manager, Brian Epstein, in a film or tv project.
10. He Formed A Close Bond With His Cast Mates
When you have a job that requires you to work really closely with people, it's always nice when you can form a genuine connection. Harry was lucky to experience that with the rest of the Industry cast. During filming, they all became friends and hung out together off set.
Tell us what's wrong with this post? How could we improve it? :)
Let us improve this post!