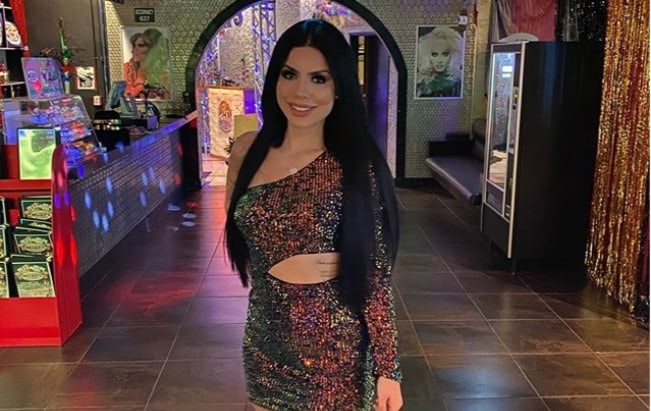 Larissa Santos Lima is a reality star from the hit TLC show, "90 Day Fiancé". Colt Johnson and Larissa Santos met on social media and agreed to meet in Mexico for the first time. After five days, Colt proposed to Larissa, and they joined season 6 of "90 Day Fiancé". The couple let fans in on their private life from how they started living together with Colt's mother, Debbie, to how Colt struggled to keep up with her high maintenance life. Here are more details about Larissa Lima.
1. She has a record of domestic violence
Larissa Lima and Colt had a rocky relationship from the start. They later broke up, and Lima accused Colt of cheating on her. On January 11th, Colt filed for a divorce and then went on Instagram to explain their long relationship. Colt revealed how he supported her financially with everything and also supported her dreams, but Lima was ungrateful. She physically assaulted Colt and left him with a swollen lip and bleeding gums. She even self-inflicted scratches on her face and body, according to Cheatsheet, to falsely accuse him but Colt was a nail-biter, so her accusations did not stand. Lima was then charged with disorderly conduct and got an order to pay $345 and serve 48 community service hours.
2. Larissa has buried the hatchet with her ex-boyfriend
The "90-day fiancé" has now reconciled with Eric Nichols after she had filed a police report against him. Larissa's ex-boyfriend was accused of harassing her and her best friend after Eric shared Larissa's private messages with the public. She also received a lot of texts and calls from Eric and other women in regards to Eric. Larissa had posted (now deleted) some of the screenshots of Eric and her best friend's Carmen conversation. On the screenshot, Carmen had told Eric to stay away from Larissa, and if he would dare harass her (Carmen) online or leak her conversation online, she was going to sue him. Although the relationship was ridden with drama, Eric claimed that they have reconciled with Larissa and are now friends. He even apologized for going to visit Lima's ex-husband.
3. She still has some love for ex-mother-in-law
In December 2019, Lima posted a photo on Instagram of her and her ex-mother-in-law with a lengthy caption. Larissa claimed she did not want to fight anymore with Debbie. Lima is trying to better her mind, body, and spirit. She apologized for her role in the break up with the family and reflected on the memories of how good Debbie cooked steaks to how they both loved cats. She also requested her fans not to insult Debbie.
4. Larissa suffered from depression and anxiety
Larissa posted on how she became depressed after she got arrested for the first time in June 2018. Lima claimed that her entire body ached, and she was emotionally exhausted and devastated. She could not even move her body to do normal activities and got filmed once on the show taking pain killers. Larissa claimed that Colt, at the time, could not help her because her marriage was also in a bad state. Lima said that being arrested enabled her to know how to give back due to the community service she did.
5. She is now an entrepreneur
The reality star is not letting the fame that she has gotten from the show, "90 Day Fiancé" go down the drain. She has, therefore, started doing personalized Cameo videos at a fee. Anyone can get it done through her website.
6. She celebrated her divorce
In April 2019, the separation between Colt Johnson and Larissa Lima got finalized, and they both held parties on different days to celebrate their divorce; Lima's party was a night after Colt's. The party was at a Las Vega's club, "Crazy Horse 3," which had strippers and entertainers, and Larissa brought her new boyfriend with her. It is during this party that she finally showed his face after she had previously posted photos of him hiding his face from her fans. They both got lap dances, and at some point, they went in a private space at the club where Larissa gave Eric his private dance. Lima got to enjoy smashing a piñata that looked like Colt, perhaps symbolizing that she was indeed over him.
7. She is a Leo
Larissa was born on August 14th, 1986, and celebrated her 33-year-old party in style. Lima is self-confident, as seen on her posts on Instagram, but she is also vivacious and attention-seeking. The reality star is dramatic, thus attracted so many viewers in season 6 of "90 Day Fiancé". Lima is all about living the good life and is spoilt; on the show, when Colt comes to pick her at the airport, she insists on Colt giving her flowers. When Lima gets to Colt and Debbie's house, you can see from her reaction that she was expecting a bigger house. She even suggests that they move into a bigger house with a pool, a true definition of a Leo.
8. She is kind
Her love for cats made her visit an animal rescue center on December 14th, 2019, and she posted on Instagram to advocate for people to go and adopt them. She then, on November 13th, 2019, Larissa posted a photo asking people to save the life of Rodney Reed, who was in prison and got sentenced to death. His family had spent 22 years trying to prove his innocence, so she requested to either call the Board of Pardons and Paroles, share the post on Instagram stories, or donate to Rodney's family.
9. Larissa Lima's personal life
Larissa was born in Minas Gerais, Brazil, and graduated from the Federal University of Minas Gerais. Her mother is a teacher, and her father owns a shoe business. Her ethnicity is American and Brazilian, and she is a Christian.
10. Larissa has massive following on social media
Lima has 383K followers on Instagram, where she flaunts her perfect body and updates fans about her daily life. She has 10.8K followers on twitter, where she promotes the show "90 Day Fiancé" and posts her pictures. You can also find her on Cameo, where she creates personalized videos for her fans.