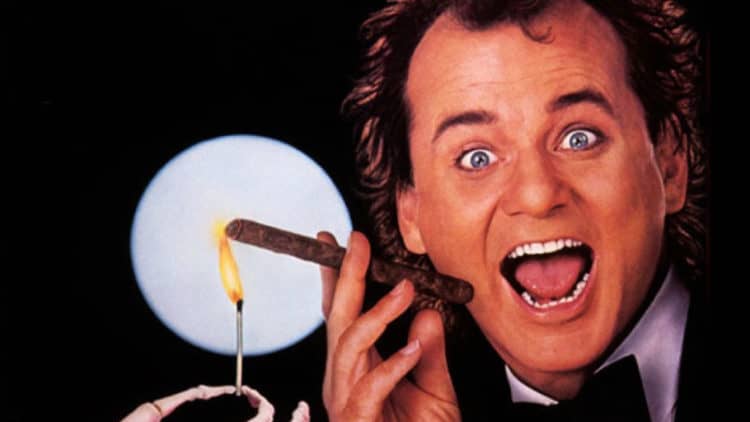 It's been more than 30 years since the hilarious Billy Murray and his funny co-stars walked the red carpet to introduce their new Christmas movie, "Scrooged". Since the movie was first premiered in 1988, it has become a Christmas classic. Once December rolls around – or Thanksgiving ends – families all over the world decorate, they begin watching Christmas movies on repeat, and they spend a lot more quality time together as a family. This movie is a repeat on everyone's Christmas list, and we want to know one thing: Where is everyone now? The cast has gone one to do big things – mostly – and we want to know where they are now.
Bill Murray
Do we even need to go there? Do you not know what he's been doing for the past 33 years? He's been everywhere, and he's one of the most famous, most recognized, most celebrated actors of this generation. He continues to make movies, to make people laugh, and to star opposite the biggest names in the world – he is no slouch, and his talent speaks for itself. He's so good at what he does that he can go from a kid's animated movie alongside Bugs Bunny and Michael Jordan in "Space Jam," to "Lost in Translation," earning himself an Oscar nod. He's just talented, and he's been in our lives regularly for more than three decades.
Karen Allen
Karen Allen, who, by the way, bears a striking resemblance in the movie back then to today's reality star and businesswoman Bethenny Frankel, is also doing big things. She was the one that got away – everyone has one in the movies – but she didn't get away from being talented for us all these years. She was in "The Sandlot," and several other major motion pictures since her time in Bill Murray's big Christmas movie. Of course, we also think you all know her as the woman from the "Indiana Jones" franchise, correct?
John Forsythe
Even if you didn't recognize him as the ghost he played in the movie, you know exactly who he is. He's the man who was already a huge success in Hollywood prior to this role. He's the man who knows a good role when he sees one. He was in the Alfred Hitchcock adaptation of "The Trouble With Harry," and he was part of Truman Capote's "In Cold Blood," as well as his role as the patriarch of the family in "Dynasty," but it might be his role as Charles Townsend in "Charlie's Angels," people know him best for.
Bobcat Goldthwait
He was always a comedian, but he made it big in this movie playing Eliot Loudermilk. Following this, he went on to continue his acting work in a much different manner. He is more of a voice actor than anything else, and he continues to lend his voice to some of the most recognizable characters in the movies. He's lent his voice to Hercules, for example, and he also directs. He's behind Jimmy Kimmel Live!, for instance. He's done well.
John Glover
He enjoys playing a villain, and he's been doing it almost his entire career. Since this role that made him so famous, he's taken on a few other things. He's been in shows like "Murder, She Wrote," and "Smallville," and he's not stopping. He even starred in a television movie alongside former "American Idol," contestant Katharine McPhee. He's doing well.
David Johansen
He didn't have the best-looking character to play in Scrooged, but he did play the Ghost of Christmas Past with vigor. Since this role, he's taken on roles in many projects as both an actor and a musician. He's had the chance to work on shows such as "Everybody Loves Raymond," "The Office," and more. He's also worked with celebrities such as Megan Fox.
Alfre Woodard
She's one of the most stunning, most talented actresses in the world, and she's just amazing. She earned herself an Oscar nod for her role in "Cross Creek," as well as six Emmy nominations since this movie. She's just that good. She starred in "A Wrinkle in Time," and she was a housewife with a dramatic life in "Desperate Housewives," and everyone loves everything she does. Did we mention she lent her voice to the character of Sarabi in "The Lion King" remake back in 2019? What doesn't she do well?
Robert Mitchum
Sadly, this talented actor died in 1997. It's been more than 20 years since his death, and that occurred only nine years after he was in this movie. While he did go on to star in a few more projects before his death, it was his time before this movie that made him famous enough to earn an Oscar nomination in 1947. He had a long career, and this movie was just one of the ones he did well in the end.
Carol Kane
She was the Ghost of Christmas Present, but she didn't stop there. She went on to star in shows such as "Seinfeld," and even on the Broadway production of "Wicked". Before she took on this role, however, she was in other huge movies in the 80s. "The Princess Bride," anyone? She's been talented since long before this role, and she never slowed down.