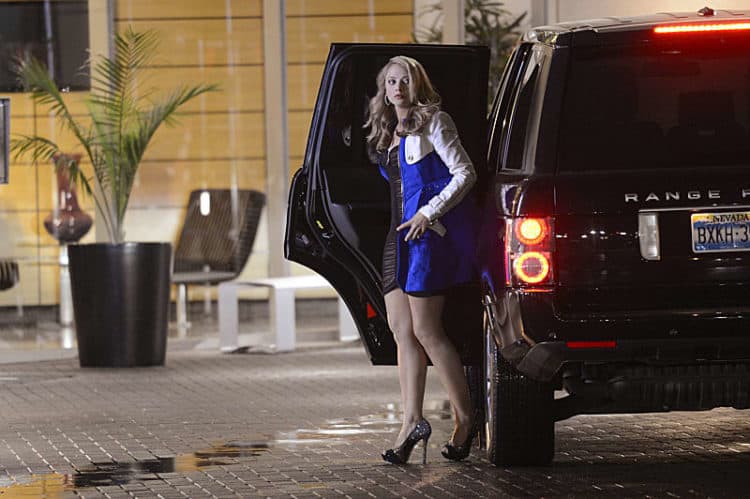 Elisabeth Harnois' acting career has had the kind of longevity and consistency that can be almost impossible to come by. She has been in the entertainment industry for the majority of her life, and she has accomplished lots of great things during her time in the spotlight. Her on-screen resume includes more than 50 credits and she has gotten the chance to be a part of several popular productions. Many people will recognize her from her roles in things like CSI and Adventures in Wonderland. On top of that, she has made guest appearances in shows like Criminal Minds, Boy Meets World, and Charmed. Even though Elisabeth hasn't made an on-screen appearance since 2019, but I have a good feeling she will be back on our screens in no time. Keep reading to learn 10 things you didn't know about Elisabeth Harnois.
1. She Started Acting At Just Three Years Old
Elisabeth was born in Detroit but was primarily raised in Los Angeles due to the fact that she started acting at such an early age. During an interview with Runway Live, Elisabeth said, "I was two and a half years old. My parents took me to church so I could see the children's choir. I asked if I could go up and sing with them. The choir director asked my mom if I knew how to read and handed her a hymnal. My mom said no. I screamed, "Yes I do!" I grabbed the red book, stood up with the choir, and sang my heart out. But I made sure to hold the book up just below my eyes so no one could see my mouth.I think at a certain point my folks realized I loved performing and thought I could put all that madcap energy to good use, so I started doing it professionally at 3 years old." Although we've heard countless horror stories about child stars who struggled to make the transition into adult actors, Elisabeth managed to make the change with no issues.
2. She Was A CSI Fan Before Being Cast In The Show
Being cast in CSI was a great opportunity for Elisabeth because it was one of her biggest TV roles as an adult. However, being on the show wasn't just exciting for her on a professional level, it also meant a lot to her on the personal side. Elisabeth was a fan of the show long before the opportunity to be part of the cast came along. She told CSI Files, "I watched it in its early years and I haven't [lately] just because I haven't watched TV much in the last several years, there's been very few shows where I have time to watch at all. I haven't seen it in the last couple of seasons so I had to do some catching up. I've always been a fan of the mystery genre—and I wouldn't call this horror—but the suspense-thriller genre has always been one of my favorite things."
3. She Is Good Friends With Hilarie Burton
Lots of celebrities have expressed that it can be difficult to form genuine friendships with people in the entertainment industry. Elisabeth, however, has been fortunate to find a lifelong friend in fellow actress Hilarie Burton. The two have been close for many years. They likely met in 2006 when Elisabeth made a handful of appearances on One Tree Hill, a show which Hilarie was a star on. The two got the chance to work together again in 2007 on a film called Solstice. Elisabeth and Hilarie reunited on screen once again in 2018 with a TV movie called The Christmas Contract. Perhaps the longtime friends will get the chance to work together again somewhere down the line.
4. She Enjoys Spending Time Outdoors
Even though Elisabeth's schedule can get pretty hectic, she still likes to make time to do the other things she enjoys. One of those things is spending time out in nature. Elisabeth is an adventurous person and she enjoys things like kayaking and skiing. Not only is her time outdoors a great way for her to stay active, but it is also the perfect way for her to unwind and disconnect from the chaos of the entertainment industry. After all, several studies have shown that spending time outdoors can have lots of benefits for a person's mental and physical health.
5. She Loves Fashion
Acting and fashion are technically two completely different industries, but they have always had lots of overlap. Celebrities often have the power to bring attention to a designer's clothes, and designers ensure that celebrities look their best while on the red carpet and at other important events. Elisabeth has always had a personal interest in fashion and she loves using her clothing as a way to share her personality with the world. She is a big fan of several well-known designers including Alexander McQueen and Christian Louboutin. Elisabeth loves experimenting with different colors and patterns and she knows how to put the perfect look together for every occasion.
6. She Is Not Afraid to Talk Politics
Conversations concerning politics have always been something that people shy away from. Over the last few years, however, many people have found it necessary to make it clear which side of the fence they stand on. Elisabeth is among those who have used her platform to share her political views as well as her views on other important issues such as human rights. Based on her social media activity, she appears to be liberal and was not a supporter of Donald Trump's presidency. As you can imagine, some of her fans aren't pleased with her political views, but she hasn't let that stop her from expressing her opinions.
7. She Is A Voice Actor
Elisabeth's live-action work is what most people know her for. Many don't realize that she also did a good amount of voice work in the early years of her career. Her voice credits include Midnight Patrol: Adventures in the Dream Zone and Fantastic Max. Since it's been more than 25 years since her last voice role, it seems unlikely that she will step into the voice acting world again. However, the fact that she can do both is certainly a good skill to have. While some people may think that voice acting is nothing more than reading lines off of a page, that simply isn't true. Voice acting requires the same level of skill and discipline as live-action opportunities. However, some would argue that they are completely different disciplines. As a result, most actors prefer to focus on one or the other.
8. She Likes to Watch TV
There are lots of people in the entertainment industry who have shared that they don't like to spend their free time watching TV because it reminds them too much of work. Elisabeth isn't that kind of person, though. When asked what she likes to do during her time off, Elisabeth told Runway Live that there are lots of things she enjoys including catching up on her favorite shows. She said, "I sit on my soft couch and catch up on whatever my latest junk food escapist programming is at the time. I have no shame in admitting some of my more base addictions, like The Real Housewives of Beverly Hills." That said, Elisabeth's schedule is usually so busy that she doesn't get much time to watch TV. During the interview, she didn't mention whether or not she likes to watch her own work. Many actors have expressed that they are not in the habit of watching themselves while others feel that it is a great way to find areas where they can improve.
9. She Loves to Cook
When things start getting busy, cooking is the last thing on lots of people's minds. After all, coming home after a long day of work and going straight into the kitchen to cook dinner can feel more like a chore than anything else. However, Elisabeth really enjoys cooking and it's actually one of her favorite things to do. In fact, she has said that she would love to go to culinary school and open her own restaurant one day. This may just be a dream at the moment, but it'll be interesting to see if she eventually decides to take the step. There are quite a few people in the entertainment industry who have decided to pursue other interests and they have found lots of success.
10. She Wants to Get Into Directing
Being in front of the camera is what turned Elisabeth into a star, but she also has dreams of telling stories from the other side. Elisabeth attended Wesleyan University in Connecticut where she studied filmmaking. She hopes that she will one day get the chance to put everything she's learned to good use. Although she doesn't appear to have any professional directing experience yet, it's something she hopes to explore in the future. As her career continues, it'll be interesting to see whether she decides to focus on directing films or TV shows.
Tell us what's wrong with this post? How could we improve it? :)
Let us improve this post!