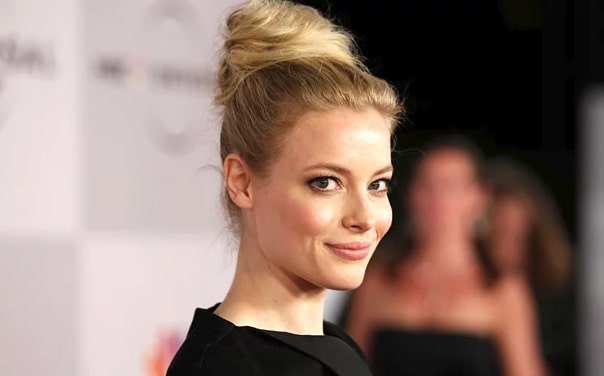 It's quite rare to come across in the world of entertainment a person who seems genuine in every way and steals our hearts the first time we set our eyes on them. And for many reasons, Gillian Jacobs is one such person. Charming, hilarious, honest, intelligent, humble, genuine, and heartwarming to boot, Gillian is quite the departure from the usual Hollywood celebrities we come across. She truly seems like a good-hearted individual and every interaction involving her proves to be one that leaves you with a smile on your face. Born in Pittsburgh, Pennsylvania, on October 19, 1982, Gillian has to her name several works on the stage, in television, in movies, and even on the web, making her one of the few actors who have managed to explore just about every entertainment platform there is. Add to this her experience as an actor as well as a director and you know that you sure have a versatile star on your hands. And as if all this were not enough, Gillian seems to be the person who always has some amazing stories to tell or even when she doesn't is simply the most amazing person to be around! And Can We All Agree That There's Something Amazing About Gillian Jacobs? is all about bringing to you some of these stories involving the oh-so-charming Gillian Jacobs!
When Gillian Jacobs Got Her Ear Pierced on Television
Gillian has had this thing where she was too terrified to get herself pierced. And in an age where actors go around piercing just about everything they possibly can, all in the effort to look as adventurous as possible — not that it really works with everyone — it was truly refreshing to have Gillian confess that she never really did manage to garner the guts to have herself pierced. So what does this amazing woman do? In order to commit to the act, she decides to do it live on television on Jimmy Kimmel Live!. Talk about locking oneself down to finally doing something they've been scared of all their lives! And a gutsy gal doesn't just commit to it but goes through it too! And it was surely a cute treat for her fans as well as fans of the show to see Gillian get pierced! We really don't think we've seen anyone do this before, and even if someone has, we're pretty sure it wasn't half as cute as Gillian made it!
When Gillian Jacobs Revealed What She Fears… And That's Everything!
This virtual interview with Jimmy Kimmel on Jimmy Kimmel Live! was after the piercing episode that Gillian managed to commit to on the show, and sure enough, that was the first thing that Jimmy thought of when he noticed her hoop earrings! With Jimmy probing her further on her fears, Gillian confessed that she hasn't even ridden a scooter or a motorcycle until now, not even as a pillion, and when Jimmy pointed out that she does indeed play it safe, "Feet on the ground!" was Gillian's honest and cute response! Gillian goes on to share some of her other fears, and how she always manages to find her way around them, even moving obstacles on an obstacle course instead of jumping over them! That's Gillian Jacobs for you, the gal who may be scared of everything but backs out of nothing!
When Gillian Jacobs Fangirled Over a Crossword Puzzle Creator
It's one thing to love crossword puzzles and completely another to be a diehard fan of the person who creates these puzzles! But when it's Gillian Jacobs, there's always a surprise around the corner. Well, as it turns out, Gillian is quite the crossword puzzle aficionado and while that's understandable (she does come across as the intelligent puzzle-solving kind), what was surprising was the amount of information she had on a particular crossword puzzle creator. It all went down on the show, To Tell the Truth, hosted by Anthony Anderson, when Gillian came across Will Shortz, the puzzle master for the New York Times, and just like that, Gillian didn't just know that it was Will the crossword puzzle creator that she was seeing in front of her eyes but also went ahead and had her own fangirl moment that certainly makes for one of the cutest meetups of all time! Just by admitting that she was a nerd, and leaving behind the air of being a film star to go bonkers over meeting her idol, Gillian proved that she is a pure soul after all! And the look on Will's face says it all!
When Gillian Jacobs Was Thrown Out of a Bar… Sober!
Did you know that Gillian does not drink? Well, she's a proud teetotaler and that's another thing we love about her, how she openly puts it out there even though she's in a business where social drinking is not just considered a part of the entire charade but an integral part of socializing too. Well, not Gillian! She confesses that she's not just a teetotaler but also a homebody and that although those around her have come to respect this part of her personality, there was indeed a time when it proved difficult to live this way. In a straight-faced yet hilarious interview with Vogue, Gillian doesn't just share a part of her life that was spent under strict supervision but also shares a hilarious attempt at dating that all went down south when she was kicked out of a bar for getting involved in a fight, and all of this while she was sober and only trying to meet the love of her life! God, we love these stories from Gillian!
When Gillian Had a Really Bad Date
The Tonight Show with Jimmy Fallon was yet another show on which Gillian Jacobs shared yet another story from her life, this one a bad date story where just about everything went wrong! Firstly, her date took her to the most obnoxious of joints in New York City that Gillian had made a genuine effort to stay away from, and then, for some reason, the guy even managed to convince himself that they did indeed have a connection of sorts when throughout the date, all Gillian wanted to do was end the evening and send him his way! Well, we've all been there Gillian but hey, we just can't understand why this sweet gal couldn't get a proper date despite being one of the most amazing people you could ever meet! Phew! Some things in life you just can't understand, Gillian, and we feel your pain too!
When Gillian Jacobs Revealed She Was a Computer Science Advocate
In an interview with Jimmy Fallon on The Jimmy Fallon Show, Gillian revealed how she was a part of a program that enabled her to advocate all about computer science literacy and also told the audience and Jimmy how she went behind the camera to shoot a documentary about the woman who invented Cobalt. It all began when Jimmy mentioned how she had been to the White House earlier and that got Gillian talking about her involvement with the program. Well, considering how she loves spreading the word on all things good, it isn't really surprising to discover that Gillian is involved in a program that is all about bettering the lives of future generations!
When Gillian Jacobs Was Looted by Real Bandits
Craig Ferguson is one person we love to see Gillian Jacobs do an interview with, and considering how both of them are real sweethearts, every interaction they have does indeed make for an endearing one. In one particular episode of The Late Late Show with Craig Ferguson, Gillian revealed one of her more adventurous experiences in life, and we know what you're thinking, since we all know how she is literally scared of just about everything, we are sure every second experience must be counted as one. But no, this one truly was quite the scary one, with the rather timid Gillian in her younger days being robbed on a trip from Nice to Venice, and not just her either, it was the train she was on that got robbed by Italian bandits. Well, we've said this before and we'll say it again, Gillian sure has had a happening life in so many ways, and for someone who would rather stay at home, adventures sure seem to find her one way or another!
When Gillian Jacobs Knocked a Larry King Interview Out of the Park!
A Larry King interview is, well, a Larry King interview, but while Larry is the one who mostly leaves his guests intimidated or flabbergasted, it went down quite differently with Gillian Jacobs in the interviewee's chair! In an interview that clearly had Gillian knocking every question out of the park with her answers, one particular confession even had the otherwise stern Larry King blushing! The question Larry put to Gillian was about the last time she was starstruck, and when Gillian mentioned that it was when she met Larry, the honesty clearly touched Larry and one could see that he took a couple of moments to relish the warmth. There aren't many people out there who could impress Larry with their honesty but when it's Gillian Jacobs, you know anything is possible! Gorgeous, charming, down to earth, and incredibly honest, even Larry would agree that Gillian sure proves to be quite the departure from other celebrities he interviews!
When Gillian Jacobs Spoke Out Against Some Juilliard Ways!
The Juilliard School offers degrees in dance, drama, and music, and is considered by many to be "a world leader in performing arts education", but as it turns out is also pretty set in its ways, and doesn't always make things enjoyable for its students. Well, Gillian was a part of this school and as is her way of blurting everything out with honesty, remembers that she didn't really enjoy the experience at all. At one point, Gillian even reveals that the school pretty much did everything it could to kill her love for acting! Mincing no words, she goes on to reveal how the school even has sessions where the student who is on probation is made to sit in a circle with one faculty after another telling this student why they were failing in their class. In fact, Gillian found her experience to be so bad that it didn't just kill her love for acting for a while but even had her knees shaking when she was around the institution one time. Phew! Now that really isn't what we'd want a budding actor to experience! Nevertheless, it was pretty gutsy of Gillian to come out in the open with her opinion of one of the most revered schools in the business, and we sure love her even more for doing that!
When Gillian Jacobs Wrote Her Will… At Eight!
This was another moment that could only have been a Gillian Jacobs moment! It all went down on The Late Show with Stephen Colbert when Gillian dropped by to talk to the popular television chat show host. And of course, as Stephen and his team are prone to do from time to time, they had dug up an old memory of Gillian and Stephen promptly sat down to question her about it. So what was this thing that Stephen was so keen to know more about? A will! Now, who could have imagined that an eight-year-old could think of writing down a will, let alone anything that made the slightest sense! But this is Gillian Jacobs, of course, so there's got to be something different about it all! And when Gillian began reading out her "will", it sure turned out to be as hilarious as we expected it to be! There were statements like, "Everything I own, no one will get,", "My home or current residence shall always stay mine,", "Everything shall be left as I had it,", "My car shall stay in the garage,", "I shall be cremated by monks in France,", "No one, but the monks shall see me cremated,", "No one shall mourne me,", "My family is to blame for my death,", "They joked one too many times,", "Their souls shall not be at rest until I forgive them,", and finally, "That shall be NEVER!"! And obviously smitten by what he just experienced, Stephen just had to say that he loved eight-year-old Gillian. And of course, one look at this video makes us all say that we love eight-year-old Gillian too! Or Gillian at any age for that matter!
Gillian Jacobs is a Pure Soul and We Must Protect Her At All Costs!
Very few celebrities manage to win our hearts the way Gillian does, and it's not just about her work and her acting prowess, it is simply her presence that makes us feel good! There are very few people out there who spread positivity and joy the way Gillian does, and for that alone, we shall remain her fans forever! Truly, Gillian Jacobs is a pure soul indeed and we must protect her at all costs!