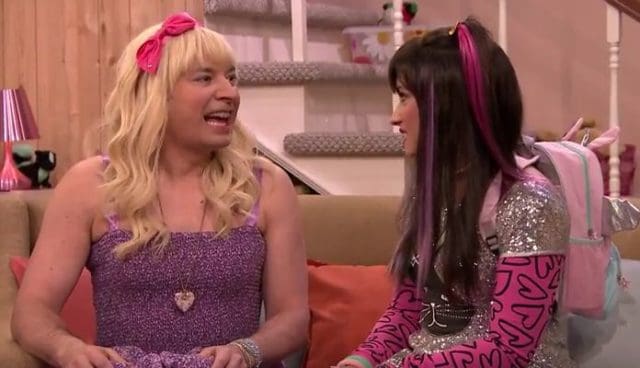 You know something that really surprised me? The "Ew" sketch wasn't originally on Saturday Night Live. My personal theory is that the idea came from the hilarious Gap Girls skits that featured David Spade, Chris Farley, and Adam Sandler. For those don't remember the trio played a group of teenage girls working at the gap who have a particular "dialect" that only those their age would understand. Fallon's "Ew" skit focuses on teenage girls constantly disgusted by things around them.
In the latest "Ew" sketch Fallon and guest Demi Lovato do emoji selfies and practice kissing on "crush cushions." Sara and Emily discussed their upcoming Spring Fling dance, took emoji selifies and practiced kissing on pillows of Ed Sheeran and Mario Lopez before the Spring Fling, just in case. And of course, Stepdad Gary (A.D. Miles) showed up to promise his chaperone services and sing the girls a song about fishsticks.
Needless to say it was funny and whenever the "Ew" sketches come on I get nostalgic about Fallon's days on SNL. So much for Fallon yielding to doing politics more. Like I've said before these skits are what makes his show great, not following Stephen Colbert for ratings.
Tell us what's wrong with this post? How could we improve it? :)
Let us improve this post!