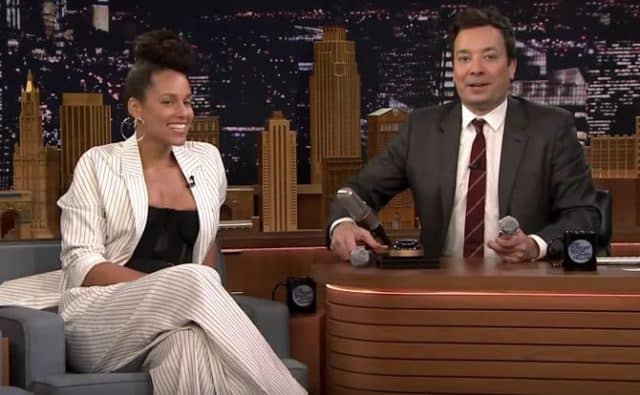 In what's become one of the most popular segments on The Tonight Show, Jimmy Fallon had guest Alicia Keys play "Wheel of Musical Impressions." While there's definitely no mystery to the talents of a superstar like Keys, last night we found out that her talent extends well beyond the boundaries we thought she had. It turns out the singer has more common with Adele, Janis Joplin and Gwen Stefani than you might think.
When Fallon and Keys began to play the Wheel, they took turns hitting a button, activating the "Musical Impressions" generator. Doing so gave them one random musician and one random song title to perform as that singer. Keys went first, singing "Miss Mary Mack" as Gwen Stefani. Her rendition began in the vein of No Doubt's 1995 hit "Just a Girl" before Keys channeled Stefani's 2004 solo single "Hollaback Girl."
In short, Keys nailed it. And that wasn't all. Her ability to sing children's songs as celebrities was just as good as some guests who have appeared in the past. Of course, Fallon had his turns as well and as usual, his impressions were pretty funny. P.S. I really wish she would wear make up. I sincerely appreciate her look and not wearing make up but she's just so good looking. Eh, oh well.
Check out the segment below:
Save