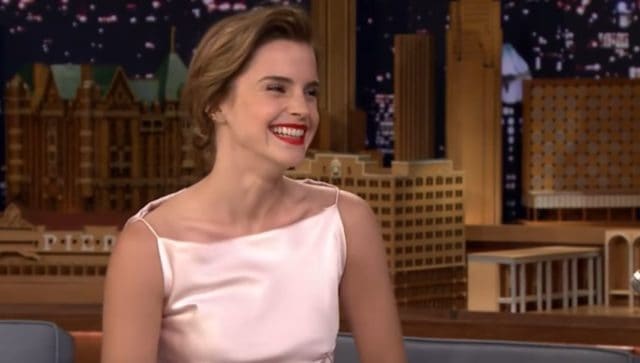 Emma Watson stopped by The Tonight Show last night and what everyone's talking about today is the fact that she once mistook Jimmy Fallon for Jimmy Kimmel. The first time Fallon had her on the show the two had never met and Fallon said he was a fan of hers and Emma Watson said "I love that Halloween Candy thing you do." The crowd went silent as did Jimmy Fallon. As you may or may not know, that's a Jimmy Kimmel bit. The two had a nice laugh about it before Fallon went into his questions for the Beauty and the Beast actress.
But that's not what I want to talk about. I had this thought as I was watching Watson last night and as I reflect on many of the things she's done and stands for in the past year or so sometimes I wonder if Emma Watson even likes being a celebrity. I think she uses her celebrity status for a number of great causes, the main one being the empowerment of women. There's no doubt in my mind that Emma Watson is a "good" human being with excellent values and morals. But I just get the sense she cannot stand Hollywood and all the crap that comes along with it.
She has an incredible amount of grace, beauty, and handles it all like a pro, but Watson seems like the type who'd rather just hang around in sweatpants and watch a good movie with some popcorn. Emma, if you're reading this, I'm happy to make you some popcorn and watch that movie.
Here's Watson on The Tonight Show last night.