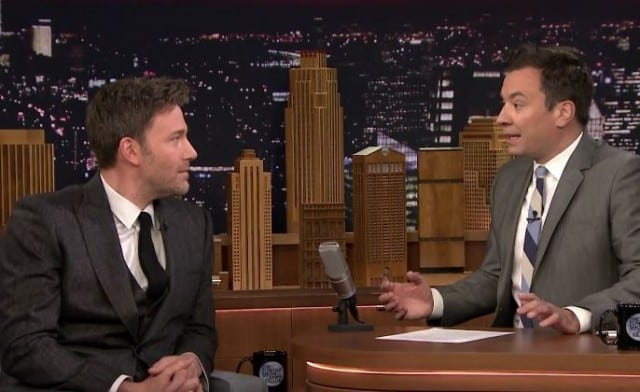 Ben Affleck was on The Tonight Show Starring Jimmy Fallon to discuss his new film Batman v Superman: Dawn of Justice, which just hit theaters Thursday night with early showings and is now playing all over the world in 65 countries on 35,000 screens beginning today. Yet despite the incredible anticipation for the film and the fact that these two superheroes, Batman and Superman, are the most iconic and most popular DC characters out there, Batman v Superman has not been receiving much critical praise. In fact, reviews for the film have been so negative that it currently sits at a 30% rating on Rotten Tomatoes, with critics giving it an average score of 5.1 out of 10.
But Fallon didn't focus on the negative reviews that Batman v Superman had gotten when he spoke with Affleck last night. Instead, he referenced articles that praised the actor's performance, with Comicbook.com even calling Affleck "the greatest onscreen Batman."
However, even though Affleck clearly appreciated the compliments he was hearing, he was quick to point out that is not a movie made for critics, an obvious defense against the poor reviews the film has received. Affleck stated that Batman v Superman is for audiences, for fans of comic books and of these superheroes; they're the people that will really enjoy it.
"Don't scare people into thinking this is a critical film," Affleck told Fallon. "We're not going through the film critics' circle or whatever. It's an audience movie. People will actually like this movie."
Check out Jimmy Fallon's interview with Ben Affleck below:
As someone who saw Batman v Superman last night, I can definitely agree with critics who have praised Affleck's performance. Without getting into any spoilers, Affleck as Batman, Jeremy Irons as Alfred, and Gal Gadot as Wonder Woman are easily the best parts of this movie, which is pretty disappointing to me since I'm a huge Superman fan (Cavill is still solid in the role, but Zack Snyder completely misunderstands the character).
Ultimately, though, Batman v Superman is a gorgeously shot, chaotic mess of a film that tries to juggle too much and doesn't do anywhere near a good enough job of making us care about these characters as if they're actual people. Instead, the movie just assumes that we'll love them because they're superheroes, but films have to earn that type of connection and Batman v Superman does not. Also, the less said about Jesse Eisenberg's performance as Lex Luthor, the better.
Have you seen Batman v Superman yet? What did you think of the movie? Did you enjoy it, or do you agree more with what critics had to say about the film? Comment below and let us know.
[Photo via YouTube]