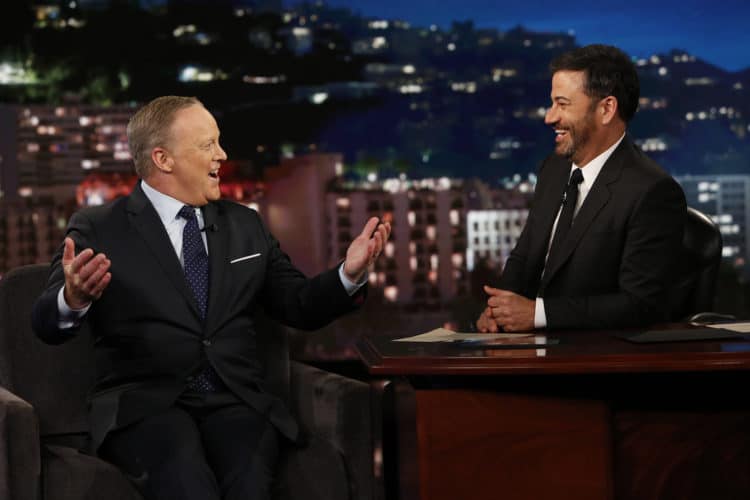 When Conan O'Brien left late-night to work on an upcoming variety show for HBO, Jimmy Kimmel became the new elder statesman of late-night TV. Kimmel is the face of Jimmy Kimmel Live! the longest-running late-night talk show on ABC. Jimmy Kimmel is one of the most prominent late-night hosts on TV, having interviewed prestigious guests, like former President George W. Bush, on the show. Kimmel's career has not always been smooth-sailing, however, admitting that he got fired from one of his first entertainment jobs after 10 months on the air. Here are the five most significant moments of Jimmy Kimmel's career.
Radio host
Unlike most people helming late-night talk shows today, Kimmel started in radio, having been a radio host since his days at Arizona State University. His first paid hosting job was for a radio station in Seattle, Washington, KZOK-FM, where he hosted a show called The Me and Him Show. He was fired 10 months into the job, prompting the future late-night host to venture outside Seattle and pursue entertainment careers in different parts of the country. The year after his firing from KZOK-FM, he found another radio-hosting job in Tampa, Florida, from which he was, once again, fired. He then went to California to host another show at KCMJ, where he recruits Carson Daly as an intern. He jumped from radio station to radio station in California until he ended up in KROQ-FM.
Host of Win Ben Stein's Money
Kimmel was originally hesitant to appear in front of the camera, having turned down offers to host a TV show. He was eventually convinced to appear on screen as co-host of Win Ben Stein's Money, where he plays an "everyday" man opposite Ben Stein's monotony. The two would eventually win an Emmy for Best Game Show Host. In an interview with Variety, Kimmel explained how hosting Win Ben Stein's Money led to him snagging his most prestigious job title so far, as host of Jimmy Kimmel Live! "Various TV people would hear me on radio. Producer Michael Davies — who did "Who Wants to Be a Millionaire" — offered me a TV show, but I turned it down. I wasn't negotiating: It just didn't sound like a good idea. Then he offered me another show and I said "No thanks" again. When I heard about "Win Ben Stein's Money," I thought OK, that sounds like a good idea. I was the only one who auditioned for that show. "Ben Stein's Money" was definitely the breakthrough. Many years later, Michael Davies was playing golf with (then-ABC Entertainment chairman) Lloyd Braun and called me and said "Make a tape for Lloyd Braun!" I sent a tape to Lloyd at ABC and a week later, I got "Jimmy Kimmel Live!"
Host of Jimmy Kimmel Live!
Jimmy Kimmel transferred to ABC to star in a new late-night show, titled Jimmy Kimmel Live! First airing in 2003, it's currently the longest-running late-night talk show on ABC. One recurring joke on Jimmy Kimmel Live! is a conflict Kimmel purportedly has with movie star Matt Damon. It all began with a joke that Kimmel would say at the end of his show, "apologies to Matt Damon, we ran out of time," even though the show never booked Matt Damon in the first place. Commenting on the running gag and how it evolved into one of the most hilarious bits of Jimmy Kimmel Live!, Matt Damon told Parade: "The first time I met Jimmy was when I went to do the prime-time show. For a year he'd been saying, 'My apologies to Matt Damon; we ran out of time.' So he came backstage, and I asked him what that was about. And he was like, 'You want to know what happened? I was doing a particularly lame show; I think my guests were a ventriloquist and a guy in a monkey suit. We were wrapping it up, and there was a smattering of applause in the audience. I was having kind of a low moment, and I just said, 'My apologies to Matt Damon; we ran out of time.' My producer was right off camera and he doubled over laughing. It was just gallows humor. Nobody else got the joke. But it made us laugh, so we started doing it every night. I have no idea why I said you; it could have been anybody.' At any rate, it turned into this thing. So when he did a prime-time thing I went on, and the joke was that he took so long introducing me that by the time I got on, we were out of time. So we got into a fake fight." Jimmy Kimmel Live! is also known for its highly popular recurring segments, such as Mean Tweets, This Week in Unnecessary Censorship, and Lie Witness News.
Host of the 2017 and 2018 Oscars
Hosting the Academy Awards is a much-coveted gig for entertainers like Kimmel. In 2017, he was given the opportunity to do so, hosting the 89th Academy Awards. The following year, Jimmy Kimmel hosted again. That year saw movies like Dunkirk, Coco, The Darkest Hour, and Call Me By Your Name rake in trophies from the award-giving body. In a review of Kimmel's hosting of the awards show, USA Today wrote: "It was funny and charming enough, and definitely a hit with the crowd. He encouraged the winners to give great speeches, but offered a Jet Ski (and later sweetened the pot with a trip to Lake Havasu) to whoever gave the shortest one."
Host of Who Wants To Be A Millionaire
Jimmy Kimmel currently hosts Who Wants To Be A Millionaire. Like his Jimmy Kimmel Live! the show also airs on ABC. In an interview with Entertainment Weekly, Jimmy Kimmel explained that he did not have any hesitation taking over the show, saying that he's always loved the game show. "I actually know how I feel about something one way or the other immediately. It doesn't take a lot of thinking for me to make a decision. So I was on board for it right away. I love the original show — obviously a lot of people did. I got to be a contestant on the original show, and I like game shows in general. I started as a game show host, on a show called Win Ben Stein's Money. I think that a great game show is rare. You have the great bones of a game show, and so many people tried to come up with a new one. The truth is it's almost like a board game: The classics are usually the classics. And for me, being able to sit there and read questions and crack jokes is a great opportunity. The tension lends itself to humor. Now, not having an audience changed that significantly, but it is fun to be sitting across from a person who is completely absorbed and the audience is completely absorbed, and to be able to break that tension is a great environment for jokes."Academy Awards
Tell us what's wrong with this post? How could we improve it? :)
Let us improve this post!