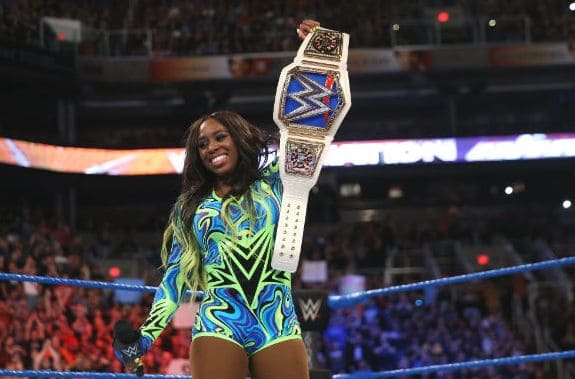 For a lot of people out there, Trinity Fatu might be more familiar to them as Naomi, one of the most famous female wrestlers signed with World Wrestling Entertainment. Currently, she is a main cast member on the seventh season of Total Divas as well, which started up in November of 2017 and is expected to continue running until January of 2018.
Here are five things that you may or may not have known about Trinity Fatu:
She Is Married to Jonathan Fatu
Fatu is Naomi's married surname. For those who are curious, her birth surname was McCray. Given this, it should come as no surprise to learn that Naomi is married to Jonathan Fatu, who is one of the two twin brothers who make up the tag team called The Usos.
She Is a Member of Anoa'i Family Family Through Jonathan Fatu
Speaking of which, it is interesting to note that through her marriage with Jonathan, Naomi is considered a member of the Anoa'i family, which is a family of professional wrestlers. For example, Jonathan and his twin brother Joshua are the sons of Rikishi, who was a well-known professional wrestler signed with World Wrestling Entertainment in his own right. Other well-known members of the Anoa'i family include Umaga, Yokozuna, and Roman Reigns. Furthermore, the Anoa'i family has a connection with the Rock as well because of the Rock's mother Ata Maivia, who was the stepdaughter of Peter Maivia, who was blood brothers with Reverend Amituana'i Anoa'i.
Used to Be a Professional Dancer
Before she became a professional dancer, Naomi was a professional dancer. For example, she was a cheerleader for the Orlando Magic from around 2007 to the middle of 2009. Furthermore, she has been a background dancer for Flo Rida.
First African-American Woman to Win SmackDown Women's Championship
Over the course of her career as a professional wrestler, Naomi has had a number of impressive achievements. One excellent example is how she is a two-time SmackDown Women's Champion, which is even more impressive because her victories make her the first African-American woman to win that particular title. As a result, it is no wonder that Naomi has been a main cast member on Total Divas since July of 2013, though she has been absent from the reality TV show from time to time.
Had Film Debut on The Marine 5
Besides professional wrestling, Naomi has engaged in other pursuits as well. For example, she released her first single called "Dance All Night" in May of 2014, which had a music video that was posted to World Wrestling Entertainment's YouTube account. Furthermore, she has had her film debut, which happened in a recent action movie called The Marine 5: Battleground, which saw Mike Mizanin reprising his role as the ex-marine Jake Carter from The Marine 3 and The Marine 4. People who follow professional wrestling should be able to recognize Mike Mizanin as the Miz, seeing as how he is a well-known professional wrestler as well. Naomi and the Miz are not the sole professional wrestlers to play parts in The Marine 5, seeing as how others included Curtis Axel, Heath Slater, and Bo Dallas.