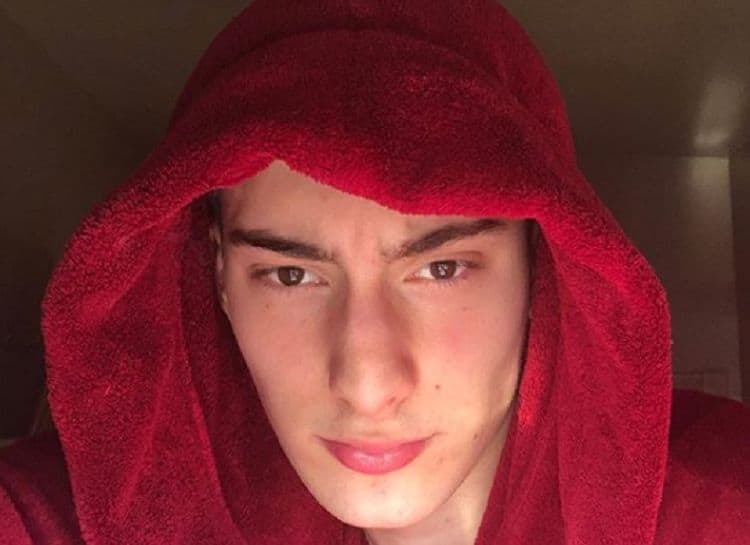 Everyday, social media enables young stars rise. As a result, many young people are turning to social media platforms with the hope of becoming popular and also acquiring an income. Marco Borghi AKA Polo Boyy is one such star. He is famous for posting videos of himself impersonating New York City Caucasians. These also include comical videos of him mocking the stereotypes of various races. Although many of his fans appreciate his videos, there some who still consider them to be racially insensitive. For instance, he posted a comic video mocking Lizzo, a famous singer in America.The video caused a massive uproar, especially among fans of Lizzo. As of now, his somewhat controversial posts have earned him over a million fans in Tik Tok, and his videos have garnered more than fifty-two million likes in his channel. Besides being a star in Tik Tok, here are ten things you probably didn't know about Marco Borghi AKA Polo Boyy.
1. Member of OT House
Marco Borghi joined OT House in this year. The OT House is a collaborative group of content creators on Tik Tok. Some of the members of this group are; Joey Nero, Megan Eugenio, DJ Ford and Gage Gomez. All members of this group are based in New York City. OT House has more than one hundred and thirty thousand followers on its channel. This group focuses on creating comical contents for its followers, and it is massively popular, especially among the youth in America. Also, the group received its verified creator check mark early this year. Since its founding, OT House has remained to be among the most-watched channels in Tik Tok. Its rivals include groups like The Hype house and Cash & Maverick.
2. Member of University of Diversity
Early this year, a group of content creators decided to collaborate on a channel that was to include all content creators from different races. Therefore, The University of Diversity was created. The reason for creating this channel was because other channels in Tik Tok mainly consisted of creators from Caucasian backgrounds. Marco Borghi AKA Polo Boyy joined the University of Diversity channel in April this year and posts a lot of content. According to Famous Birthdays, University of Diversity has more than five hundred and fifty thousand followers.
3. He is Rather Quiet on Twitter and Instagram
According to Distractify, Marco has only posted thirty-four times on his Instagram account since joining in 2007. Also, he has only posted on twitter once since joining twitter. His post on twitter was a response to his fans who were angry with him after he spoke inappropriately against a celebrity. it is quite astonishing that he doesn't post in his other social media pages while he is very active on Tik Tok.
4. Zodiac Sign
Marcos zodiac sign is Taurus as he was born in April. He shares this zodiac sign with other celebrities such as John Cena and Chris Brown.
5. Nationality
Polo Boyy is an American by birth. He, however, is also Italian.
6. Physical Appearance
According to Wiki Famous People, Marco is approximately five foot and ten inches tall. He weighs about seventy-five kilograms. Additionally, he has deep blue eyes and brown hair. He is well built and quite handsome. These attributes have significantly contributed to Marco being increasingly popular among youths in America.
7. Modeling Career
Before being a star, Marco first started out as an Instagram model. He would regularly post photos on his page focusing on his clothes and lifestyle. These photos were responsible for him gaining a decent social media following. Even though he no longer posts these photos, Marco still has a future in modelling.
8. Why He likes Calling Men "Simp."
Marco Borghi likes using the term 'simp' when talking about men in his videos. He said that he uses this term while referring to men who act like white knights in front of ladies so as to get laid. Anti-feminists popularized simp. It is used to refer to a man who acts chivalrous in hopes of getting sexual gratification from women. Marco has had problems with his fans because of constantly using the term in his videos. In one post, he talked about African-American ladies and made insensitive remarks regarding them. He finished the post with a 'simp nation' reference. This annoyed his fans to the extent that many requested him to pull down his videos and never to post again. In response, Marco apologized for making insensitive comments. He even went forth to pull down the insensitive video. He, however, still posts in Tik Tok and is not planning to stop soon.
9. Highly Ranked on Tik Tok
Marco is ranked among other famous Tik Tok stars like Addison Rae and Charli D Amelio. Addison was featured in the 2020 NBA All-Star games alongside Charli and is also a member of The Hype House group of content creators.
10. Personal Life
Despite the massive popularity, Marco Borghi is a very private person. There is no information about his family, education or even girlfriend. He, however, is very close to Matt Pettitto and Mattia Polibio. These two are both content creators with Tik Tok. Mattia Polibio has more than three million followers in Tik Tok, while Matt Pettitto has one million followers.
Takeaway
Social media sites like Instagram and Tik Tok have created a platform that enables young people explore their talents and also earn some money. Marco Borghi AKA Polo Boyy has benefited from such platforms. With more than a million followers in Tik Tok, Marco has continued to be a trendsetter. The uniqueness and creativity behind his content sets him apart from other content creators. Additionally, many of his videos, which portray the stereotypes of different races, have resonated with many of his fans. For a guy who is barely twenty years old, the sky seems to be the only limit.