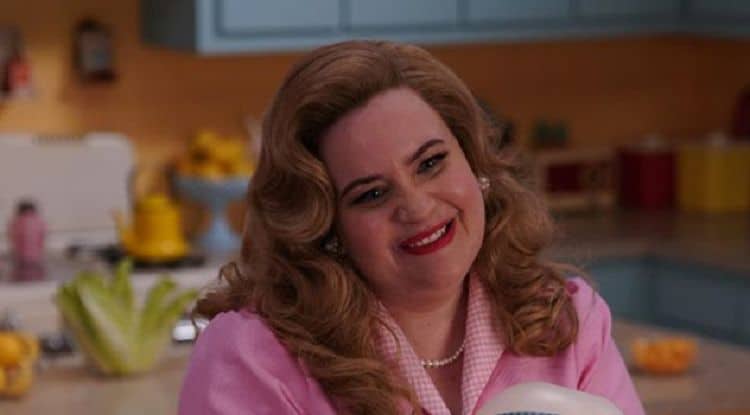 There are those that bring out the idea of fat acceptance and then there are those that simply embrace who they are and don't make a huge issue out of it. This is what seems to drive Aidy Bryant since she's a very positive person that is proud of herself and the place that she's made for herself in show business. Her talent has definitely come out of the life she's lived and the hardships that she's had to undergo in trying to accept who she is and what her place in the world is, and at this point she is an impressive individual. The fact that she's a part of Saturday Night Live is a big up for her career and for her as a person since it gives her career a huge deal of veracity. If you don't know that much about her then you might need to turn on the TV and watch a current episode of SNL and see for yourself.
Here are a few things about Aidy that you might not have known.
10. Her SNL debut was made in the 38th season.
Let's be honest, no matter what people might think of the comedians there's a very real idea that folks on this show don't get allowed on screen just for being funny. They have to have something else to their character that makes them worth the effort, and it's obvious that Aidy is someone that the producers believed in.
9. Aidy received a BA in Theater.
This was definitely a step in the right direction since she was still in school since you can imagine that in theater classes the students are still being taught just what to expect and what they need to really learn in order to step up in front of people and let their talent fly.
8. The desire to perform was something she felt as early as middle school.
Some people get the acting bug early in life and it never really leaves since it becomes something of a habit and then a serious desire that continues to build and build throughout their life until they finally find that they either want something different or want that which they've been holding onto for so long.
7. She's an alum of the Second City.
There are a lot of famous comedians that have come from this group and obviously it's been a very celebrated group that has seen a great many individuals ascend to levels of fame that have been nothing less than amazing, and she's on roughly the same path obviously.
6. Aidy has performed with improv groups in the past.
Improv groups seem like one of the best ways for comedians to practice their craft since it involves a lot of fast-paced and witty comebacks that force them to really come up with something quick and on the spot so as to interact with the audience that they're attempting to please. If nothing else it gives the comedian an opportunity to really get the feel of what it's going to be like on stage before they go out on a tour where the pressure can really mount.
5. She was nominated for a Primetime Emmy.
She was one of a few women from SNL that were nominated for this award and so far it seems to be one of the only major awards that she's been nominated for, though it does seem as though her name might come up on the nomination block again as the years continue to roll by. She's a funny woman to be honest and thinking that she's a flash in the pan would be a mistake.
4. For a long time she was worried over judgments about her weight.
Fat shaming is still a very real issue in this country and Aidy has worried over her weight throughout a good part of her life, but thankfully she's grown into the idea that she is just fine the way she is and the idea that she can be happy is up to her and her approach to life rather than to the criticisms that will continue to come.
3. The show Shrill has helped her to continue to move forward.
Her acting career has been growing steadily throughout the years and now she's definitely comfortable with where she's at and it's showing in everything she does.
2. Her estimated net worth is around $1 million.
This seems somewhat low but it also seems to reflect just how well known she is at this point. A lot of folks that watch SNL might know about her, but honestly her reputation is still building.
1. There's not a lot about her on the internet.
It's a path to fame that she's walking, but it would seem that it's still kind of a long one since the information to be found isn't quite that great yet.
She does seem like a woman that's on her way up.