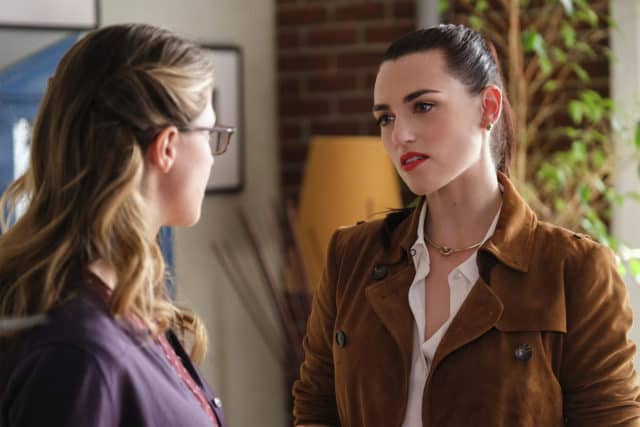 Katie McGrath is an Irish actress who was born in Ashford, County Wicklow, Ireland, in 1983. She remained in this area while growing up with her parents and two older brothers, Sean and Rory. McGrath made her television debut in the Irish television film 'Damage' in 2008. She became well-known for playing Morgana Pendragon in the television series 'Merlin'. She is also known for playing Lena Luthor in 'Supergirl', an American superhero series. Initially, she appeared in season two on just a few occasions but was promoted to a series regular for 'Supergirl' for the third season. In addition to her work in television, Katie McGrath has also appeared in films, including 'Leading Lady', 'Jurassic World', 'The Throwaways', and 'King Arthur: Legend of the Sword'. McGrath has also performed in many stage productions. Here are five more things you probably do not know about Katie McGrath.
1. She Had Many Jobs Before Becoming an Actress
Prior to becoming an actress, Katie McGrath worked in many different places. Some of her short-term jobs included a cocktail waitress, at a piercing studio and as a make-up artist at MAC Cosmetics. At one point, she intended to pursue a career as a fashion journalist so she took a job at Image magazine. However, she lost interest in this line of work after just eight months. She then got a job in the wardrobe department of 'The Tudors'. Her mother's friend got her the job as she as a first-assistant director for the series. McGrath landed this position based purely on her experience of working for a fashion magazine and she had no sewing skills at all.
2. She Did Not Intend to Pursue an Acting Career
Katie McGrath became an actress almost by accident as this was not a career path she had intended to pursue. She had never had any drama training or shown any interest in the performing arts while growing up. It was while she was working on 'The Tudors' as a wardrobe assistant that it was suggested to her that she could have an acting career. At first. She wasn't interested. However, she soon realized the actors were more relaxed on set than she was as she was having to work hard for long hours each day. For this reason, she decided to give it a go.
3. She Has Played Emilia Fox's Sister Twice
On two separate occasions, she has played the younger sister of a character played by Emilia Fox. The first time was in 'Merlin' in 2008 and the second occasion was a year later in a television series called 'The Queen' in which McGrath appeared for just one episode.
4. She Attended Trinity College in Dublin
Katie McGrath is an intelligent woman with academic qualifications. She first attended St. Andrew's College where she studied for an International Baccalaureate. She then went on to study for a degree in history at Trinity College in Dublin. She focused on Russian history.
5. She Was in 'Dracula'
She played the main role of Lucy Westenra in ten episodes of 'Dracula' between 2013 and 2014. This was a horror drama series that was aired on Sky Living in the UK and on NBC in the United States. It also starred Jonathan Rhys Meyers, Jessica De Gouw, Thomas Kretschmann, and Victoria Smurfit.