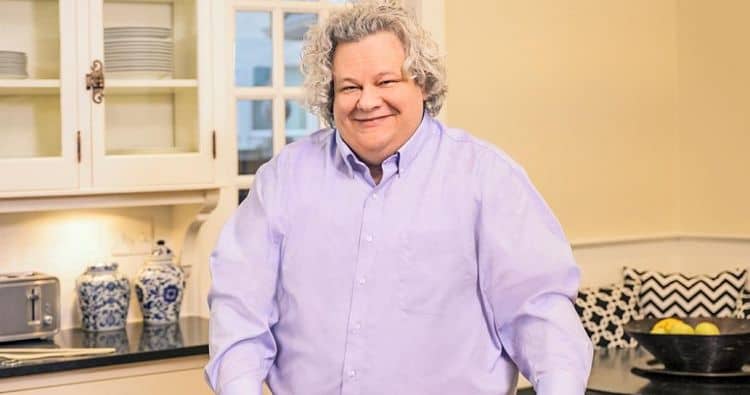 There's something for everyone on television these days. Discover Plus is really making it obvious to the world with shows like The Laundry Guy, where host Patric Richardson travels around the country to help people clean and restore their most precious and most valuable belongings. If you take a moment to go back to the year 2000, how many people would have guessed that by the year 2021, the world would be fascinated with a man who does laundry on television? We are guessing very few if any, yet here we are. With that in mind, let's learn a bit more about the man who is making a living and becoming famous doing laundry – something most of us dread on a daily basis (perhaps because we aren't getting paid to do it).
1. He is Passionate About Laundry
It's a simple truth. He is passionate about taking things that are meaningful and important to his customers and making them beautiful again. You cannot simply wash a wedding gown or a stuffed animal that has been passed down from generation to generation. These things are made of love and fond memories, and they must be appropriately laundered to bring them back to their former glory. He takes a lot of pride in that.
2. His Grandmother Was Fearless
According to Richardson, his grandmother was a 'fearless laundress," who washed everything on her own, mostly by hand. She then taught his mother to do the same, and he credits his mother for making sure his own clothing items were always pristine and perfect. It's a fearless endeavor.
3. He Owns a Store
Patric Richardson does not just do laundry. He also hosts a television show. He also has a store in the Mall of America. It's a store by the name of Mona Williams. He sells vintage items, specifically accessories and clothing, to those who have a love and appreciation for the vintage items of the world.
4. His Store Led to His Laundry Love
When he opened his store, he began carrying some of his favorite products and his favorite items for washing and caring for vintage items. After all, even if you know very little about laundry other than how the washing machine works, you do know that you cannot wash certain items – and vintage items top the list of things you should not attempt to wash at home. With his items in the store, his customers began to wonder about his methods, and that's where their curiosity grew.
5. He Started a Laundry Camp
If it doesn't sound like your type of camp, you aren't alone. However, that did not stop people from showing up and learning how to properly care for their vintage pieces. The Laundry Camp ended up being a huge situation for Richardson, and he found that his customers simply could not get enough.
6. He Wrote a Book
Just when you could not believe that the love of laundry could get any more profitable or bigger, we're here to tell you how wrong you are. Richardson found so much success in his love of laundry that he literally wrote a book called "Laundry Love: Finding Joy in A Common Chore," and people began buying it left and right.
7. He's Always Been Well Dressed
As a child, he carried with him a love of fashion. His love of fashion allowed him to earn his classmates' votes to become the "Best Dressed," in eighth grade and throughout high school. His classmates always voted for him because of his love of fashion, and it was just something that they enjoyed doing.
8. He Went to College
He headed to college following his fashionable high school days. He went to the University of Kentucky (he's a Wildcat) and majored in Fashion Merchandising (which also entails apparel and textiles). He knew that he would do this, and he knew that it was his only career choice as a young man. He wanted to be in the fashion industry, and he made it work.
9. He Moved to Minnesota for Work
He worked in the fashion industry in Kentucky while attending college, but he took a job working with the high-end Neiman Marcus department store selling high-end clothing to customers. He moved to Minnesota for this job, and he spend nearly three years there. He then left to work for Nordstrom as a manager. His experience in both department stores allowed him to hone his skills and fine tune the idea for his new store.
10. He's Loving Life
Patric Richardson is a man who loves life. He is fearless in his pursuit of what makes him happy and brings him joy. He is fearless in his pursuit of what makes him feel like he's doing everything he can do, and he's not afraid to love his life and allow it to love him right back.