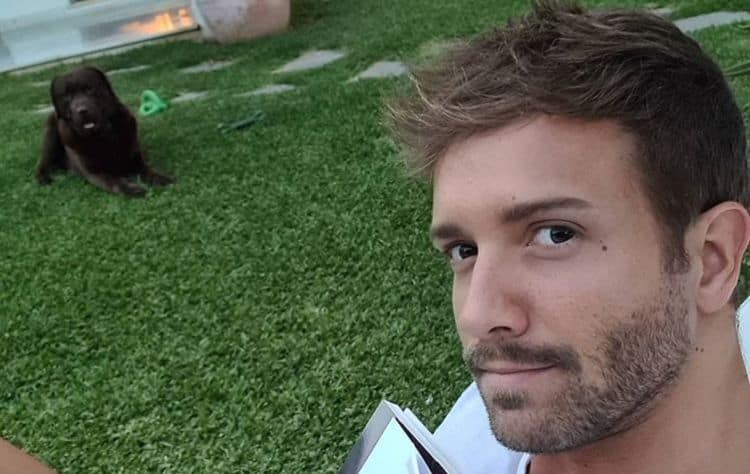 What happens when you find a man who loves his Spanish roots and also loves to sing? You find a man who is called Pablo Alboran, the talented musician, and you listen to his music. He's so good at what he does that he has found a way to take over the Latin Music scene like it's his job – well, it is his job these days. He's been nominated for three Latin Grammys, he's been making music for years, and he's been giving his best to everyone who loves his music for a long time, yet he's not nearly as well-known in the states – yet. He's coming; and we want to know all we can about him.
1. His Full Name is Long
He goes by Pablo Alboran, but his full name is a long one. It's Pablo Moreno de Alboran Ferrandiz, and we can see why he doesn't use it for his work. It's a mouth full, and it's a lot easier for him to use part of his name to get his point across. He was born on May 31, 1989, just in time to get to experience a half a year of the 80s, which was one of the greatest decades.
2. He's Always Been Interested in Music
From the time he was a child, he's been interested in music. His interest began with his desire to play instruments such as the piano. He also played the guitar, but not just one version. He played the acoustic guitar, the flamenco, and the classical guitar. He makes it seem like the easiest thing in the world to play an instrument and make it sound amazing, but we know it is anything but.
3. He's Gay
One of the most disappointing thing that his female fans have ever been told is that he is a gay man. They still love him, but it does dash a few dreams here and there. Of course, his male fans might be feeling pretty darn good right now after he made the announcement in summer 2020 about his sexual preferences. He made the announcement via Instagram to his fans, though we assume his family knew already.
4. He Comes From a Successful Family
He is the son of a successful architect. His father is Salvador Moreno de Alboran Peralta. His mother is Helena Ferrandiz Martinez, and they are close with their son. He grew up with both of them in their home, and he's always had a tight-knit family.
5. He Feel Love Unites Us
And we feel he is right. That's what he had to say when he posted a video to his Instagram page coming out as a gay man. "I think that we often forget about the love that unites us, that makes us stronger," is what he said. We fully agree with him that love makes us stronger, and we feel so good that he was able to come out and share his own feelings on love with the world.
6. He's Got Many Number Ones
This is a man with so much talent that it should not surprise you, but it's always so much fun to hear tha the has eight number one hits. He also has four albums that are number one in his native country, and it's so much fun for him to know that he's got so much talent and recognition across the world.
7. He's Got a Big Social Following
He uses various social media platforms, as is common when you are a celebrity who wants to stay close to fans, and he has millions of followers on each platform. However, it's his 5.5 million followers on the 'gram that are so impressive. He has a large following, and they are literally so obsessed with the musician that it's just an outpouring of love on his pages.
8. He Seems to Be LightHearted and Fun
We love that his Instagram page is filled with what seems like a lot of fun. He comes across as a man who doesn't take himself too seriously. He comes across as a man who seems to have a lot of fun in his life, and he is willing to make fun of himself and find joy in the little moments, and we love that.
9. He's an Animal Lover
Leave it to us to find a picture of the most adorable dog on anyone's social media page and fall madly in love with that alone. He's got photos of the most beautiful pup on his page, and we assume that it is his own dog. We cannot help but feel so good about a person who has such an affinity for animals. Who isn't a good person when they are a dog person?
10. He's Dealt with A Lot
Throughout his life, he's dealt with a lot. In the music industry, you are often thought of as a person who is on a pedestal, and you have to be someone who fans love and look up to each day. It might not be uncommon for you to be yourself, but be asked to come off as someone else, to be something you are not, to make sure you play up things that your fans love while toning down things that they don't, and we love that Pablo has decided that it is nothing short of perfectly fine to just be himself. It's who he is, so why be someone he is not?
Tell us what's wrong with this post? How could we improve it? :)
Let us improve this post!