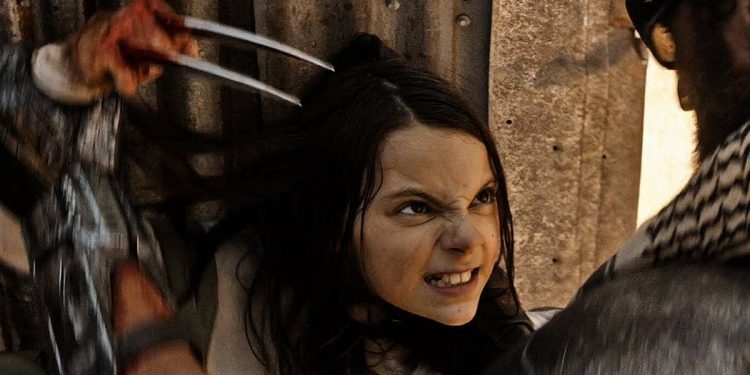 A lot of folks are convinced that we'll never see Dafne Keen as Laura Kinney, aka X-23, ever again since once Disney took over Fox, it became likely that when they start to develop the X-Men and related characters that they'll want to start from scratch, and it's hard to deny such a thing. To be fair though it's going to be hard to find someone to replace Keen since she played such a great role in Logan, and was as good as it gets since she had to play a female version of the aging mutant, and a young version at that. She did better than anyone could have hoped really since she played her part beautifully, taking on aspects of the character that made her just about as savage as we've seen her 'father' in the past. By this point, just about everyone knows that Logan didn't exactly father this kid in the traditional sense, as she's a clone of the ol' canucklehead and a project that was meant to replace Wolverine at one point. But Laura was given the chance to escape and eventually she ended up becoming a hero in the comics, though her fame has never been as great as her progenitor unfortunately since Logan's legend is a little too great to simply supplant with a new character. But if she was brought back to act in the MCU it would be a huge bonus for Disney, since not only has she performed the role before, but she has a definite mindset that could be utilized in a big way.
When looked at in a certain way it's obvious that she wouldn't need a lot of breaking in when it comes to the role since she knows it inside and out already, and she's actually pumped to do it. So why not bring her back? The only possible reason would be simple. Disney wants to do its own thing. They don't want to lean on something that's already been done and be called unoriginal, heavens no. If that's the concern, which isn't likely since I'm joking, then Disney would have to reassess just how much they've 'created' in the past and then evaluate just how much of the content was theirs, to begin with. Considering that the Mouse House owns the rights to the character at this point it'd be easy as hell to simply offer Dafne the role, and seeing as how she'd be a bit older by the time filming started, it might make for a more convincing story of how she finally found her way into the world and became her own person. But then again, if Disney is thinking of rebooting the X-Men altogether, X-23 might not even be on their radar at the moment, especially with the kind of money that's been pulled in from Wolverine alone. In fact, it's not even certain if Wolverine would be as prominent this time around since other X-Men might be given a little more attention as a lot of people have been hoping for a while.
One has to remember that there are a lot more people on the team than just Logan, as there have been multiple teams over the years, kind of like the Avengers. It's also been seen that mutants have stood against one another and then teamed up for a certain purpose only to part ways again when the threat was past. But the one thing about any mutant team or solo act in the Marvel universe is that they've typically been vilified and reviled by the general populace, which is amusing really since the public has almost always been more accepting of the Avengers and other super-powered teams that can cause just as much destruction but have been firmly set against beings that don't go around blowing up buildings and entire blocks and just want to be left alone. Marvel has put a lot of its characters through the wringer quite often, but mutants have been seen to deal with a great amount of trouble and hatred in their time, all because they were born a bit different and can do things that regular humans can't. Laura's story would be one more that would show just how humans tend to view mutants, especially when they have any knowledge of them. Disney might be kind of foolish to say no to bringing Dafne back, but the unfortunate part is that they'll have the final say on whether it happens or not.
However they bring the X-Men in, it's a big hope that they'll stick closer to the source material and not use the excuse that the Russo's favor, that one story or another has been done before. It's been done, but not on the big screen, which could be one reason why Infinity War and Endgame were great, but also a little frustrating at times.the excuse that the Russo's favor