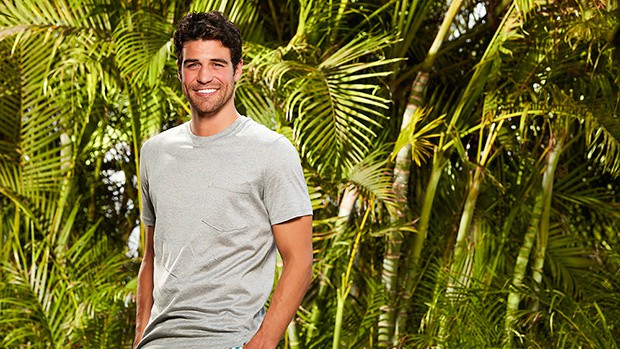 Reality shows have taken over our television sets. From rappers and romance to bachelors and babes, you can pretty much find any topic to watch on a reality program. While they people may differ, they all have one thing in common: Cheese. But that doesn't seem to hurt the ratings; in fact, the ratings seem to tell us that the cheesier the content, the more popular the reality show. That goes the same for the people on the shows. Now, don't get me wrong…there is nothing wrong with being cheesy. Some of the best looking, most successful people in the world rate right up there with sharp cheddar and mozzarella. And they're full of charisma, too. But the fact remains, if they are on a reality program, chances are they are either sliced or spreadable, for sure.
Joe Amabile falls into this category just like all the rest. Who is Joe Amabile? Well, you might know him better as 'Grocery Store Joe', the reality personality who has been on 'Bachelor in Paradise', Dancing with the Stars', and 'The Bachelorette.' Is that enough cheese in you basket? Sure, Joe is great looking…he's successful too. But the things that made him his money before television came into his life aren't what we know him for. We know him from reality TV.
But do we really? What do we know about him? Not much, other than what the shows want us to know. So let's take some time to get to know this hunk of Roquefort on our own. We've given him a '10 Things' list, which features the gratuitous facts about Joe and his life that we likely didn't know before. Some of them may already be in your database, but we're confident you're going to know him better when you are done reading. So, don't let us interrupt. Keep reading and learn more about Joe Amabile.
1. Birthday, Home Town, and Nickname Facts
Grocery Store Joe was born October 29, 1986 in Chicago, Illinois. The 33-year-old is a Scorpio. They call him 'Grocery Store Joe' because of the fact that he is the owner/operator of a small grocery in the neighborhood of Hegewisch. He has an Italian and Norwegian heritage, and he has a Chicago accent, in case fans hadn't noticed. His parents currently reside in Melrose Park, where he was raised.
2. Education
Joe graduated from Holy Cross High School, where he was 'a charmer. He was like the kind of student that would try to use his charm to kind of get out of a lot of things,' said Holy Cross teacher Marily Skowron. She also states that he was an average student who liked to bat his eyelashes to catch breaks from his instructors. Those who knew him when he was younger say that he has always been destined for fame, however.
3. Professional Life
Besides owning his grocery store, Joe was also an equities trader. He also got into the family produce business, which likely sparked his interest in the grocery business, or at least, it got his foot in the door. He first became part-owner of Eric's Food Center on Chicago's South Side (this is where his 'Bachelorette' video was taped at, for those who remember). At least he was proud enough of his trade to not try to hide it in the slightest.
4. Criminal Element?
Absolutely not! Joe did have a grandfather, Joseph 'Joe Shine' Amabile, who was a figure in organized crime, but he died in 1976. When he was questioned about this, he had little to say, except for letting people know that his father and brother are both policemen, and that he wasn't raised in that lifestyle. While he doesn't seem ashamed of that part of his history, it isn't something he wants to associate with either.
5. Net Worth
While his true net worth information has not been released by the press, many say that it is likely quite high. His monthly 'Bachelorette' pay is around 100k, he owns his Chicago grocery store, and of course likely has savings from his days as a trader. Add to that a 'Dancing with the Stars' and 'Bachelor in Paradise' salary, and you can imagine that Grocery Store Joe is far from broke. By the time he's done making the rounds, we wouldn't be surprised if he is a millionaire a few times over, if he isn't already.
6. Relationship Status
This is always the question everyone wants to hear the answer to, so we'll go ahead and get it out of the way. Joe is not married, but he is in a long-time relationship with girlfriend Kendall Long. He did admit to joining 'The Bachelorette' in an effort to find true love, but that didn't work out for him as planned. Contestant Beccfa Kufrin was an option for him, but he was too nervous to work it out, according to MarriedDivorce. It was that same nervousness that eventually got him eliminated.
7. Social Media
Yes, Joe is somewhat active on social media, with accounts on both Instagram and Twitter. For those of you who are die-hard followers, you can find Joe on Instagram at @joeamabile1, where he has nearly 750k followers. On Twitter he can be found at @amabilejoe. Don't hesitate to look him up and give him a follow if you're a fan.
8. Physical Statistics
The handsome 'Grocery Store Joe' is definitely an eyeful. Here are some of his physical statistics: He stands 5'8" tall and weighs approximately 170 lbs. His hair and eyes are both brown. Joe is not currently married, and isn't planning to wed in the near future; he also has no children. He enjoys being with friends and having a good time, which includes partying and playing tennis. He is very fun loving and likes to travel, especially to exotic places.
9. The Next Step
Sources say that while Joe has been lucky in produce, love hasn't been so kind to him. Yes, he and Kendall initially hit it off, but they broke up at one point while on 'Bachelor in Paradise'. Later, the pair did reconcile and their relationship became official. As of late, the pair have actually moved in together, and Joe says that it feels natural and he loves it. It seems that maybe trying to find a mate through the competition of reality TV wasn't in the stars after all?
10. Parents and Siblings
We mentioned earlier that Joe's parents reside in Melrose Park. The names of his mother and father have yet to be released, but we know that he is close to them. As for his siblings, the only information we really have is that he has a brother who is a cop. Joe seems to be keeping private family information under wraps, which we understand perfectly well. If he continues to rise up the reality star ladder, were sure the info will get out there over time.
Joe Amabile is an interesting character, especially when we consider that he is pretty much a common 'Joe' who runs a small business and liked to do sports in school. He also never forgets a face, they say, so if you have been spotted by him somewhere and are hoping to get his attention again, he'll have you pegged. With that being said, he is kinda cute, and we definitely hope that everything works out for the best in his love life. For now, we're signing off, but we'll be back to cover another celebrity for your entertainment.