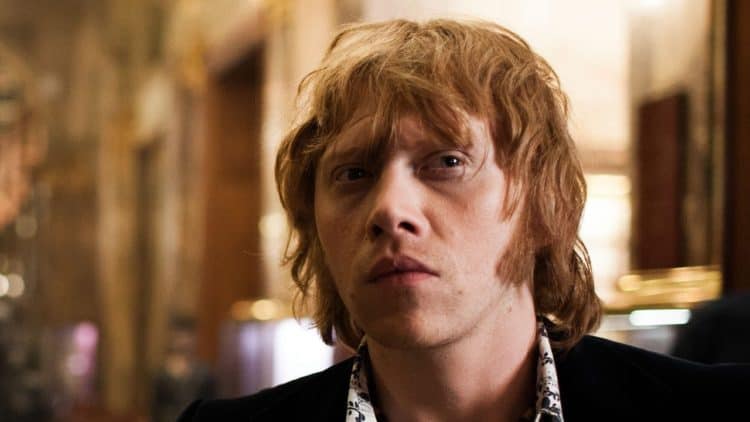 There are many reasons to look forward to the coming year, aside from expert projections that Covid-19 is going to see a significant decline. The cast of Harry Potter promises to reunite on New Year's Day, and everyone — well, almost everyone — is expected to be there. The big three, Dan Radcliffe, Rupert Grint, and Emma Watson, will make appearances, as well as Tom Felton, Matthew Lewis, Bonnie Wright, and even the "adult" cast: Helena Bonham Carter, Gary Oldman, and Ralph Fiennes, among others. Don't expect J.K. Rowling to apparate into the reunion, however. Apparently, she was not invited back, and while her camp hasn't said anything about her exclusion, many people are assuming it's because of controversial comments she's made about the trans community throughout the past few months. We're all excited to see Rupert Grint grace the 2022 Harry Potter reunion. Grint played the lovably loyal Ron Weasley, and since Harry Potter has ended, he's been involved in many different projects, both on and off camera. Much has also happened with his personal life. While so many things have happened to him since the last Potter movie screened in theaters, he makes sure fans know that Harry Potter remains close to his heart.
So much so that he just rewatched the first movie, Harry Potter and the Sorcerer's Stone, recently. "It was actually quite therapeutic to go back and see that," Grint says, according to USA Today. "I'm so detached from that little kid now, so it's a very strange perspective. But it was a huge part of our lives and I'm proud to be a part of it. I'm not ready to watch the other ones yet, but the first one was nice." While he continues to cherish his years playing Ron Weasley, Rupert Grint says he also had his regrets while playing the iconic character. According to Teen Vogue, he particularly cringes at his hairdo in the fourth Harry Potter installment, Harry Potter and the Goblet of Fire. "There were some awkward stages, for sure. My hair in film four is one of my biggest regrets. I think everyone actually had a phase of having this really long hair. They liked it … it was kind of wizardy. We went through our puberty on camera. You kind of see it all. It is very cringey." What has Rupert Grint been up to since the last Harry Potter movie, Harry Potter and the Deathly Hallows – Part 2, came out?
Rupert Grint's love life
Rumors about a budding romance between Rupert Grint and Potter co-star Emma Watson have hounded the two since their days on set. After all, they were love interests in the movies, with their characters ending up marrying each other. They've since debunked the rumors, indicating that none of them have ever dated any of their co-stars in the Potter movie franchise. Rupert Grint is dating Georgia Groome, an English actress who has appeared in The Great Ghost Rescue. Like pal Daniel Radcliffe with his beau, Rupert and Georgia have been together for a decade, having become an official couple in 2011. They welcomed their first child in 2020. Also like Daniel and his partner, Rupert and Georgia prefer to keep their relationship private, rarely talking about it in public. Grint made an exception, however, this year when he opened up about his love life with Cosmopolitan. When asked to describe his relationship with Groome, Grint said, "We're kind of the same person; we think the same way. That's always made it work – that's why it's lasted. It's hard to pinpoint exactly what it is, but it works and it's great." On the subject of fatherhood, Grint had this to say: "Yeah, it's been tough," he said. 'It's a time when you want as much support as you can get from your family and your friends; it's a very isolating thing, this lockdown, so we really have kind of been on our own. But there's positives with that. It's been great to work everything out for ourselves, without so many opinions. We've really bonded with Wednesday. It's been intense, but great."
Rupert Grint's post-Potter projects
Rupert Grint has appeared in multiple projects, both in a starring role and as a major supporting character. Right after Deathly Hallows – Part 2, Grint starred in a World War 2 film titled Into the Night. He's also starred in American projects, most notably CBGB, where he got to reunite with a fellow Harry Potter alum, the late Alan Rickman. Grint has rather been more active on TV after his decade-long stint as Ron Weasley. He had two simultaneous sitcoms in 2017, Sick Note and Snatch, for which he also served as executive producer. Currently, he plays a main role in Servant, an American TV series executive-produced by M. Night Shyamalan. In a conversation Shyamalan and Grint had for Interview Magazine, the actor spoke candidly about his shyness, and how he uses acting to stray away from it. "I've always been quite a shy guy. I think that's what I love about drama and acting. The art of pretending to be somewhere else is always such a huge thrill for me. Usually with karaoke, or any kind of stage, I completely lose sight of any kind of shyness, but that night, I don't know what happened. I didn't really know the lyrics and I need to know what I'm rapping."
Rupert Grint's political views and philanthropy
Like many cast members of the Potter-verse, Rupert Grint has lent his support to multiple charities. He has worked with Cancer Support UK since 2011, saying, "I think that it's wonderful that Cancer Research UK is helping to bring a little bit of magic to the children's lives in this way." Unlike Emma Watson and Daniel Radcliffe, Rupert Grint has not made much of his political views public. That was until J.K. Rowling made critical comments about the trans community last year, compelling the actor to speak out and, like Radcliffe and Watson, rally behind the trans community. "Trans women are women. Trans men are men. We should all be entitled to live with love and without judgment, said the actor, according to BBC.
Tell us what's wrong with this post? How could we improve it? :)
Let us improve this post!