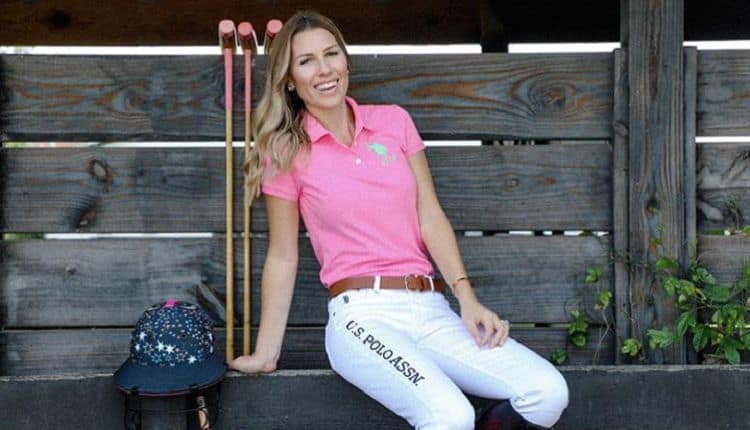 Kurt Busch's enthusiasts were elated when they heard that he had married Ashley, especially because they loved the person he became since then. Ashley Busch is a well-known polo player and might become a reality star very soon. Racing Wives is set to premiere later on this year on CMT, and Ashley will be on to give other shows a run for their money. This Ashley article highlights her life as a rising star and the legal wife of a professional race car driver. Did you ever know that Kurt and Ashley Busch knew each other through Ashley's sister? Here are some facts to know about Ashley that you did not know.
1. She prefers horses to horsepower
Even though the polo beauty is married to arguably the best NASCAR driver in the United States, she is happy to ride her horsy speed demon over the steel structures her husband drives. Ashley is, by all standards, a world-class polo athlete, and you might have recognized her from the polo event hosted by Meghan Markle and Prince Harry in July 2018. Her love for horses began when she about six years old, and it has never faded a bit. However, she credits her mother and her friend's mother, who inspired her to take the sport as a professional career.
2. Her friend's mother encouraged her
Ashley claims that, at one point, her friend's mother took her to a polo school, and she was greatly inspired to pursue the sport. It was on that day that she decided that she will work towards becoming a professional polo player. Now aged 27, Ashley has won numerous tourneys across the globe, such as the Port Mayaca and the International Polo Club. Beau Van Metre, her father, is a professional polo player as well, and the two have also played together.
3. Ashley Busch is the USPA brand ambassador
The USPA (U.S Polo Association) signed Ashley in 2017 to act as their first brand ambassador and the only female face of the brand. The 5'8 tall lady not models for the fashion brand, but also promotes their merchandise on her social network platforms.
4. She has her own swimsuit label
She also surprised many fans when she decided to collaborate with Enrique Sánchez, La Isla's founder, for her label. In her statement in 2017, Ashley said that she was creating her swimwear line, which will be produced by Enrique Sánchez's label company.
5. She got married to Kurt in St. Barts
Kurt and Ashley met in 2014; a love grew at first sight! The pair got to know each other through Ashley's sister, who had been Kurt's friend for some time. We can be sure that they are forever indebted to her. After about one year of dating, Kurt, who was 40 by then, popped the big question with a Tiffany ring, which he had his eye on for long.
6. Where it all started
According to Kurt, after he spent the holidays with Ashley's family, he felt a little emotion grow in his heart. The passion prompted her to ask her father for Ashley's hand in marriage. He then built up enough courage to ask Ashley herself in 2015. On that day, he got down on one knee while they were in their home in Virginia, which had been well decorated with candles and rose petals for the occasion. After Ashley agreed to the engagement, the couple went on vacation in Greece. Wedding plans started immediately they returned, and St. Bart's was Ashley's choice actually.
7. The perfect wedding
The wedding party was quite small as it included about forty friends and family since the pair opted to have an intimate occasion. However, the reception, which was held one week later in Palm Beach, was beyond the wildest imagination. In a surprise performance, Steven Tyler sang for the two as the crowd indeed went mad.
8. Samantha, Ashley's sister in law, is also a cast member in Racing Wives
Racing wives, CMT's newest show, will premier later on this year, and viewers will get to view what kind of people these women are. Be it giving their husbands some extra boost as they race or cozying up to their men in their homes; enthusiasts will be treated to a lot of NASCAR shows and the spicy activities that unravel behind their personal lives. One interesting dynamic to see will be that of the Busches: Samantha Busch, Kyle Busch's wife, has always tried to maintain a trendy and hot persona, and it seems that Ashley brings in some really lovely competition. Okay, we might not choose to go Kate vs. Meghan on them; however, are they not like royalty in the NASCAR fraternity? The two sisters have not made enough appearances together on their social media platforms, which adds a bit more fire to their show.
9. About Racing Wives
Apart from the Busches, the show's cast includes Whitney Dillion – Austin Dillion's wife — and her best friend, Mariel Lane. While the network has not yet released a date on which the show will premiere, they have already released a captivating trailer on their official site, and it seems like a drama-filled show has been made.
10. Her funniest story
Ashley's most hilarious moment was when she was switching horses in a polo game, and she had a tiny hole in her pants. Once she stretched out her legs it completely tore apart. According to her, there was no way she could continue playing with a flap of fabric hanging off her pants with no cover! She had to look for some wrap and place it around her leg to at least hold her pants together. This, to her, was a most embarrassing moment, and it did not help that most people on the field were men.