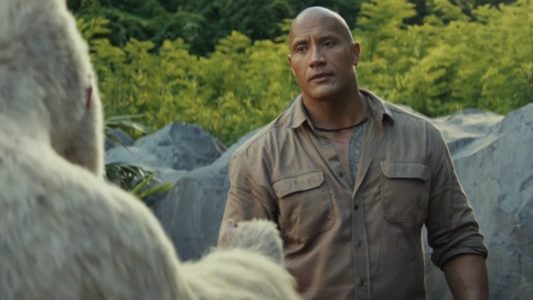 How awkward would this have been? Dwayne Johnson as Willy Wonka? Obviously he wouldn't be the hobbling, tripping, and rolling character that Gene Wilder was, nor would he have been the utterly eccentric and slightly daffy version that Johnny Depp would end up playing. But the reason why he didn't get it isn't really that hard to figure out, he wasn't quite ready for that type of a role yet since he was just getting into Hollywood and hadn't yet gained the kind of credibility that would allow him to really pull it off. Plus, does anyone really recall how awkward that remake was? Johnny Depp is a great actor, but even he wasn't able to bring that dumpster fire to a gentle stop. Dwayne might have done the best he could, but watching him even try to take on the role of Wonka would have been like watching a train wreck in real-time, complete with the cringe-worthy finish. But thankfully Dwayne isn't sore that he missed out and he's even grateful that Johnny managed to get it since his career started hitting a different gear and shifting into high in the years following that decision. In fact, he was up for another role, that of Jack Reacher, who he would have been perfect for according to a lot of people. But it went to Tom Cruise instead, despite the fact that Cruise was said to be too short for the role.
It was a good thing that Dwayne didn't get the role of Jack Reacher either, however, since his move into the Fast and Furious franchise as Luke Hobbs would have been disrupted and we might not have had the chance to see one of the most impressive law agents step up to the plate and start swinging. Since his inclusion into the franchise, he's been just what the action series needs to keep moving forward, but at this point, it does feel as though the franchise might need to cool its jets a bit since there's talk about the Fast and Furious might be headed to space at one point. Breathe a big sigh with me as you roll your eyes, or don't, but things are getting a bit nutty now if that's the course they're going to take. But hopefully, Dwayne will find a way to keep going with Hobbs and Shaw, or he'll find some other project to move towards if things do start getting too far out of control.
Does anyone remember how Dwayne got started in the business? The first role that a lot of people remember is as the Scorpion King in The Mummy Returns, when he was recreated with the horrible CGI that turned him into a monster that was spoken of at the beginning of the movie. Then he was put into an actual movie that featured him as the titular character that was, okay, but wasn't quite what a lot of people were hoping for. From that point on though he started finding more and more roles to take on and it became obvious that he was sticking around for the long haul. He's been in so many movies at this point that it's hard to say just who the top action star is at this point and time, but while it might not be Dwayne any longer, he's definitely still one of the absolute best in the business, otherwise, it feels unlikely that Arnold Schwarzenegger would have passed the torch to him back in The Rundown years ago. He's had a good number of successes and some moderate to great movies and yes, some movies that really weren't that great, but he's been a well-rounded star for a long time now and it's easy to think that a lot of directors would want him to star in their movie provided that he fit the role. But really, it has to be asked what Tim Burton was thinking when he looked at Dwayne and decided that he could take on the role of Willy Wonka. No offense to Dwayne or to Tim, but that has to be one of the oddest choices that could have ever been made in the history of movies.
It would have been especially hard to take back in that time since Dwayne was already firmly established as an action star given his build and the fact that he still had to refine his act, as he hadn't quite perfected it yet and was a bit stiff now and again. It's interesting to watch an actor develop throughout the years and to realize that with each new movie they're starting to either get better, or they're getting worse. Dwayne has only been getting better as he gets older, and hopefully, that trend will continue as the years keep rolling.