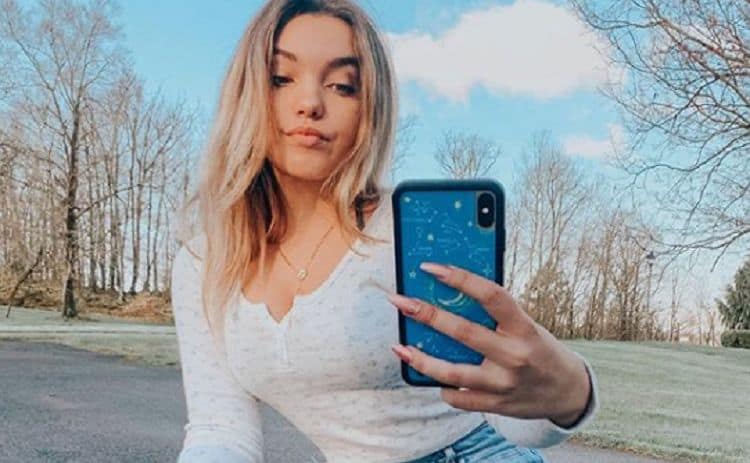 Having a famous parent is usually something that can score major cool points, but when your parent is famous for a reality show like 90 Day Fiance, it changes the game a little bit. Aniko Bollok knows this firsthand. Her mother, Darcey Silva, is well-known for being a cast member in TLC's 90 Day Fiance franchise. Darcey may not have the best luck with relationships, but she's still managed to become a favorite. Although Aniko hasn't had a major role on the show, she's definitely made a few appearances here and there. Keep reading for 10 things you didn't know about Aniko Bollok.
1. She Has A Cameo Account
Aniko is definitely taking full advantage of her time in the spotlight, and she's becoming quite the entrepreneur. She and her sister, Aspen, have a joint Cameo account where they record personalized video messages for $25.
2. She Loves To Travel
There's no doubt that traveling can be a life changing experience. Getting the chance to visit new places and interact with different people can have a positive impact on the way people view the world. Aniko is only a teenager, but she's already done a good amount of traveling and she seems to really enjoy it.
3. She's On TikTok
Aniko is building a very strong social media presence. On Instagram, she has more than 25,000 followers and she's also on TikTok as well. Her videos are becoming quite popular on the platform and she's already gotten over 20,000 followers and nearly 130,000 likes.
4. She's Been Accused Of Behaving Inappropriately
No matter who you are, people are always going to have something to say about the way you live your life. This is especially true, however, for people who are in the spotlight. Aniko has already experienced this thanks to comments from people who have accused her of being an attention seeker and suggested that some of her content is inappropriate for someone her age. Aniko has spoken out in regards to how these comments have made her feel, and her mother has supported her every step of the way.
5. She Runs Track
Even though Aniko gets a lot more attention on social media than the average teenager, she's still just a 'normal' kid in many ways. She's a member of her high school's track and field team where she competes in the 4×200 relay and the 4×400 relay.
6. She's A Brand Ambassador
Like I mentioned earlier, Aniko may be young, but she's already about her business. She realizes that having a large following on social media is more than just a popularity contest, and she's making sure she's getting the most out of it. She's a brand ambassador for a company called Beauty Kitchen. She posts content for Beauty Kitchen and offers her followers a discount code for the products they purchase.
7. She Likes Live Music
Most music fans would agree that getting the chance to see your favorite artist life is a great experience. There's something about seeing someone perform their work in front of you that makes it even more appealing than listening to a recording. Aniko seems to enjoy attended live shows. She attended a Juice Wrld show in 2019 not long before the rapper's tragic death.
8. She Isn't Afraid To Speak Her Mind
Following the crowd doesn't look like it's Aniko's thing at all. She is fully capable of thinking for herself and doesn't mind speaking up when she thinks something is wrong or unfair. When Darcey and her ex, Jesse, were having problems, Aniko didn't hesitate to express her opinion on the situation.
9. Her Father Was Also On Reality TV
Aniko's father has never been featured on 90 Day Fiance, and he doesn't seem to have any interest in being in the spotlight – at least not anymore. 10 years ago, Darcey and her twin sister, Stacey, shot a pilot for a reality show called The Twin Life. Aniko's father, Frank, was also shown in the show and at the time, he was an aspiring rapper. Frank has since gotten remarried and doesn't appear to be rapping anymore.
10. She's Wise Beyond Her Years
Despite her age, Aniko is very wise. If you've ever seen her on 90 Day Fiance, you may have realized that she is one of the first people her mother turns to when she needs someone to talk to. Aniko has the ability to offer sound advice and she has a great perspective on things for someone her age.
Tell us what's wrong with this post? How could we improve it? :)
Let us improve this post!