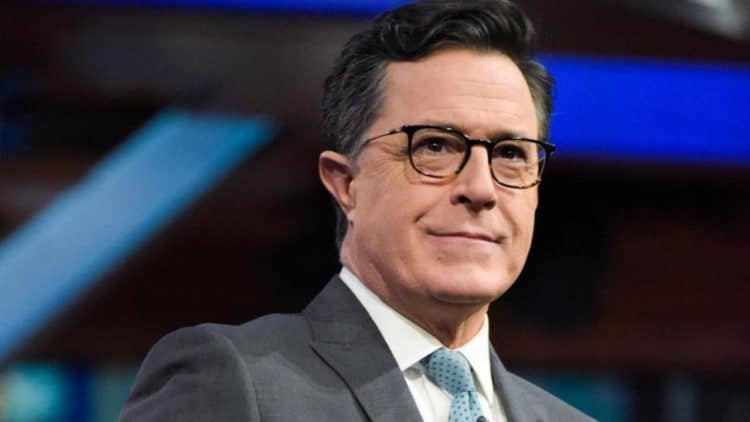 From Saturday Night Live reject to one of the most successful late-night hosts in history, Stephen Colbert has made his mark in the entertainment industry, becoming a formidable presence in American show business. Colbert currently hosts The Late Show With Stephen Colbert, inheriting the much-coveted hosting gig from legendary funnyman David Letterman. Colbert's story isn't an overnight success, however. The 57-year-old entertainer went through ups and downs in his career to get to where he is today. His current position at the top of the late-night leaderboard might be explained by his philosophy regarding success. In a commencement speech he delivered to graduating students of Northwestern University in 2020, Colbert shared the following piece of advice: "One of the things I was taught early on is that you are not the most important person in the scene. Everybody else is. And if they are the most important people in the scene, you will naturally pay attention to them and serve them. But the good news is you're in the scene too. So hopefully to them you're the most important person, and they will serve you. No one is leading, you're all following the follower, serving the servant." Here are the five most significant moments of Stephen Colbert's career.
Writer and actor for The Dana Carvey Show
After his tenure from Saturday Night Live, comedian and master impersonator Dana Carvey helmed his own sketch comedy show, titled Dana Carvey Show. The show would employ entry-level comedians who would eventually find stardom in their own respective rights, such as Steve Carell, Louis C. K., Bob Odenkirk, and of course, Stephen Colbert, who worked on the show as both writer and actor. The Dana Carvey Show was short-lived, having only aired seven of its planned 10 episodes. It did jump-start the comedy careers of some of the biggest stars in entertainment. Steve Carell is one of the most prominent comedians in Hollywood, Bob Odenkirk plays the lead in his own drama show, Better Caul Saul, and Stephen Colbert is the hottest late-night host in town.
Co-creator of Strangers With Candy
In 1999, Stephen Colbert co-created a comedy series with Amy Sedaris, Paul Dinello, and Mitch Rouse titled Strangers With Candy. The show is about a 46-year-old woman, played by Sedaris, who returns to high school as a freshman. The show was later on adapted into a film in 2005, serving as a prequel of the series. It received mixed reviews, with Bob Townsend of Atlanta Journal-Constitution writing: "Whether you guffaw, giggle or sit stone-faced through Strangers With Candy will depend on your reaction to Sedaris as Jerri and her freak show of over-the-top bad taste." Often described as one of the most underrated comedy shows, Strangers with Candy recently celebrated its 20th anniversary.
Correspondent on The Daily Show
Stephen Colbert became a household name on The Daily Show, a show he joined in 1997 during the tenure of its first host, Craig Kilborn. When Jon Stewart replaced Kilborn as host, Colbert began to develop his most iconic character as well, also named Stephen Colbert, who is a lampoon of conservative pundits. Colbert described the character as a "well-intentioned, poorly informed, high-status idiot," according to Bloomberg. Talking about the legacy of Stewart, which he closely worked with on The Daily Show, Colbert told Entertainment Weekly, "Like no one I know in the world, Jon has clarity. He expresses clearly how he sees a story or a comedy bit. That's a great gift to everyone who works for him, because you know whether or not you're giving him what he asked for. That said, he's always open to other people's ideas. Best idea wins."
Hosting The Colbert Report
The Colbert Report was a spinoff following Stephen Colbert's character on The Daily Show. The show is hosted by a fictionalized version of Stephen Colbert, one that parodies conservative talking-heads on TV like Bill O'Reilly. Colbert co-created the spinoff with Jon Stewart and Ben Karlin, who also worked on The Daily Show. The Colbert Report, as well as Stephen Colbert's character, has had a significant influence on American political discourse. It even got involved in the establishment of a Super PAC that was able to raise $6 million. On the cultural impact of Colbert Report, the New Yorker had this to say: "Colbert has made vital observations about the American political system, particularly about the sordid role that money plays within it. "The Colbert Report" and the "Daily Show," where Colbert perfected his schtick, have changed the way that young liberals of a certain class think and talk about civic culture. And "Colbert" has been funny for nearly ten years. Fans of the show and its indomitable host (only now defeated by the real-life lure of late-night respectability) have good reason to mourn."
Host of The Late Show With Stephen Colbert
After 30 years on late-night TV, David Letterman, the host of The Late Show With David Letterman, officially announced his retirement in 2014, with his final episode airing the following year. Stephen Colbert, who has found significant success in The Colbert Report, was announced as his replacement, with the show now becoming The Late Show With Stephen Colbert. Colbert has interviewed a wide range of personalities on The Late Show, from established figures like Hillary Clinton to newcomers like Thomasin McKenzie. Soon after taking over the late-night talk show, Stephen Colbert surpassed its closest competitors, Jimmy Fallon and Jimmy Kimmel, in terms of ratings. The Late Show With Stephen Colbert has consistently ranked above Fallon's The Tonight Show, once late-night's top show, since 2019. In a review of Colbert's performance for the Atlantic, particularly during Donald Trump's reign, David Sims had this to say: "Colbert may not be the sarcastic, irony-laden character he once played for Comedy Central, but as Trump has dominated the news every day since taking office, The Late Show has become the home for reasoned, but incisive, discussion, on the perceived overreaches of the White House. Suddenly, Colbert is unafraid to get into the political nitty-gritty again, and one glance at his ratings shows what a success this shift has been."Steve Carell
Tell us what's wrong with this post? How could we improve it? :)
Let us improve this post!