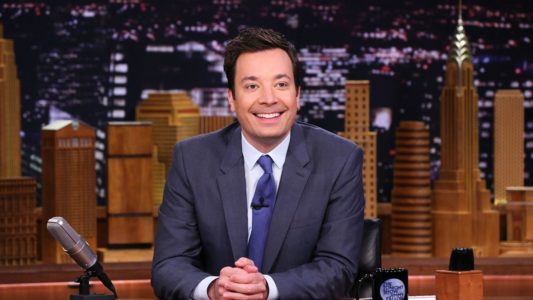 Jimmy Fallon is one of the most recognizable TV personalities on screen today. He's also one of the first talk show hosts to leverage the power of social media to improve the ratings of his show. A natural comedian, Fallon made his debut on Saturday Night Live, doing impressions of various celebrities. He would eventually find himself in movies and, later on, behind the desk of two highly regarded talk shows, Late Night and The Tonight Show. At only 47, Fallon has had an illustrious career. Here are the five most significant moments of Jimmy Fallon's work as an entertainer.
Cast member of Saturday Night Live
At just 23 years old, Jimmy Fallon snagged a spot on Saturday Night Live, joining the sketch comedy show in 1998. According to Cheat Sheet, Fallon nailed his SNL audition when he did an Adam Sandler impression that made Lorne Michaels laugh: "At the time he had just left the show, and no one had done an impression of Adam," Fallon said. "And I made Lorne laugh — he put his head in his hands, and he laughed, and I thought, 'Wow!'" He rapidly became a star on the show, cultivating a significant female fan base. Fallon was most popularly known for his impressions on the show, which included Robert De Niro, Howard Stern, and Jerry Seinfeld. He also played recurring characters in sketches, such as Nick Burns. His tenure on Saturday Night Live has not been without controversy, however. During his time on the show, he portrayed Chris Rock in blackface, which resurfaced last year. In response to the sketch, Jimmy Fallon issued an apology on his Twitter account, writing: "In 2000, while on SNL, I made a terrible decision to do an impersonation of Chris Rock while in blackface. There is no excuse for this. I am very sorry for making this unquestionably offensive decision and thank all of you for holding me accountable."
Host of Weekend Update
Fallon originally wanted to be on Saturday Night Live for only three seasons, but he was encouraged to stay on when he was offered to co-host Weekend Update with Tina Fey. Weekend Update would train Fallon's hosting ability behind a desk, which would prepare him for a future career on late-night. While Weekend Update catapulted Fallon to worldwide recognition, he admits to Parade that there is one thing he regrets from doing the job: Thousands of things! Right now, I'd say my haircuts from when I did "Weekend Update" on Saturday Night Live [from 2000 to 2004]. It was a whole thing and so embarrassing. I grew a mullet and flipped the bottom out, almost like Paul McCartney from when he was in Wings. But you have to have Paul McCartney's face to pull that off."
Jimmy Fallon as a movie actor
When Fallon graduated from Saturday Night Live in 2004, he started auditioning for movie roles. His first lead role was in Taxi, opposite Queen Latifah and Gisele Bundchen. The movie was widely panned by critics, making Fallon's start as a movie actor a rocky one. Reviewing the movie for Common Sense Media, Nell Minow wrote: "TAXI has some numbingly obvious musical cues and even more numbingly obvious jokes, with situation after situation rather than story. The script is so sit-com-ish you almost expect a laugh track. It all seems a little tired, from the lead-off to the tune of a former hit song to the attempt to find some humor in a character who has the same name as Supreme Court Justice Anthony Scalia." His second film, Fever Pitch, co-starring Drew Barrymore, faired slightly better than Fallon's first movie, but it didn't prevent reviewers from dunking on it. Daniel Barnes of Dare Daniel wrote: "A slapdash, clumsy, poorly acted and pervasively false film filled with precocious movie kids, nonstop needle drops and a barrage of "washing your balls" jokes." With Fallon's movie career slowly being unraveled as a failure, the actor spent a few years in limbo, which gives him more appreciation for what he has achieved now, according to Vulture. "It's a treat, it's awesome, because I know what it's like not to be famous. When you experience both sides of it, this side is much better."
Host of Late Night With Jimmy Fallon
Despite a lackluster career on the big screen, Fallon had guardian angels watching over him. One of them is Lorne Michaels, who had kept Fallon in his thoughts even when he was no longer a member of Saturday Night Live. Michaels had always envisioned that Fallon would take over Conan O'Brien as host of Late Night. In 2009, it would eventually happen, even though most people thought Fallon was a bizarre choice for a replacement for O'Brien. Surpassing most people's expectations, Fallon's Late Night quickly gained recognition, despite the first few episodes receiving negative reviews. It eventually received more positive reviews, taking note of Fallon's drastic improvement behind the desk. A review by New York Magazine wrote: "One of the great successes of Late Night is that, rather then shoehorn Fallon into a traditional host's role, the show has evolved bits like "6-bee" to highlight his strengths. It's near impossible, for example, to imagine David Letterman starring in an eight-minute Glee-inspired musical sketch that climaxes with him singing Twisted Sister."
Host of The Tonight Show
Jimmy Fallon is the current host of The Tonight Show, which he inherited from Jay Leno. His turn on the show was not without controversy, as it was Conan O'Brien who was originally supposed to helm The Tonight Show after Leno. The entire Tonight Show saga, which is now considered one of the worst public relations disasters to have ever occurred in modern entertainment, resulted to Leno leaving The Tonight Show, Conan moving to TBS to star in his own show, and Fallon becoming the new host of The Tonight Show Starring Jimmy Fallon. While The Tonight Show with Fallon behind the desk has been constantly praised as an easy and comforting watch for those not exactly looking for something too serious, some have criticized the shallowness of Fallon's format. John Walters of Newsweek wrote: "Watching and listening to Fallon interview a guest is simply more painful and awkward than every conversation that ever took place between Kevin Arnold and Winnie Cooper. Everything a guest has ever done, including the film, TV show or album he or she is there to promote, is either "amazing" or "awesome." Usually, both. A Fallon interview is like watching a tennis match with all aces. There are no rallies, no service returns back across the net. There is no honest to goodness badinage." Nevertheless, Fallon's Tonight Show is one of the most popular talk shows on TV today, constantly ranking at the top and often going head-to-head with its major competitors, Stephen Colbert's The Late Show With Stephen Colbert and Jimmy Kimmel Live! Fallon is expected to lead the show for five more years, having extended his contract with NBC this year.