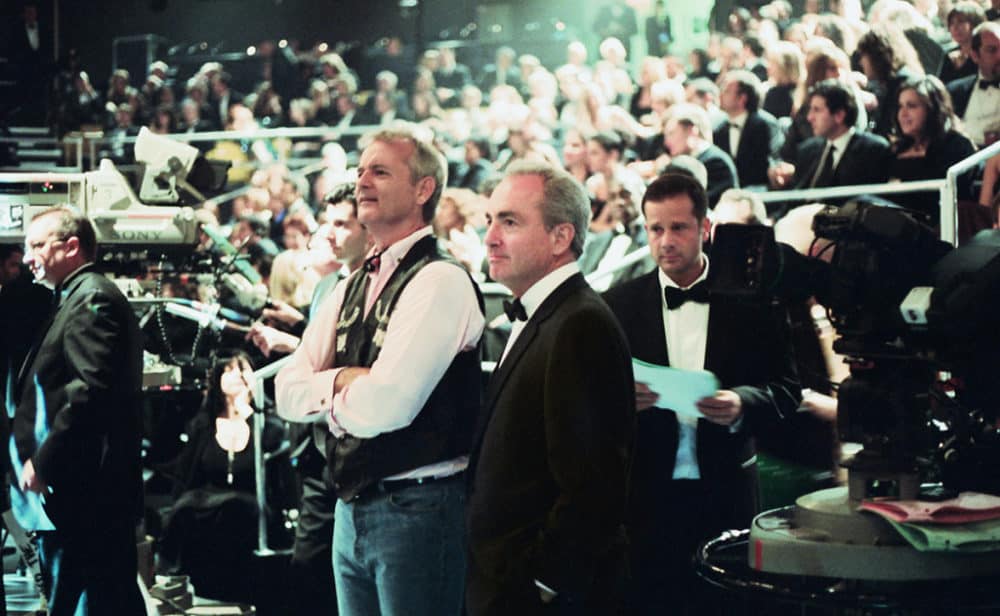 "Saturday Night Live" has been a staple of late night television comedy, musical and variety programming for 43 years. The show came about when NBC's biggest star, Johnny Carson, requested a change in late night scheduling. Until 1975, "The Tonight Show" aired "The Best of Carson" on late night on weekends. Carson wanted to take more time off from his weekly late night talk show and air the "Best of's" during that time. NBC did not want to loose Carson so they developed a Saturday late night variety show that would air live from New York City. Dick Ebersol was charged with developing the show and hired young Canadian producer Lorne Michaels. The original idea for the show was to showcase young comedians (the Not Ready For Prime Time Players), have celebrity guest hosts and musical guests, and feature short films by Albert Brooks and have segments created by Muppets creator Jim Henson. The show was filmed live in front of a studio audience at New York City's Rockefeller Plaza. Radio and television announcer Don Pardo would announce the cast in the opening of each show until his death in 2014.
"Saturday Night Live" was a success. Although the show has seen cast changes, budget cuts, controversial live moments, and not so stellar seasons, it remains a staple of late night Saturday television. It's broken barriers, caused controversy and served as a stepping stone and platform for some America's biggest stars.
Here are the top 10 seasons of "Saturday Night Live" of all time.
10. Saturday Night Live Season 19
Wedged between two not so great seasons, Season 19 stands out as a good one. The season ran from 1992 to 1993. It was Phil Hartman's last season which cast members lamented. They called him "The glue", a term coined by Adam Sandler because Hartman held them all together. Cast members included Adam Sandler, Chris Farley, Mike Myers, Kevin Nealon, Tim Meadows, Melanie Hutstell, Rob Schneider, David Spade and Julia Sweeney. Actor Michael McKean joined the cast. Comics Norm MacDonald, Sarah Silverman and Jay Mohr joined SNL. MacDonald, Silverman and Al Franken were writers on the show. Guest host Martin Lawrence delivered an offensive monologue leading to Lorne Michaels banning the comedian from the show. Nirvana, Aerosmith and The Counting Crows were among the bands to perform in the season. Guest hosts included Charlton Heston, Sallie Field and Alec Baldwin with then wife Kim Basinger. Notable sketches included Chris Farley's "Lunch Lady" and Alec Baldwin and Adam Sandler's "Canteen Boy". Christopher Walken appeared on the show with the "Christopher Walken's Celebrity Psychic Friends Newtwork" skit.
9. Saturday Night Live Season 32
When Season 32 premiered in 2006 there was concern because SNL had big budget cuts and Tina Fey had left the show to make "30 Rock", but the season turned out pretty good. Bill Hader, Kristen Wiig, Andy Samberg and Jason Sudeikis were promoted to repertory status. With Fey gone, Seth Myers joined Amy Poehler to co-anchor Weekend Update. Guest hosts included Alec Baldwin, Drew Barrymore and the return of Molly Shannon. Justin Timberlake hosted and performed his music in an episode. He and Adam Sandberg performed debuted their holiday song "D**k In a Box". Dan Aykroyed returned to SNL to appear on Weekend Update. Sasha Baron Cohen appeared on an episode as his character Borat. Musical guests included The Killers, Christina Aguilera, Ludcris and Gwen Stefani with Akon. Memorable moments included Will Forte's introduction of the MacGuber character, Brian Williams' appearance on Weekend Update in the first episode, Jason Sudeikis' first appearance as George W. Bush, and Horatio Sanz' appearance as Elton John in "Versace Super Bowl Party".
8. Saturday Night Live Season 21
After a disastrous Season 20 with low ratings and the threat of cancellation, SNL rebounded in Season 21 which aired from 1995 to 1996. Although only five of the previous season's cast members returned, Lorne Michaels was careful to make cast transitions slowly. Norm MacDonald, Molly Shannon, Mark McKinney and Tim Meadows returned. David Spade returned for what would be his final season on SNL. Molly Shannon was upgraded to repertory player. New cast members hired included Will Ferrell, Darrell Hammond, Cheri Oteri, Jim Breuer and David Koechner. The season saw an extremely controversial moment when musical guest Rage Against the Machine attempted to protest the host. Republican candidate and billionaire Steve Forbes hosted the show. In protest, the band hung two American flags upside down from their amps for the first song. Stagehands took the flags down before the band's performance of their second song. They retaliated by storming Forbes' dressing room throwing pieces of the tattered flag. The cast and crew joined together when the band was escorted from the set. Guest hosts during Season 21 included Phil Hartman, Alec Baldwin and Quentin Tarantino. Tupac Shkur performed "California Love". Will Farrell and Chris Kattan debuted their classic "Roxbury Guys" sketch.
7. Saturday Night Live Season 17
After some difficult transitional years, the 1991-1992 season was a good one for SNL. Main cast members included Phil Hartman, Dana Carvey, Mike Myers, Chris Farley, Victoria Jackson, Kevin Nealon and Julia Sweeney. This would be Jackson's last season after 6 years with the show. Other cast members included David Spade, Rob Schneider, Adam Sandler and Tim Meadows. Kevin Nealon took over the anchor desk for Weekendpdate after the departure of Dennis Miller. The season opened with basketball legend Michael Jordon as guest host and an appearance by Jesse Jackson on Weekend Update. Other notable guest hosts throughout the season included regulars Tom Hanks, Chevy Chase and Steve Martin. Jerry Seinfeld, and Jeff Daniels also hosted episodes. Arnold Schwarzenegger appeared on Carvey and Nealon's "Hans and Franz" sketch. "Cheers" star George Wendt appeared a couple of times. Jon Lovitz returned for an appearance in the final episode of the scene. Musical guests included Nirvana who performed the band's hit song "Smells Like Teen Spirit". Chris Farley debuted "The Chris Farley Show". Madonna and Barbara Streisand appeared on "Coffee Talk".
6. Saturday Night Live Season 1
One of the greatest seasons of SNL was its first. The show aired in 1975-1976 and was groundbreaking. The new late night variety show created by Dick Ebersol and produced by Lorne Michaels featured a talented young cast of young comedians, famous guest hosts and hit musical guests. The original cast of "Not Ready For Prime Time Players" included Chevy Chase, Loraine Newman, Dan Aykroyd, Garrett Morris, Jane Curtain, John Belushi and Gilda Radner. The first episode was hosted by George Carlin. The second episode was hosted by Paul Simon who performed with Art Garfunkel. Other guest hosts throughout the season included Rob Reiner, Candice Bergen, Richard Pryor, Lily Tomlin, Elliot Gould and Dick Cavitt. Louise Lasser guest hosted and was the first of Lorne Michael's bans from SNL. Lasser was going through personal and legal troubles and locked herself in the dressing room leaving cast members to deal with the sketches she was in. Andy Kaufman would appear on SNL's first season performing a sketch featuring a record player and just the "Mighty Mouse" theme song. The first season set the ball rolling for SNL's long history.
5. Saturday Night Live Season 15
Season 15 aired in 1989-1990 and was a popular season with viewers and critics with memorable moments throughout. Cast members included Phil Hartman, Dana Carvey, Dennis Miller, Kevin Nealon, Jan Hooks and Victoria Jackson. Mike Myers was upgraded to repertory cast member and performed in the classic "Wayne's World" sketch with Dana Carvey which would be made into a movie. When Aerosmith performed as musical guest on the SNL, the band, a favorite of Wayne and Garth, surprised the boys as they hosted their web show in their basement. This was Nora Dunn and Jon Lovitz's last season. Nora Dunn got on Lorne Michael's bad side this season when she, along with musical guest Sinéad O'Conner, boycotted the show when vulgar misogynist comedian Andrew Dice Clay guest hosted an episode. The season marked David Spade's first appearance on SNL. Conan O'Brien was one of SNL's writers. John Goodman guest hosted. Goodman had auditioned to be a cast member back in 1979. He would return and appeared as Linda Tripp in the sketches spoofing the President Bill Clinton – Monica Lewinsky affair. Alec Baldwin was one of the guest hosts. Baldwin would go on to host SNL more than anyone else. Christopher Walken guest hosted and debuted "The Continental" skit which would become a staple of SNL.
4. Saturday Night Live Season 3
Back when SNL was still in its early stages in 1977-1978, Season 3 stands out as remarkable. Ratings for the late night variety show began to grow. The show featured a stellar cast and great writers that helped the show gain popularity. Cast members included Gilda Radner, John Belushi, Bill Murray, Dan Aykroyd, Jane Curtin, Garrett Morris and Lorraine Newman. Chevy Chase returned to host an episode as the first former cast member to do so. He and Bill Murray got into a fight which was highly publicized. Steve Martin returned to host later in the season and memorably performed his "King Tut" sketch and returned as the "Wild Czechoslovakian Guys" with Dan Aykroyd. Guest host Richard Dreyfuss, hot off "Jaws", was attacked by the "Land Shark". Elvis Costello appeared as a musical guest, and after changing his song, angered Lorne Michaels (who does not like such surprises on the show) so much that the singer was banned from SNL until he returned in 1989.
3. Saturday Night Live Season 34
Season 34 of SNL is best known for its skits revolving around the 2008 presidential election. Tina Fey's portrayal of Vice Presidential candidate and Alaskan Governor Sarah Palin was hysterical. Amy Poehler appeared in a memorable portrayal as Senator Hillary Clinton. The 34th season added two extra episodes to make up for the writers strike the previous year. Cast members this season included Kristen Wiig, Kenan Thompson, Seth Meyers, Andy Samberg, Fred Armisen, Will Forte, Bill Hader, Jason Sudeikis, Darrell Hammond (his last season), and Amy Poehler who left for her maternity leave. The first episode was hosted by Olympic winning swimmer Michael Phelps. Other guest host s included Jon Hamm, Justin Timberlake, Alec Baldwin and Steve Martin who played the banjo. Tom Hanks appeared as himself on "Celebrity Jeopardy". Liza Mininelli appeared on "Group Therapy". The season had consistently high ratings.
2. Saturday Night Live Season 16
Season 16 aired in 1990-1991. It was a transitional year with the departures of Nora Dunn and Jon Lovitz and the last season for Jan Hooks and Dennis Miller who had hosted Weekend Update. Lorne Michaels learned from the mistakes made in the 1985-1986 season and kept the cast from the previous season until transitions were made. SNL created 3 groups of cast members as the transition unfolded. Repertory cast members included Mike Myers, Phil Hartman, Dana Carvey, Kevin Nealon and Victoria Jackson. Writers David Spade and Rob Schneider became cast members. Newly hired cast members included Chris Farley, Chris Rock and Julia Sweeney. One of the best and most memorable skits was guest house Patrick Swayze and Chris Farley performing as Chippendale dancers. Past guest hosts Steve Martin, Paul Simon and Elliot Gould appeared on an episode to welcome Tom Hanks to the "5 Timers Club", guest hosts who hosted 5 times on SNL. Other guest hosts through the season included Sting, Roseanne Barr, Kevin Bacon, Michael J. Fox and Alec Baldwin.
1. Saturday Night Live Season 25
Season 25 marked the Twenty-fifth anniversary of SNL and was one of the highest rating seasons. The 20 episode 1999-2000 season averaged 8.32 million viewers. It was a safe season for SNL with the return of the entire cast from the previous season. Will Farrell, Jimmy Fallon, Molly Shannon, Tracy Morgan, Chris Parnell and Darrell Hammond were among the returning cast. Fallon, Parnell and Horatio Sanz were promoted to repertory status. While this season was the last for Cheri Oteri, Colin Quin and Tim Meadows (Meadows was on the show for 10 seasons), Rachel Dratch joined the cast from Second City where she worked with Tina Fey (a writing supervisor and later a cast member on SNL), and Maya Rudolph joined SNL from The Groundlings. Jerry Seinfeld guest hosted the first episode where a pre-taped opening sketch showed him going to HBO's prison drama's Oz after his prison stint in the "Seinfeld" finale. Norm MacDonald returned to host an episode. Christopher Walken guest hosted and performed the memorable sketch where he is a music producer recording Blue Oyster Cult's hit "Don't Fear the Reaper" and demanded "more cowbell" from Will Farrell's character. Musical guests included Kid Rock who played with Trey Anistasio, David Bowie, Snoop Dog and Dr. Dre, Brittany Spears and Neil Young.
Tell us what's wrong with this post? How could we improve it? :)
Let us improve this post!