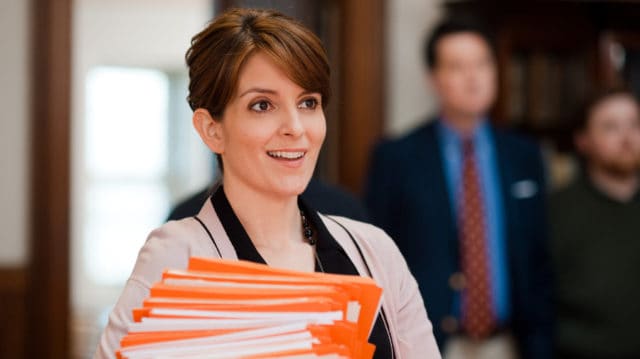 Tina Fey is the epitome of funny in a dramatic sense. She can be outwardly hilarious and goofy in a way that brings to mind some of the greatest actresses of all time and yet she can be so serious and dramatic that it might make you weep a tear. Her movies are typically something you'll find yourself grinning at even if you don't burst out laughing since she's made a career out of being a funny woman that can also pull at the heartstrings while she's cracking a joke or attempting to push her way through a scene. Just watching her you get the idea that she's about to crack wise or say something sarcastic and half the time those expectations are met.
It's not hard to see why so many people like her.
5. [easyazon_link identifier="B000HZGBJC" locale="US" tag="tvovermind00a-20″]Mean Girls[/easyazon_link]
Ms. Norbury is the kind of person that just tries to get through her day without anything too bad happening. She's kind of unlucky in some ways and very sarcastic in others but this is why Tina is such a lock for the character. She's also the type of character that doesn't bother with talking to the girls in the film one on one as much and demands that they look at how they're treating each other in a mass assembly.
4. [easyazon_link identifier="B003TO0VLW" locale="US" tag="tvovermind00a-20″]Date Night[/easyazon_link]
At some point and time every marriage needs a little shift to the right or left to keep the magic from fading. The Fosters decide to go out one night and on a whim they take the reservations of another couple that haven't bothered to show up that night. Unfortunately they end up taking the place of two individuals that are on the run from a mob boss and their night just kind of goes downhill from there.
3. [easyazon_link identifier="B00CV77IDW" locale="US" tag="tvovermind00a-20″]Admission[/easyazon_link]
Admission counselors are by far and large one of the most hated people when it comes to getting into college. They tend to determine who's getting in and who won't be at some of the toughest colleges in the country. Unfortunately this means that they are almost entirely reviled by a lot of people and thought to be completely heartless. The truth of it is however that they're picking and selecting those students that they think can handle the school and dismissing those they believe can't hack it. That doesn't make them sound a lot better but it is closer to the truth.
2. [easyazon_link identifier="B00HVNYUWI" locale="US" tag="tvovermind00a-20″]Anchorman 2: The Legend Continues[/easyazon_link]
She doesn't have a big part in this one but the part she does play is hilarious. Showing up to the fight as a news anchor from an entertainment station she breaks out the guns, metaphorically-speaking, as she and Amy Poehler get down and dirty in all or nothing brawl that pits various news teams against one another. The ladies might look nice and not all that tough but they get down just fine with the men.
1. [easyazon_link identifier="B00OVNQ31W" locale="US" tag="tvovermind00a-20″]This Is Where I Leave You[/easyazon_link]
Wendy Altman is the kind of sister you want in your corner because she's tough, sassy, and unfortunately for her brother Judd she's also a bit mouthy and doesn't pull any punches. Throughout the film she's the conscience for all of her brothers but also the irritating voice that just won't leave Judd alone and demands that he face up to his problems.
She'd be an awesome friend to have it seems like.
Tell us what's wrong with this post? How could we improve it? :)
Let us improve this post!